How a Full-circle Lifecycle Marketing Strategy Led to a 153% Increase in Customer Retention Rate
$xxx,xxx
6-figure revenue
achieved in 3 months
through paid media.
130%
increase in monthly
email revenue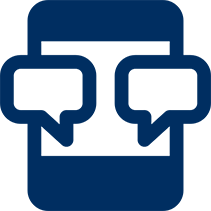 40%
of total store revenue
attributed to email and SMS

Theraice Rx manufactures and sells cold compression therapy products like headache and migraine relief caps, hot and cold compression sleeves, and wrist ice packs.
With the objective of making cold compression therapy products available to everyone and not just athletes, Theraice Rx was heavily dependent on Amazon for its business. However, they decided to take the next level and set higher targets for their brand.
They reached out to Chronos Agency and ROAS Media to lead the transformation of their brand and their marketing efforts. This involved executing a full lifecycle marketing strategy by revamping their website and exploring various paid channels.  


Essentially, Theraice Rx needed a major marketing transformation. They had low customer lifetime value and low customer retention rates. Delays in shipping caused customers to churn. 
On top of these issues, the website was not user-friendly and wasn't doing a very good job of converting leads. Additionally,  there was little to no historical data on their paid media accounts. 
Put simply, executing the lifecycle marketing strategy wasn't enough—Chronos Agency and ROAS Media had to strategize from scratch. 
Here's an overview of the strategies executed across different channels:
REVAMPING OF WEBSITE TO A CONVERSION-FOCUSED ONE
Simply having a website is not enough. With thousands of eCommerce stores globally, Theraice Rx needed a website strategy focused on converting online users to customers.
The new website focused on creating a better user experience across various devices and screen sizes.
Meanwhile, the top proven conversion principles served as the backbone of the new website. Some examples of these principles included:
Optimizing the pages for speed
Following the AIDA principle for page designs
Displaying social proof and relevant endorsements to establish credibility
Clear-cut CTA buttons
Consistent brand identity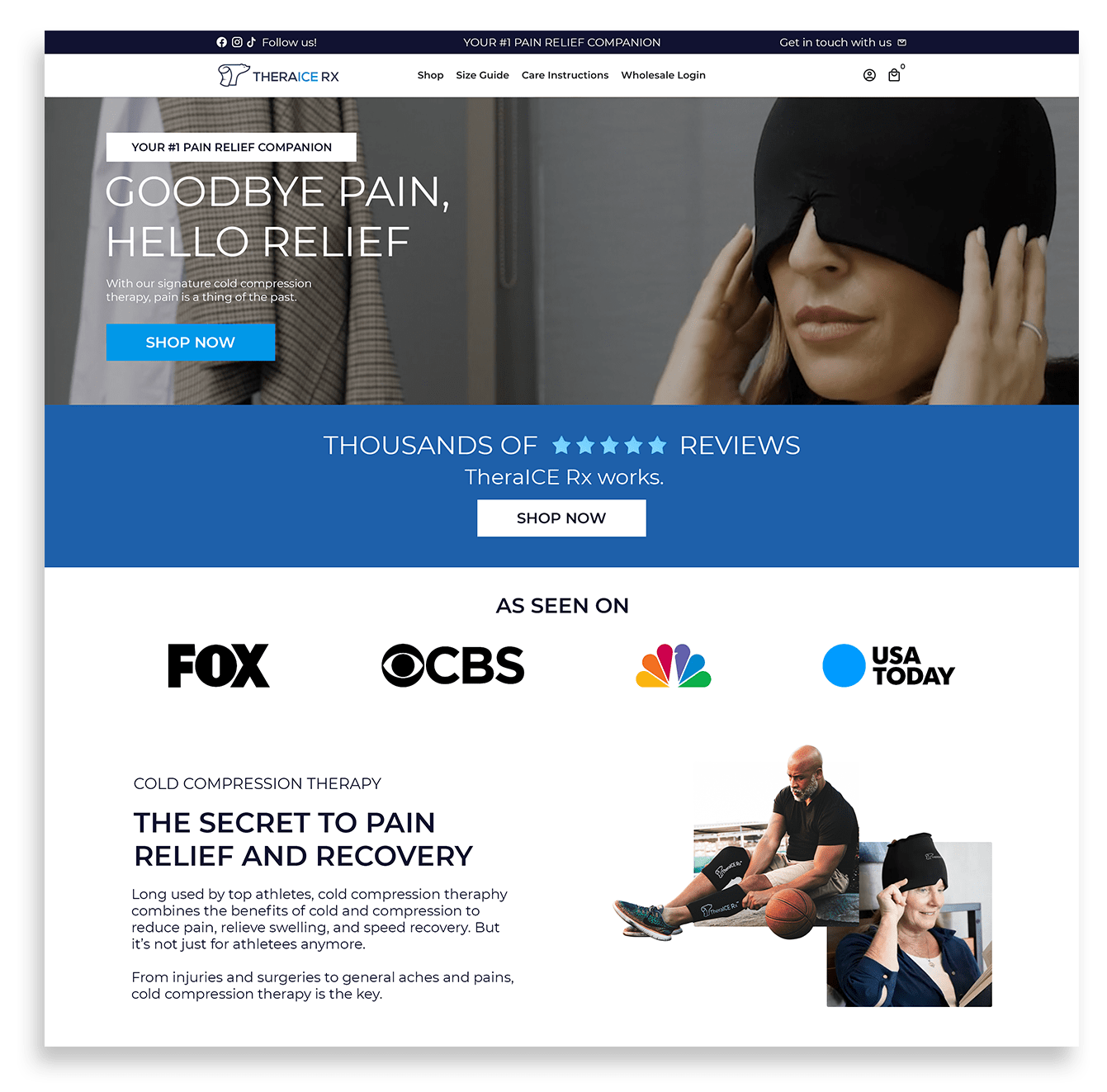 COMBINATION OF EMAIL MARKETING & SMS, THE DYNAMIC DUO
Email marketing and SMS helped Theraice Rx be present across multiple touchpoints along the customer journey. Leveraging automation, Chronos Agency implemented an end-to-end email and SMS program from acquisition to winback. This strategy included the following specifics:
Optimized pop-ups regularly to increase subscribers and to have a continuous flow of new customers to be nurtured
Launched regular post-purchase flows based on tried and tested strategies to increase retention rate and purchases from existing customers
Built additional flows specifically to target customers affected by the backorders and delays.
Set up targeted and personalized cross-selling opportunities, explicitly setting up the re-engagement campaigns and flows to target customers from affiliate traffic so they could be redirected to the newly revamped website.
Offered bundle deals to increase average order value and lifetime value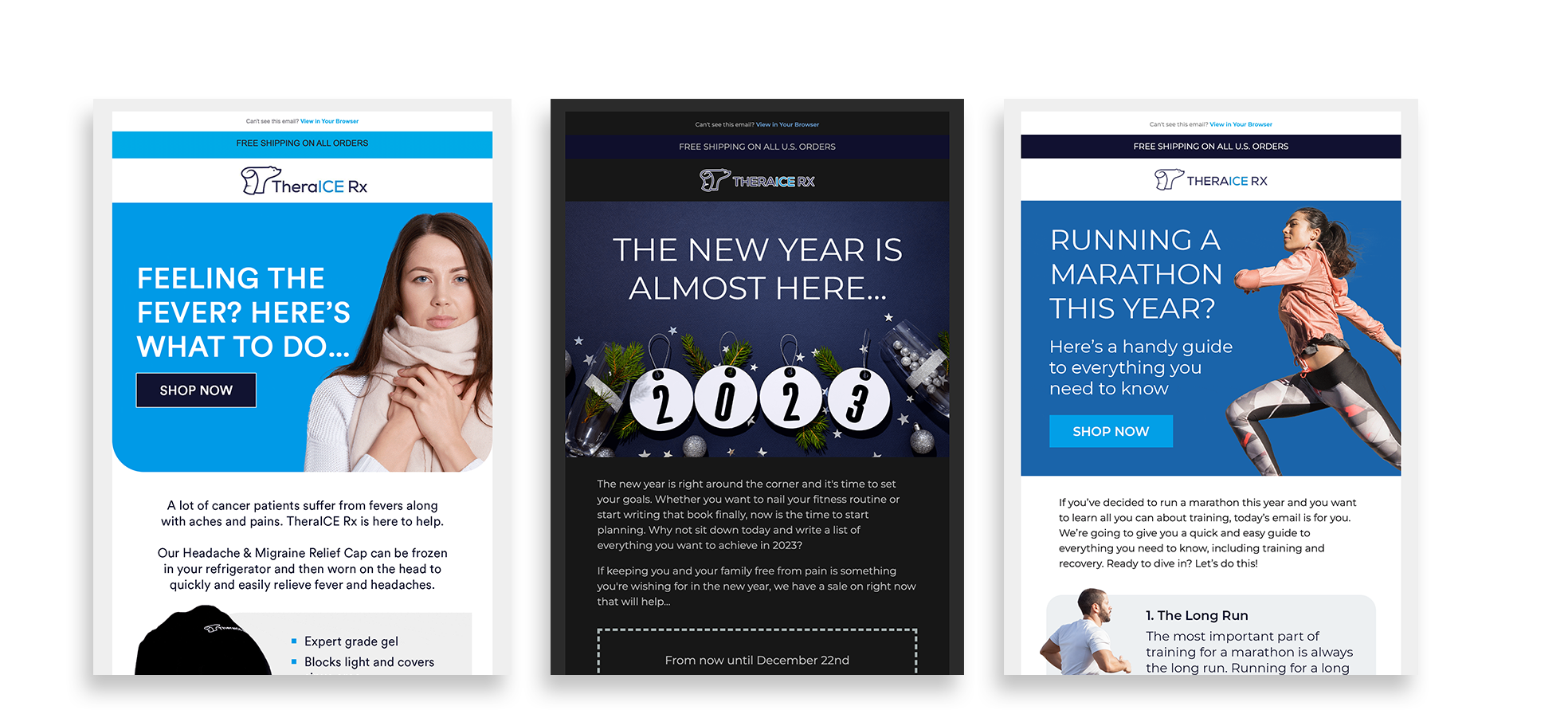 SOCIAL MEDIA TO SUPPORT RETENTION EFFORTS
While social media channels were used to increase customer engagement and boost relationships, it was also used to lead followers to subscribe to email and SMS. At the same time, email and SMS were used to encourage subscribers to social media. 
This was to ensure that online users could come across Theraice Rx no matter what channel they were on. That way, the brand remains to be top of mind, especially as they hosted giveaways and launched interactive content.
DATA-DRIVEN PAID MEDIA STRATEGY
With not much paid media history to use as a reference, ROAS Media proceeded to stress-test Meta as a push marketing channel. At the same time, they also researched and tested what other marketing channels will give the best results and returns. Meta was the chosen primary marketing channel at the start, focusing on creatives and keeping audience segments broad to pinpoint the right audience. In the first month, 30 ads were already tested until the best performing formats and angles were reassessed. During the second month, Theraice Rx already had a funnel that churned out consistent results on its own. At this point, ROAS Media focused on refining and expanding the personas to unlock additional audience pools. By the third month, Theraice Rx started expanding to other paid media channels like Google and TikTok while increasing ad spend.

Theraice Rx's paid media funnel continuously acquired new customers and led them 
to an eCommerce website optimized for conversions. Upon conversion, the dynamic duo 
of email and SMS would nurture them using personalization and segmentation strategies.
The combination of these strategies led to the following results:
Website conversion
Conversion was at 9% on average within two months after the launch of the new site. This is 233% more than the industry average.
Email + SMS
153% increase in customer retention rate

40% of total store revenue was attributed to email and SMS

130% increase in monthly email revenue

12.2% cart recovery via email

Paid media
50% MoM increment in conversions

46% MoM increase in new customers

6-figure revenue achieved in 3 months
Social media
20% increase in followers post-giveaways

13.000+ IG reels views
Cold compression therapy brand TheraiceRx was suffering from low customer retention rates. A user-unfriendly website coupled with delays in their shipping led to high customer churn rates.

The solution was to revamp their website into a conversion-focused one. This meant optimizing their pages for loading speed and revamping page designs for a more consistent brand identity. They also implemented clearer CTAs and included social proof in their website to boost credibility.
They supported this revamp with lifecycle marketing tactics to keep customers coming back:
Using a combination of email and SMS strategies

Support retention efforts using social media

Implementing a data-driven paid media strategy
Observe transparency with your customers
Even if things aren't going well on your end, it's always important to keep your customers in the loop. The more informed they are of what's going on, the more understanding they'll be of delays or issues.
Omnichannel marketing is today's standard
Take advantage of the strengths of multiple marketing channels to maximize your brand reach and conversion power. While chunks of your target market may prefer a specific channel, it's important to create a seamless customer experience across all your channels to maximize engagement.
A data-driven customer-centric marketing model is the solid foundation of sustainable success
Listen to the numbers, they're basically your customers spelling out what they want. Lifecycle marketing can translate these numbers into actionable strategies that not only generate numbers, but also keep your customers happy and coming back for more.
Lifecycle marketing is a much larger iceberg than you think. It's more than just slapping together two different strategies and forgetting about it. It requires a dedicated team who's learned the language of customer data and in turn translating that into a game plan.
Chronos Agency has dedicated 5 years of its existence decoding the customers' minds of over 400 brands. And now, we want to share what we've learned with you so you too can rack up the 20% to 30% revenue boost our past partners have reaped.
Let's dive into what your customers really want from your brand