If you're a Direct-To-Consumer (DTC) brand trying to pursue massive growth, here's everything you need to know to accelerate revenue from email marketing.
This ultimate eCommerce email marketing guide is your secret weapon to:
increase sales 

increase customer loyalty 

encourage purchase through email 

develop a brand identity 
Take charge of your DTC store's success by exploring the untapped potential of ecommerce email marketing with our dedicated guide.
Table of Contents: 
What is ecommerce email marketing? 
Email marketing is the use of emails to send commercial messages to customers.
When a current or potential customer receives an email, that is email marketing. These can be advertisements, or information for brand awareness.
Physical and eCommerce businesses depend on email marketing strategies for communication as it is direct. 
Ecommerce email marketing is using email specifically to drive sales and revenue to your business.
Automated systems and flows can help you send the right emails when needed. This encourages potential customers to make a purchase. The ultimate goal is for them to become repeat customers.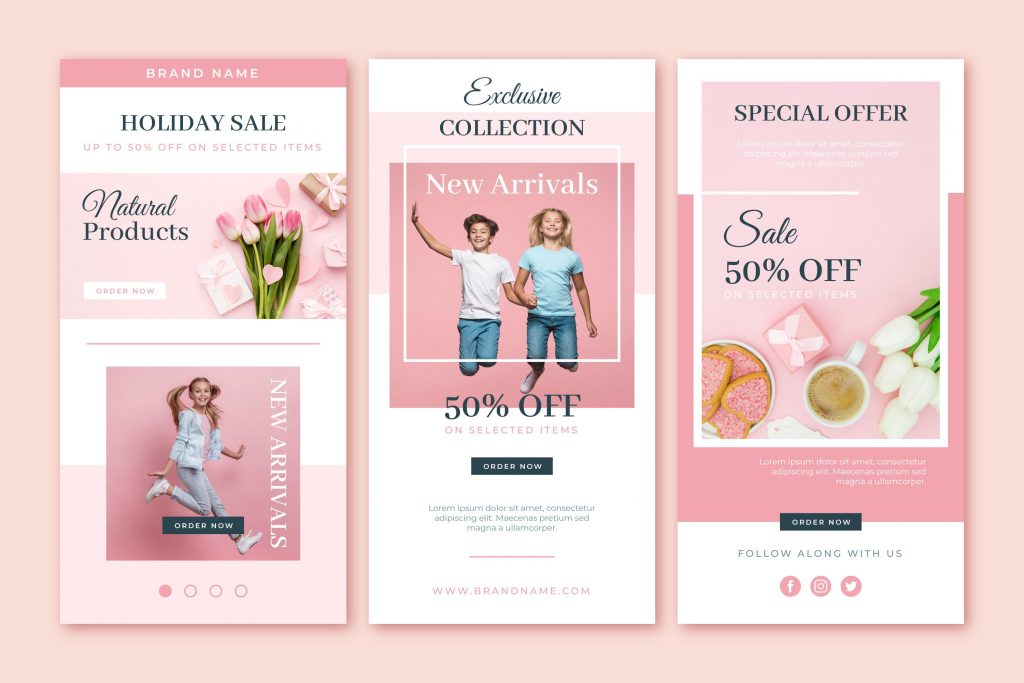 Why Should I Focus on Email for my Store?
To answer that question, you'll need to ask yourself this: What does it take to grow my DTC store?
From there, you can start listing down what you need. And for every need, email marketing has you covered:
"I'll need something that gives me high ROI."
On average, email generates $36 for every $1 spent. Proper strategies can increase your email ROI to 4,200%. This means that you can make $42 for every $1 you spend.


"I'll need a solid brand image strategy to keep my DTC store at the top of customers' minds."


Emails are highly customizable. They can look and feel like an extension of your DTC store's website. This customization can be extensive. 

When you create a consistent branding strategy, you boost your brand's presence among your customers.

People will recognize your brand when they see your logo and colors. This makes them more likely to respond to your emails compared to unknown brands.

 "I'll need an accurate and data-driven way to reach out to my target audience."


Email marketing sees positive results when you send your messages to the right people.

The spray-and-pray method is no longer effective. Modern consumers are highly selective when it comes to the emails they receive. They must be relevant to them in order to be accepted.

This is when segmentation comes into play. You can boost your conversions and lead quality by sending your customers content that's connected to their interests.

Email segmentation is beneficial because there are tools available to make it more precise and data-driven. This can help you get the best results.

 

"I'll need to create highly personalized content to effectively engage and convert my target audience."
Email can either be text-based or graphics-oriented. They can be animated or static, long or short—whatever your target audience prefers!

You can even set up messaging that can make your emails feel tailor-made for specific customers. Mention customers by name to build relationships. Share local promos to stay relevant. Celebrate customer milestones, such as subscription anniversaries or birthdays.

Email offers high personalization, making it an effective way to engage customers. This helps to build trust and loyalty to your direct-to-consumer brand.

 "I'll need a flexible and adaptive system that can sustainably grow my DTC brand."
Email marketing is already a great standalone tool as it is multi-functional. However, you can further enhance all benefits it can offer you by integrating it with other direct marketing tools.

Email can work seamlessly with SMS and mobile push notification marketing, altogether creating the power triangle of lifecycle marketing.
Ecommerce email marketing best practices
As a profit driver, emails have the power to generate 30% of your DTC store's overall revenue. 
Email marketing is a science in itself. Email marketing is essential.
Proper segmentation and A/B testing are key. It's easy to learn, but not as straightforward to master. Truly, it is a powerful marketing tool.
You can also use personalized emails throughout the customer journey. These emails can address customer pain points no matter where they are in that journey.
Emails can help you acquire new leads. They can help you build relationships with existing customers. Emails can also help you re-engage with customers who have been absent for a long time.
So, where should you start?
Parts of an Ecommerce email: What should my emails look like? 
An ecommerce email generally has a few key parts that work together to convey information, engage the recipient, and encourage action. 
The most important ones include:
Subject Line

– This is the first thing that your audience sees whenever you send an email. The goal is to create a compelling subject line that encourages your audience to open your email.

Preview Text

– This is a short snippet of text that shows up after the subject line. 

Brand Logo

– The header typically includes the sender's name or company logo, along with the email's branding elements.

Headline

-This is the main text that your audience sees when they open your email. 

Hero Image

– High-quality images can help capture the recipient's attention and generate interest.

CTA

– This is the main action you want your audience to take. Make this very distinctive to grab their attention. 

Copy/Content

– This is your main content. Focus on product launches, product recommendations, offers, and announcements. This will give your audience the opportunity to click through and add items to their cart on your website. 

Footer

– The footer is usually the place to find essential information. This includes contact details, company address, social media links, and an option to unsubscribe from future emails.
These elements come together to create an organized and effective e-commerce email. 
To maximize the email's ability to promote customer engagement and drive conversions, it's critical to carefully plan and optimize every part. Here are a few best practices when sending out ecommerce emails: 
Have a clear and dominant Headline.

Ensure it conveys everything your email subscribers need to go in a short and snappy copy.

Include a hero image.

These can vary between static images or GIFs.
QUICK TIP: 

Do A/B tests to see which type of hero image works best for you and your target audience. For example, test the file size of your images. Ensure they can display properly on your subscribers' email service providers.
Use button graphics for clickable elements.

Buttons catch the eye of your subscriber. They are also large enough to tap easily when subscribers view emails on mobile devices.

Use a variety of short or long-form formats.

This will depend on the type of email you're sending. When in doubt, A/B test and see which format your subscribers prefer.

Use animated icons.

Capture your subscribers' attention and engage them throughout your email with animated graphical assets

Do not forget your main CTA.

Ensure your main CTA is clear, visible, and easy to click or tap on.
Quick Tips to make your emails convert:
Stay consistent with your branding standards. As much as possible, recreate your DTC brand's website experience in your emails.

Create at least 2 to 3 ready-to-use email templates that you can easily swap between based on your needs.

Optimize your images so that your emails can load and display properly.

Break down long-form emails into easy-to-digest sections for higher readability.

Communicate urgency in your emails with sales offers and discount codes using timers.
Ecommerce email segmentation: Who should I send my emails to?
Imagine receiving an email with a discount code for a selection of feminine perfumes. Or, a brand might send you an email to get information to get a discount on a jacket.
How about an email telling you to visit a specific local store right now to claim a giveaway?
All that would be nice, right– if only you actually were someone who just happens to be looking for feminine fragrances. If only you were already someone familiar with a brand enough to share your personal information.
And if only you were living at the actual location where that local store was giving away free stuff!
You'll then mark these emails as spam and maybe even block the sender altogether. THAT'S what happens when senders don't practice email marketing segmentation.
Your goal is to reach out to your target audience and generate high-quality leads. To accomplish that, you'll need to send your emails according to a list of specific criteria.
Here are the basic segmentation types your email marketing system should have:
Customer demographics

Age

Location

Lifestyle
With these criteria in mind, you can segment your subscriber lists accordingly. You'll know who to send specific emails to.
The bottom line is that segmentation can help you send the right emails to the right people. Doing so can help you minimize unsubscriptions and maximize engagement.
Now that you can engage your customers with pinpoint accuracy, what kinds of emails exactly should you be sending them?
Campaigns VS Flows: What Kinds of Emails Should I be Sending?
You can generally categorize emails into types: campaigns and flows. The difference between the two is in their execution and purpose.
Your main objective when sending campaigns is to touch base and establish communication with your subscribers.
On the other hand, flows are automated emails. They are triggered when customers meet certain conditions.
Your main objective when using flows is to keep your customers engaged throughout their buyer's journey.
Let's start with email campaigns. The campaigns you send will depend on the objective you're looking to achieve.
Are you trying to drive traffic to your DTC store page? Do you want to nurture leads? Do you want to raise brand and product awareness? Or are you just looking to generate more revenue?
Once you've established a goal, you pick out the type of email campaign you want to send out. These can be—
New Product Announcements 

Direct Emails 

Seasonal Sale Announcements 

Content or Educational Emails 
Let's take a closer look at content emails. They don't directly drive sales, but they do enhance them—and content emails accomplish this in two ways:
Make your products more enticing to buy

Reassure your customers that they're making the right choice buying that specific product
Consumers do not always purchase items when they visit a store page. They may need more time to consider their options. 
Send content emails to frequent visitors to encourage them to make a purchase. This is a gentle way to convert visitors into buyers.
On the other hand, customers may experience buyer's remorse after making a purchase. This is when they have second thoughts about their decision. 
Send them content emails that highlight the benefits of your products and how they can improve your customers' quality of life.
Content emails also work for regular customers. Engage your customer base by sending them tips on product usage and maintenance. This way, you can even squeeze in some cross-selling opportunities.
Meeting customers at each step of their buyer's journey requires more than just an email campaign. It requires a personalized approach.
You'll need the magic of email marketing automation by your side.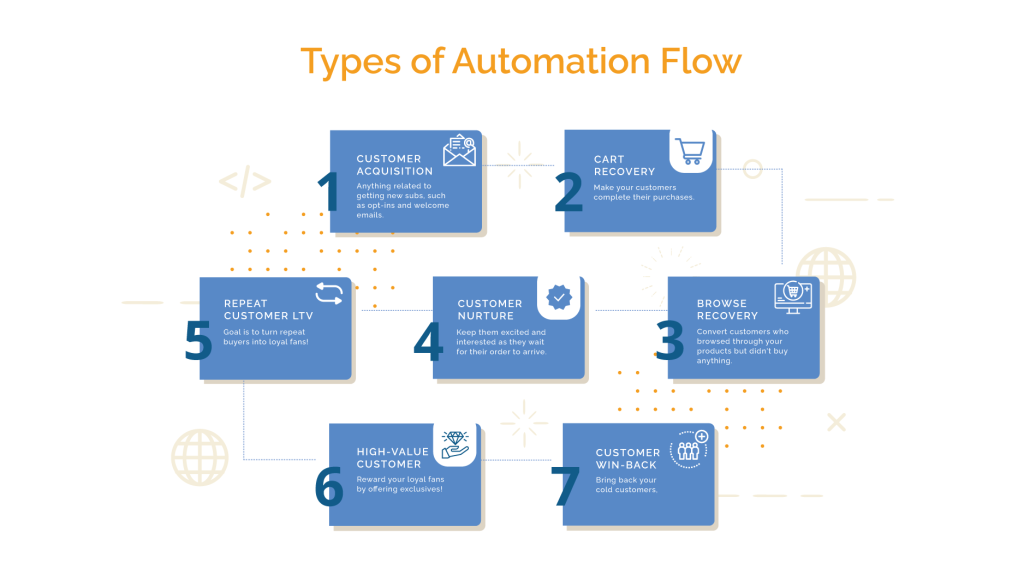 Essential Email Marketing Flows 
Welcome Series
This flow triggers when a prospect signs up as a new subscriber to your email. For example, gifting cookies or cake to a new neighbor is a way of acknowledging them. This is similar to welcoming new subscribers to your brand. Ensure they feel welcome so that they are more likely to stay.
Post-purchase Flow
Your engagement with your customers should not stop after they've made a purchase. The post-purchase journey is a critical time to make or break customer satisfaction. Your goal is to confirm your customers' purchases and reassure them that they made the right decision. Additionally, you can use post-purchase flows to collect feedback.
Cart Recovery Flow
According to the Baymard Institute, shoppers abandon 69.57% of online shopping carts. That is a huge chunk of your revenue just sitting on the table.

Abandoned cart flows help you claim finally that dormant revenue. Usually, cart recovery emails would be simple text-based reminder emails. In most cases, customers would just need a simple reminder to finally finish their checkout.

If that's not enough, follow up with another reminder email. Include a modest discount code as an incentive.

Browse Recovery Flow
This flow triggers when a visitor to your website provides you with their email but didn't make a purchase.

Remind your customers of their interest in your products to bring them back to your store. In this way, you can monetize incoming traffic.

New Customer Acquisition Flow
Think of this flow as a more fleshed-out version of your basic Welcome Series. More than just welcoming your new subscribers, you're also sharing information about your brand, what you sell, and why.

Create discount offers for customers' first purchases through a series of emails. This will encourage them to buy from you.

If done right, you can even squeeze in an upsell opportunity at the near end of the flow.
Tools and Platforms: Ecommerce email marketing software
There are many tools available to do the job. However, only a few of them are suitable for your toolbox.
Here are our top recommendations:
Hemingway Editor


This is a great tool if you're trying to optimize the readability of your content. It's completely free and will even highlight parts of your copy and make suggestions on how to improve it.

Copy.ai


Some people are nervous about sending out emails because they're "not good with words." There are apps like Copy.ai that can help.

Copywriting tools cannot replace a good copywriter, but they can be useful. They can help you string words together and create new versions of existing ideas.

Canva
Canva is a good choice for an image design tool. While some advanced features require a premium account, you can upload your assets and shape them into your desired design.
Freepik
Freepik is one of our favorite royalty-free stock image resources. We highly recommend getting a premium account for the best quality images you can freely use in your promotional materials.
Klaviyo
For the email-sending part, our top recommendation for you is Klaviyo. They're the best of the best when it comes to automating your email marketing.

Klaviyo's features allow you to access customer data. This data will help you decide what action to take. You can also divide customers into more specific segments. Finally, you can gain real-time insights to personalize and optimize your services.
You are aware of what should be included in your emails and how to send them. But, how can you tell if your email marketing is effective?
Ecommerce email marketing KPIs and analytics 
To get the most out of email marketing, tracking the right metrics is key. This will help you to measure success and identify areas for improvement.
Data-driven decision-making is key to optimizing your email marketing for maximized revenue generation and customer retention.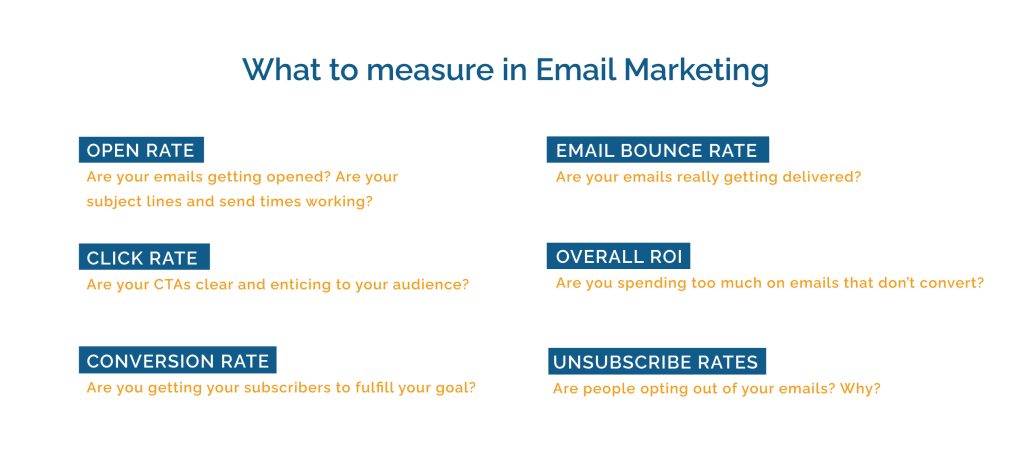 For email marketing, here are the numbers you should watch: 
Open rate


This would tell you if your subject lines are engaging enough for receivers to open your emails.

Low open rates mean you'll need to optimize your subject lines and even your preview text. Are they too long? Do they tell your subscribers what they need to know?

Send times and the name you use as a sender would affect your open rates as well.

Do you send your emails when your target audience is most likely or less likely to be online? Do your subscribers prefer receiving emails from your personal account or your company account?

Click rate


This would tell you if your subscribers are clicking your CTAs.

Low click rates mean you'll need to optimize how you present your CTAs in your email. Are they clear? Are they engaging? Do your subscribers prefer clickable images or simple button CTAs?
Conversion rate


This one is critical. It can help you determine how effective your email marketing is in achieving your goal action. Understanding this can give you an idea of the success of your email campaigns.

Low conversion rates mean you'll need to revisit your email copy, angle, and design.

Email bounce rate


The lower your email bounce rate, the higher your email deliverability is.

High bounce rates indicate a need to optimize emails. This includes meeting the criteria set by email and internet service providers.

Such criteria can include spam words and overuse of special characters.

Overall ROI


This is the bottom line metric that can help you determine the overall performance of your email marketing. Are you spending too much on emails that don't convert? It can tell you if your current email strategy is worth pushing for or revisiting.

Unsubscribe rates


This metric can tell you if you're actually doing too much of something in your email marketing.

For example: Are people unsubscribing because you send them too many emails? Are your promotions too pushy? Is your content too long or too short? Etc.
These are the base metrics you'll need to track. However, there have been instances where tracking open rates has been deemed unreliable.
Services that facilitate online transactions often allow consumers to control the amount of information they share. This is an important feature when making purchases online.
We're talking about the iOS 15 update rollout in late September 2021. 
Collecting emails became much more challenging, especially for DTC store owners whose customer base was mostly made of Apple users.
But don't fret, as workaround strategies have long since been made to circumvent this obstacle. Our CEO, Josh Chin, put out a short video discussing this topic:
Ecommerce A/B testing 
Okay but what DO you do with all this data? How should you plan your next move based on your results?
A/B testing is your best friend when it comes to processing numbers into strategies. Make two versions of one of your emails. Here's a basic A/B testing scenario:
Let's say Email A has a hero image, and Email B doesn't.
Send them out and observe each of their performances based on the metrics we've listed above.
Did Email A produce better results than Email B? This tells you that your customers are more receptive to emails with hero images.
However, this comes with a caveat. That doesn't mean all your future emails should follow that conclusion. Depending on the type of email you send out, your customers' preferences may vary.
This is why you should conduct A/B testing regularly. To create the best version of your emails, rigorous and consistent A/B testing is crucial.
With that, you've got the basics of email marketing. But why stop there?
Basic email strategies can only get you so far.
We've put together several advanced tips and strategies you can use to take your email marketing even further.
Email Optimization
You can optimize your emails further by zeroing in on these 3 things:
Deliverability
Your emails can't generate sales if they don't land in your customers' inboxes in the first place.
To optimize your email deliverability, make sure you send relevant content to your high-quality customers. Also, follow the spam filter criteria set by email service providers and internet service providers.
Flow
Emails can generate 30% of your DTC store's revenue. Flows, also called automated emails, should be responsible for 15% to 20% of that.
To maximize your automated email revenue, focus on your heavy-lifting flows. These would be your Cart Recovery, New Customer Acquisition, and Customer Nurture Flows.
Email List
Bigger isn't always better. An email list of 100,000 subscribers will do you more harm if a huge chunk of them are inactive and not really interested in what you have to offer.
Prune your email lists to keep them healthy. It'll save you money and keep your analytics clean and reliable.
Advanced Email Segmentation
We've covered the basic segments. However, to really scale your DTC brand to the next level, you'll need to have these advanced segments in place:
Product Interest –

Segment your customers according to which product they're interested in so you can predict their future purchase behavior.

Frequency of Purchase and Last Purchase –

Segment your customers based on how frequently they've bought from you. This can help you determine whether you can use upselling or soft-selling emails.

Price Sensitivity –

Segment your customers according to those who wait until sales events to make purchases. This can help you determine to whom you can prioritize sending your sales promos to.

Customer Lifetime Value –

This is where you segment your customers based on your best customers or your VIPs. These are the customers you can prioritize for your customer loyalty programs.

Exclusion Segments –

This is as ironic as it is practical. You'll need to keep a segment of contacts you need to exclude.
Sending any promotional emails to these contacts may harm your deliverability standing. This can cause your brand to be marked for spam by email service providers.
Lifecycle Marketing in Ecommerce
We know, email is not perfect. While it can do a lot alone, it can accomplish a lot more when paired with other digital marketing tools.
SMS and mobile push notification marketing are excellent partners to your email marketing. Together, they make up an effective direct marketing combo.
The combination of each tool's specialties can boost your lifecycle marketing. This will improve customer retention and satisfaction with a more personal approach.
Key Takeaways:
Email marketing is a goal-oriented marketing tool.


To get the results you need, you'll need to establish goals you can align your emails to.

Successful email strategies require data-driven strategies.


Listen to your numbers and optimize your emails accordingly.

There's no "one size fits all" strategy in email marketing.


Since you're dealing with consumers, their interests and preferences will always change. Different DTC stores have different needs. Keep A/B testing to figure out what works.

Sales emails drive sales, but content emails help drive sales harder.


Squeeze in content emails between your promotional emails to make your product highlights more enticing to your customers.

A happy customer base begets a sustainable DTC brand.


It goes without saying that customers are the lifeblood of DTC stores. Going for a customer-centric approach in your email marketing is key to sustainable brand growth.