Consumers actively seek out other shoppers' opinions when buying a new product. In fact, 93% will read online reviews before they even think about getting their wallet out and handing over their hard-earned cash. 
Failing to collect and display customer reviews can turn off shoppers who will go elsewhere where they can get an insight into past buyer experiences. This puts pressure on merchants who need to create a seamless review collection process that allows them to consistently capture and display reviews throughout the sales cycle. 
There are plenty of ways to take the friction out of the process.  These include offering customers rewards, discounts, or freebies in exchange for submitting valuable reviews. Tactics like this are a win-win situation for everyone involved. The customer gets their hands on a reward and the merchant receives valuable feedback. 
Why Frictionless Review Collection is Important 
Any sign of friction in the review collection process can lead to customers giving up. It's unlikely that people will go out of their way to leave feedback if the process is overly clunky — except, of course, if they want to leave a bad review. 
Creating a frictionless experience encourages as many customers as possible to leave feedback (many of which will be happy customers who want to leave a positive review). Making the process slick also continues to create an enjoyable customer experience and ensures it slots into the sales cycle. Taking it one step further and rewarding customers that provide feedback keeps the momentum going. 
How to Make the Review Collection and Rewards Redemption Process Frictionless
Redeeming a reward seems like a simple thing to do, and something that most consumers will be ready and raring to participate in. However, if the process isn't easy to navigate, it could have a detrimental effect on trust and customer loyalty. 
Here's how to make the process as frictionless as possible: 
Meet People Where They Are
Instead of forcing customers to come to you to leave a review, meet them where they're already hanging out. Send SMS messages requesting a review, for example, or serve a popup on your website when a customer takes an action. 
Streamline the Review Capture Process
The more seamless the review capture process is, the more likely customers are to leave a positive testimonial and go on to redeem their reward. You can streamline the process by: 
Automating the process so that customers receive a review request at just the right time (you can use a customer review software to do this), 

Making it easy for customers to submit their reviews,

Showcasing user-generated content examples that customers can replicate, and 

Using an

enhanced review capture form

that allows customers to leave a review in just a few clicks (Okendo's new form is served on a single page and is optimized for mobile, making it incredibly user-friendly and easy to use).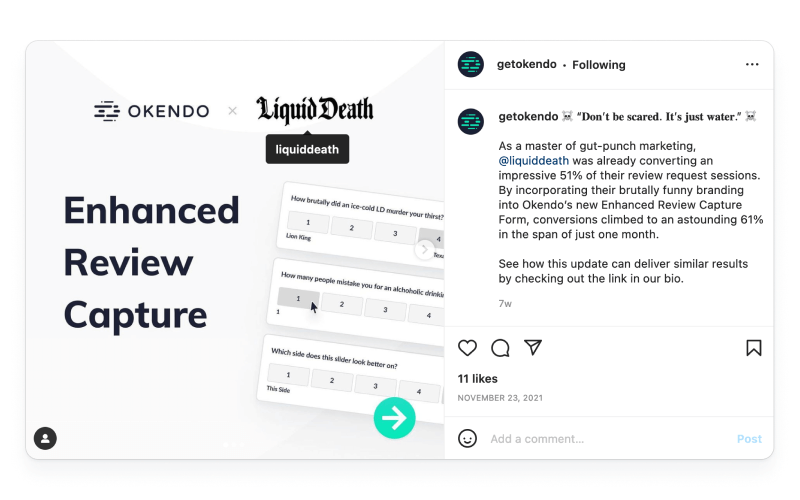 When Liquid Death started injecting their fun personality into Okendo's enhanced review capture form, they increased review capture conversions to 61% in just one month. 
Ask At the Right Time 
Timing is everything when it comes to collecting reviews. If you ask too early, customers might not have had a chance to use your product. Ask too late, and they might have forgotten all about it. Use automation to ensure you're sending review capture requests at the right time to keep customers engaged. 
RELATED: 6 Ridiculously Simple Email-Based Retention Strategies You Need to Try
Be Clear About Your Reward Scheme
Rewards are a great incentive for customers who might be on the fence about leaving a review. However, it's important that you're clear about what the reward is and exactly how customers can claim it. The easier you make it for them to redeem, the more likely they will be to actually do it.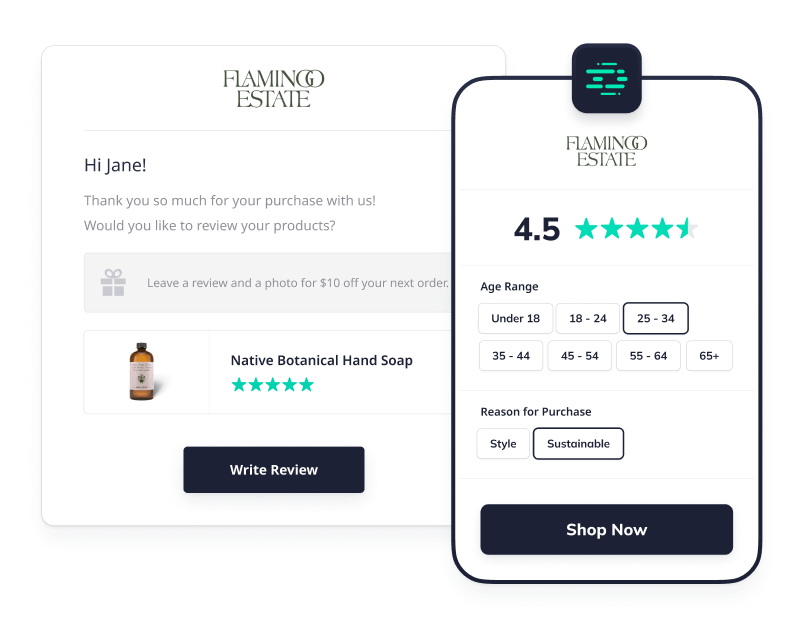 Flamingo Estate knows the importance of brand loyalty and offers customers $10 off their next order when they leave a review with a photo. 
Provide a Code
One of the easiest ways to reward customers is to provide them with a code they can use on future purchases. Shoppers can simply copy and paste it into the promotions bar when they're next on your store to redeem their reward. This also increases customer retention by encouraging customers to come back again and again. 
Follow Up
Thank customers for leaving a review and follow up with them if they've left feedback that needs a response. Interacting with customers and actively listening to their needs builds trust and credibility. This in turn secures loyalty and makes it more likely that they will leave a review again in the future. 
While most brands go after those much-coveted 5 star reviews, research shows that conversion is generally highest for websites with a 4.2-4.7 star rating. Brands come across as more authentic and transparent by not hiding negative reviews. It highlights their genuine desire to fix any perceived problems. In order to ensure reviews feel authentic and not "too good to be true", it's important for brands to feature and publicly respond to reviews that are less than complimentary. 
Creating a Slick Review Collection Process is a Must 
The review collection process is crucial for merchants so they can capture and display social proof. It instills buyer confidence and drives sales. However, it's important that the process is as slick and seamless as possible. This way, you encourage shoppers to share their feedback and you also reap the benefits of user-generated content. 
Start by automating the process, making your review capture forms as easy as possible to submit, and rewarding customers for leaving reviews. This all makes it really simple for shoppers to redeem their rewards while building an online community. 
Author Bio: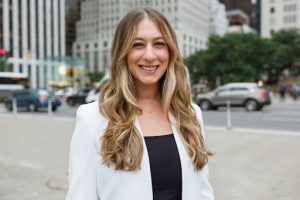 This guest post was written by Lindsay Kolinsky, Partner Marketing Manager at Okendo.
Okendo is THE customer review platform for fast-growing Shopify brands. An Official Google Reviews partner and trusted by 5,000+ high-growth consumer brands such Netflix, SKIMS and Bite, Okendo has all the tools brands need to capture and showcase high-impact social proof through the online buying journey. Learn more about our unique review capture process, blazing-fast display widgets and extensive Klaviyo integration at www.okendo.io.