It's undeniable—Direct to Consumer (DTC) eCommerce has radically transformed the interaction between consumers and brands. As a result, there are new eCommerce trends that brands must look out for to avoid getting left behind.
Even before the COVID-19 pandemic, DTC brands were already known to be the golden standard in eCommerce.
Today, savvy businesses are using the DTC business model for their customer success. In fact, more than half of brand manufacturers opt to offer the products directly to their consumers instead.
With more eCommerce brands dipping their toes into DTC marketing, it's crucial to know how you can stand out and be the go-to brand of your target consumers.
7 eCommerce trends you need to be aware of in 2022
The eCommerce industry is a fast-paced one, so there is no surprise that there are new trends popping up all the time. To keep you in the loop, here are the top eCommerce trends for 2022. 


Diversifying your eCommerce Ads on social media platforms
Social media is a must for many eCommerce brands because many consumers are there. In fact, the number of social media users worldwide is expected to reach 3.96 billion this 2022.
To leverage this, it's important to spread your eCommerce ads across multiple channels. Here's why:
Each social media platform offers something different in terms of demographics, ad types and types of creatives. Therefore, your brand needs to test the performance of different ad creatives (especially for various eCommerce trends) across each platform to see which provides the best results.
The algorithms of social media platforms are constantly evolving, so your content must do the same. To keep your content relevant, you need to be regularly testing new techniques.
You can create authentic content on social media by partnering with Creators, which makes your ad blend into the user's feed without the typical ad-feel. This technique builds a greater level of trust to boost sales.
Online shoppers don't live on only one social media platform. If you only focus on one without testing the performance of any others, you will miss opportunities.
Platforms like TikTok and Pinterest have upgraded their ad platforms to include more analytics, customer data, and reporting features.


Using more CGC (Creator Generated Content) in social commerce
Creator Generated Content (CGC) is video or photo assets that any individual creates on behalf of the brand itself. Content creators are a powerful tool for social media marketing as consumers are now listening to consumers over brands.
So when a Creator posts a photo or video about a product, a consumer is more likely to trust them and make a purchase. Here's how you can partner with affordable Creators.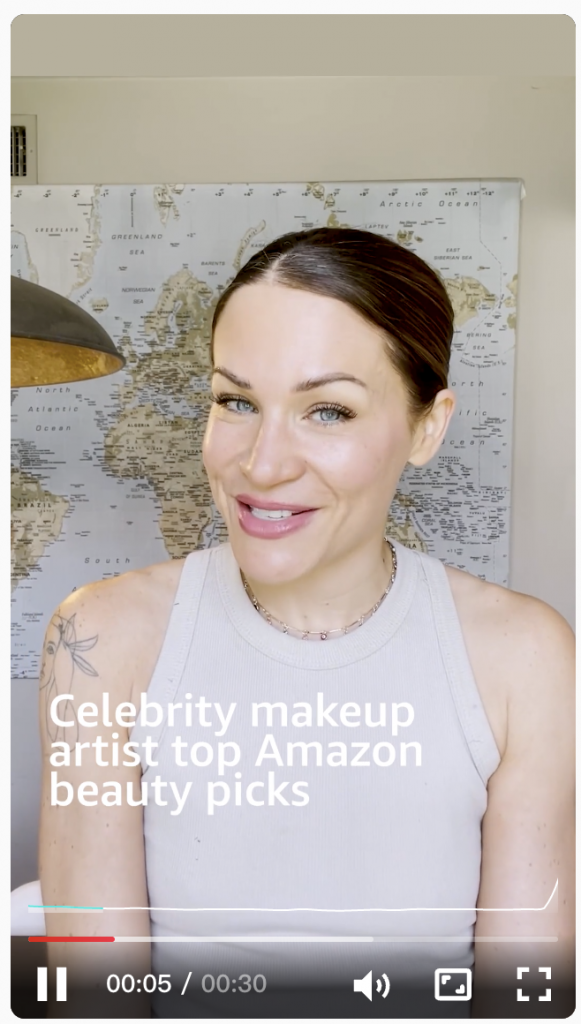 Source: TikTok
Lately, brands (especially smaller eCommerce stores) have learned to leverage CGC in their marketing campaigns. Forbes reports that more than 86% of companies use CGC in their marketing efforts.
Here are some main advantages of using CGC:
Creating shoppable ads on TikTok and Instagram
Shoppable ads are ads that consumers can purchase directly from. Basically, users no longer have to exit the platform they're on just to purchase your product.
The reason why shoppable ads are a genius idea is that 80% of shoppers prefer shopping on digital platforms. As mobile shopping advocates, people prefer to purchase online using the fastest way possible.
Here's why shoppable ads are one of the hottest eCommerce trends right now:
76% of shoppers made impulse buying decisions on social channels simply because of the ease of purchase
71% of shoppers would rather complete the purchase on social platforms rather than on the actual eCommerce site


How to start utilizing shoppable ads this quarter
If you're an eCommerce brand that hasn't implemented shoppable ads, start the next quarter with the right foot forwards. Prioritize TikTok and Instagram like you prioritize your eCommerce website.
Instagram, for one, is a great platform to browse new products and shop online—81% of shoppers start their buyer's journey here. Online shoppers can view product details right from the posts themselves, or even shop from IG stories.
Source: Hubspot
TikTok, meanwhile, has a Shopify integration. Once your eCommerce store is connected to a TikTok business account, you can seamlessly generate in-feed shoppable posts from videos.
This is great news for eCommerce retailers, as content can go viral within seconds (especially if you combine shoppable ads with CGC). The biggest influencers on TikTok can get 46 million likes for a 60-second video. Being there gives you the power to encourage customers to go on an online shopping frenzy!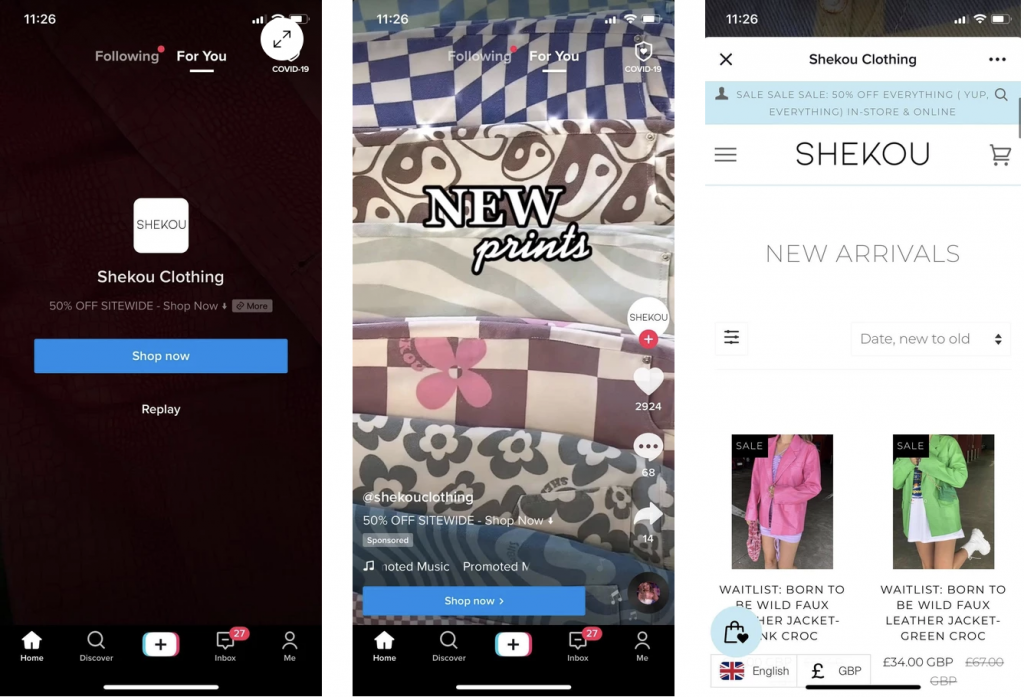 Source: Smartzer


Creating stronger bonds with customers
Did you know that 80% of consumers are more likely to buy from a brand that provides a personalized customer experience? Plus, 91% of consumers are more likely to shop with eCommerce businesses that provide relevant offers and recommendations.
Here are a few ways that you can start creating tailored experiences for your customers to build customer loyalty and win repeat business:
Look into email marketing workflows to enhance the customer journey from acquisition to retention
Invest in omnichannel marketing and multichannel customer support to be present across multiple platforms
Tailor your ad creatives depending on the targeting parameters and customer journey stage of prospective customers
Look into using chatbots to meet customer expectations. 69% of consumers prefer quick replies—they want things right now, right away.


Increased authenticity and relatability
It's no longer just about the product. Your marketing team should invest in creating an exciting customer interaction that can spark your consumers' love affair with your eCommerce store. Being more authentic shows that your brand is different. It builds your identity, showcases your brand as trustworthy, and boosts eCommerce sales in the long run.
Start being more authentic and reliable with the following tips:
Tell your brand story through your online presence or nurture sequence. Letting people in on your mission, vision, and passions is one way of making customers loyal.
Use more CGC in your ads, emails, and other marketing materials. 59% of consumers say that CGC is the most authentic type of content. TikTok Spark ads even allow brands to create ads right from creators' organic posts!
Voice out your insights on particular trending topics to give your brand a personality and to make you more relatable.
Create communities or conversations about your brand. You can do this by posting polls, going live on Instagram, or even joining in on trending TikTok hashtags. 


Diving into ad creative testing on a new level
There's no one-size-fits-all strategy when it comes to ad creatives. Each brand needs a thorough ad testing strategy to see which ad types and creatives work best. This includes testing different Creators, to see whose personality and appearance resonates best with your target audience.
Here's a quick guide on how you can go about your ad creative testing:
Phase 1: Try different creative angles to see which one gets the most result in terms of clicks or leading people to your store
Phase 2: Test different hooks for your target consumers. What's in it for them: it a coupon, a free guide, or a free item?
Phase 3: Work with different content creators. Assess whose content will appeal to customer preferences. Creators have different styles and different niches as well.
When your ad creatives are already pulling in sustainable revenue, you can go even deeper into creative tests. When it comes to AB testing, you can go as granular as you want and test other elements like:
CTA buttons or call outs
Different thumbnails
Headlines and captions
Ad copywriting
Content (whether it's an unboxing, testimonial video, product demo etc.)
The more detail you find out about what works best, the better you will be able to target your consumers in the most cost-effective way possible.
Check out this comprehensive guide on ad creative testing.


Having a dedicated influencer or creative manager looking after creator partnerships
Gone are the days when influencer marketing takes a tiny part of your marketing efforts. Today, it's a highly-regarded strategy because of how effective it is. In fact, the percentage of US marketers using influencer marketing is expected to increase to 72.5% this 2022.
That being said, it might be worthwhile to look into having a dedicated person to focus on looking after your content creators and partners. The content creators' briefs need to align with the overall marketing strategy.
Likewise, you'll need someone to focus on strengthening the relationships with these creators—after all, genuine connections are valued despite the digital barriers.


Examples of CGC to keep up with the eCommerce trends
If it's your first time dabbling in investing in CGC, here are the most popular and effective types of CGC that you need in your creative library.
Product shots
Any image or video that shows your product is a must-have. Whether your product is shown in a subtle manner or full-on, the important thing to consider is that your brand should be present. Some creators prefer subtly showing the brand, so it looks more organic and less like an ad.
Different ways to showcase your products include close-ups, panning videos, or the ever-popular flat lays.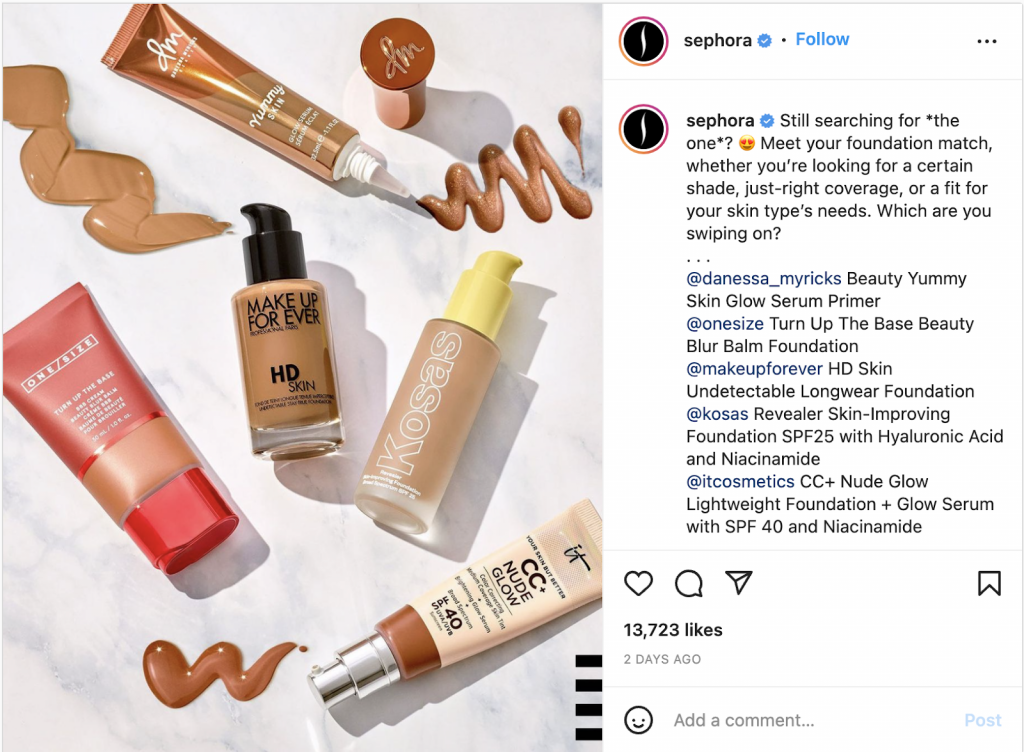 Source: Instagram
Action shots
Action shots have been increasing in popularity. After all, many shoppers have gotten used to purchasing gadgets and appliances online. Action shots highlight the product's features and demonstrate how it works.
Some ads take the instructional angle, while some prefer to showcase how the product fits everyday life.
Talking heads
It's already been established how crucial the role of actual consumers is when it comes to influencing purchase decisions.
Talking heads are very straightforward. This type of CGC is a video in selfie mode and features an actual person discussing the product. While action shots focus more on showing the product, talking heads focus more on showing the person talking about the product.
Having an actual person giving the review gives off a sense of authenticity — an important factor influencing consumer behavior nowadays. This is definitely one angle you can include in your briefs to content creators.
Source: TikTok


How to source content creators to grow your DTC marketing
Some brands choose to search for content creators manually. This means a marketing manager is assigned to sift through various social media profiles on different channels, contact them, close agreements, and manage the briefs and payments.
Others choose to use the ad platform's resources. For example, TikTok has its own Creator Marketplace where eCommerce businesses can literally find creators according to specifications.
To optimize the process further, others choose Insense (a Meta Business Partner and TikTok Creative Partner) which has its own creator marketing platform.
This platform can be used for creating user generated content for major social media platforms (Instagram, Facebook, TikTok, and even Snapchat). eCommerce brands will be able to test various creators, create campaigns, and conduct briefs all in one place.
Author Bio:
As the CEO and co-founder of Insense, Danil has helped hundreds of DTC brands and growth agencies unlock the true power of paid social by engaging creators.