If you're an eCommerce merchant, you've spent countless hours curating, segmenting, and testing your email list. For some brands, email is a top revenue channel. It's where your most active customers live and where your biggest prospects lie.
That's why your email list is one of the best sources for growing your SMS list.
Your email subscribers are high intent; they've already opted in to receive marketing communications from your brand. There's a ton of ways you can convince them to opt into your texts too, whether you're just getting started with SMS marketing or you're trying to bulk up your existing SMS list.
Here are our top tips for converting these folks into your new text friends compliantly and creatively. 
Create a landing page to use for opt-in opportunities.
A potential customer or SMS subscriber could find you at a number of different touch points, whether it's through Instagram, a Facebook post, or an email. To make it easy for anyone to sign up for your SMS program, create a compliant signup landing page within Postscript and link to it across all your marketing channels.
Here's an example of what a subscriber collection landing page looks like.

You'll note that the compliance language, which is essential to building your list, is part of the Postscript dashboard. That way, you know you're collecting numbers the right way.
There's a lot of risk to using incorrect language when you're asking for someone to give you their phone number, so using a platform that offers baked-in compliance language will help you sleep at night.
Add compliant opportunities in key places on your site.
Although Keyword Opt-In, checkout collection and pop-ups generate the majority of new subscribers, think about other real estate on your site that might be an opportunity for customers to opt-in.
Here's a great example from the footer on Truly Beauty for a compliant way to collect numbers.

Make sure you're collecting at checkout.
Capturing emails at checkout is a huge opportunity for email list growth—and for collecting numbers too. If you're on Shopify, this takes just two minutes to do. We found that 60% of phone numbers are acquired at checkout so this easy step can have a big impact on your SMS program.
Target a group of people already invested in your brand and products.
While it's a great idea to promote your SMS program to your entire email list, you may want to tailor your opt-in promotions to specific groups. Within your email service provider, target a few different segments to send out emails promoting your SMS program. For example:
VIPS – Provide a unique keyword to current customers who are your most active buyers. Let them know they'll have first access to sales and product launches when they use that keyword to sign up for text alerts.
SUBSCRIBERS, NO PURCHASES – Incentivize email subscribers who haven't purchased to sign up for texts instead. Sweeten the pot with a discount code they'll receive once they subscribe.
WINBACK – Try to re-engage with customers who have purchased before but have since gone dormant. SMS might be the way to bring them back in.
Here's a few examples of how brands on Postscript are doing this.
Crossnet sent an email promoting all the perks of being on their text chain, from exclusive promos to fun content.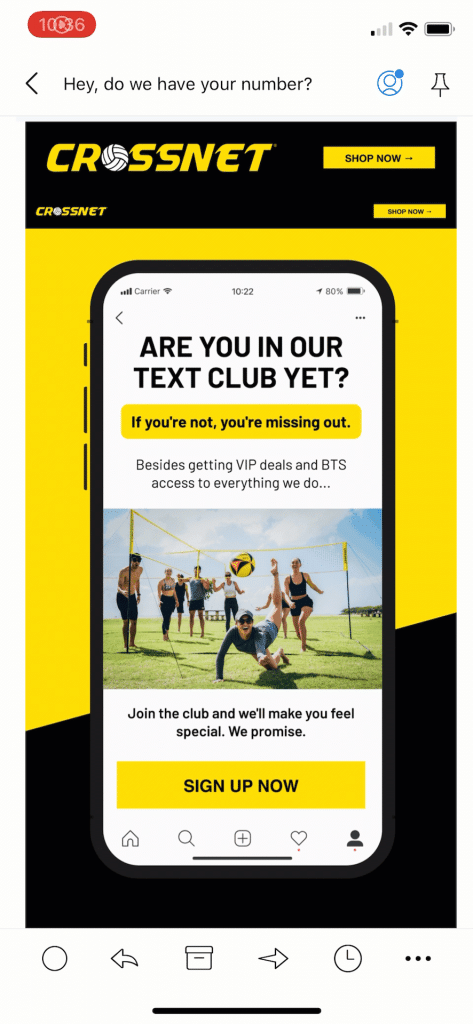 Remind subscribers about your SMS program when you're about to launch a new collection or a big sale. Use it as an opportunity to play up the early access they'll receive as SMS subscribers. Here's a great example from soap brand Dr. Squatch.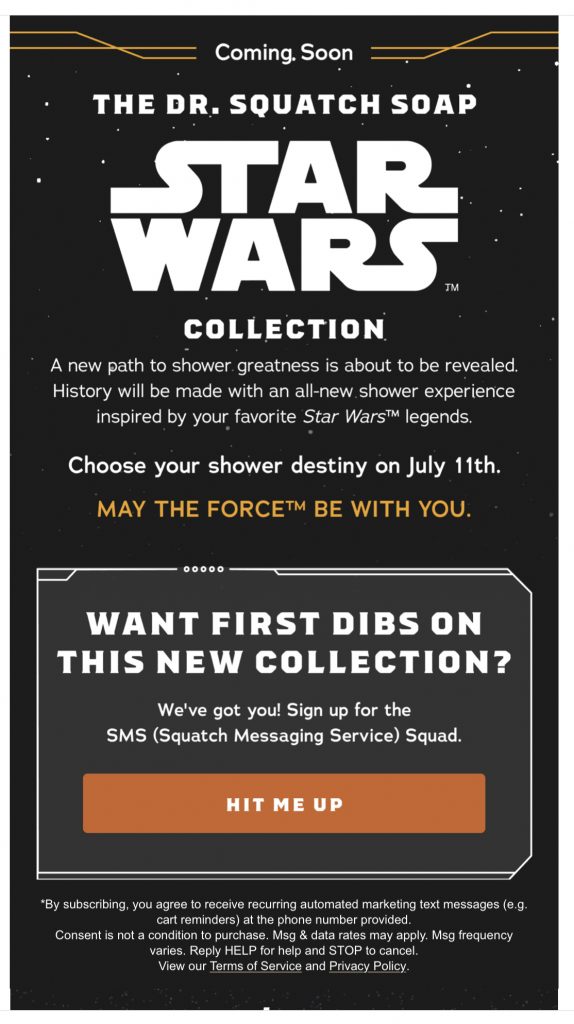 Create unique keywords and target subscribers who use them with specific welcome series, automation, or campaign messages.
You always have the option to create an opt-in opportunity with just a keyword and your short code or phone number.
We strongly recommend you create a unique keyword for email so you can track and segment subscribers who opt in there versus your other channels. You'll also want to make sure you clearly display TCPA-compliant language below the keyword call-to-action.
When collecting subscribers, the TCPA requires you to include necessary compliance language informing visitors that they are opting into SMS marketing messages from your store. This language must appear beneath your CTA (e.g., a dynamic button or a line that reads, "Text HEYPAL to 12345").
Here's the TCPA-approved compliance language:
*I agree to receive recurring automated marketing text messages (e.g. cart reminders) at the phone number provided. Consent is not a condition to purchase. Msg & data rates may apply. Msg frequency varies. Reply HELP for help and STOP to cancel. View our Terms of Service and Privacy Policy.
In addition to creating and sending a unique opt-in keyword via email, you might promote another unique keyword in an Instagram story to encourage signups there. Or, add one within your TikTok profile to convert new subscribers there.
These keywords help identify where you're gathering the most subscribers and enable you to retarget specific segments within your SMS platform.
Set up a Welcome Series that includes email and SMS.
Unlike email, when we look at SMS list health, the longer a subscriber is on your SMS list, the healthier it is. SMS subscribers are most likely to opt out early in their journey. This is why it's crucial to make sure you start sending texts to subscribers regularly right away. You don't want that list to go dormant.
For new subscribers who have opted into both email and SMS, create a flow that sends them messages using both channels. For example, your Welcome Series might look like this:
Immediately after signup > Subscriber receives welcome email
24 hours later > SMS message about your brand
24 hours later > Email with welcome code
24 hours later > SMS welcome code offer (to anyone who has yet to purchase)
If you have an ongoing email series that you don't want to disrupt, consider adding at least one SMS touch point for all subscribers who have opted in. Remember that if they signed up to receive texts from you, they want to receive them!
Create segments based on keyword replies.
A huge advantage to combining email and SMS is that you can further segment your customers and subscribers with personal and real-time interactions.
A quick note on Keyword replies vs. Keyword opt-ins. When we refer to Keyword opt-ins, it's when a subscriber texts a certain Keyword (i.e. SAVE10) to a brand's short code to opt-in to their SMS marketing program. When we talk about Keyword replies, these are being sent in a campaign to an already subscribed list in order to get them to engage. We'll give you an example.
Let's say you are planning on offering a daily deal for ten days leading up to Black Friday. You're expecting to send these to your full email list each day, perhaps adjusting if you see unsubscribes spike.
To make this promotion even more effective, send a text to all subscribers and ask them if they want to receive messaging. Invite them to reply back with one of the following two keywords: DAILY or SKIP. For all customers who text back DAILY, make sure they receive these messages on SMS, too. For those who opt out by texting SKIP, make sure you remove them from your send list for this campaign.
The power of keyword replies extends to so many strategies. You can ask customers to reply based on skin type if you're a beauty brand, their dietary restrictions if you sell food, or even their messaging preferences. The more data you gather around customer preferences, the better equipped you are to send personalized messages—which in turn should help you keep your list engaged and your revenue maximized.
Think about the total value of your program, not just short-term gains.
We hear firsthand how much merchants have struggled with the latest iOS update. In a world where cookies could be going extinct, owned marketing is more important than ever. So, it's important to develop a strategy that will work for your brand over the long term.
We developed a metric we believe is the most important way to measure the total value of your SMS program. We call it Subscriber Lifetime Value. There's a lot of ways to optimize this metric (which you can dig into more here), but the three main influencing factors are engagement, retention, and conversion.
You want to engage customers with compelling messages, two-way conversations, and killer creatives. SMS inboxes are where texts from family and friends live, so you never want your messages to sound like spam.
To retain and convert your list, you have to use subscriber data and segmentation to make messages as targeted and personalized as possible, constantly reiterating to see what subscribers react to best.
SMS is perfect for brands looking to deliver messages in real time, build real connections with customers, and grow revenue at the same time. See why more than 7,000 Shopify brands use Postscript right here.