Messenger Marketing is more than just another push-for-the-sale channel. If you implement the right strategies, it can become one of your brand's major channels in further building your customer base. This, in turn, sets your online store up for BFCM success.
Firstly, why leverage Facebook Messenger as a marketing tool for BFCM? Surely you already have plenty of other marketing tools that can effectively push more sales. That's actually the point: Aside from pushing sales, Messenger is also ideal for building a solid customer base.
So, how effective is Messenger Marketing as a customer communications channel?
Messenger has 90% open rates

, with 30% engagement rates!

90% of Messenger messages are totally free—making it

super cost-effective

.

Simulates the brick-and-mortar experience

, as it provides immediate back-and-forth communications with your customers. Also, Messenger messages feel more personal and conversational. They're no different from real-time conversations—albeit not face-to-face.

You can rapidly grow your list at once, especially with Recart's two-tap pop-up experience.

Connect, engage, and build relationships with your customers at scale.

Turn your social media channels into owned channels.

Drive better engagement and reduce your costs.
Messenger Marketing's High Engagement Power Enhances Your Retention Marketing Efforts
Retention marketing is now one of the most important focuses of eCommerce brand owners. In fact, customer-centric marketing was one of the major projected trends of 2021.
With Messenger Marketing, you can reach out to all your customers who opened a conversation with you in the past year. This is a great opportunity for you to send them BOGO (buy one, get one) promos, flash sales, or similar offers. 
Do you have tons of followers on your social media profiles? You can use Messenger Marketing to convert them into email and SMS subscribers. Spark customer engagement by sharing tips and tricks on how your customers can best utilize your products.
Don't forget, people always have additional questions. As James Denlinger, Digital Strategist of Bulksupplements, put it:
'What if they had more questions? When people sign-up, you hit them with this sign-up message. Even if they know how much the percentage is or who you are, they always have more questions they want to know.

20 years ago, if you had these questions, you called the company. In today's world, people say "oh look there's a little text here that I can shoot them to ask my question."

With technology nowadays, people expect to get answers quickly. Recart gives you that ability to have real-time conversations with these consumers.'
So, let your shoppers learn more about you. Help them check out key facts and features before committing to a purchase. For visitors who've shown interest but have not yet taken any action to buy, you can easily build educational sequences that let them proceed through the funnel. 
All this marketing without any extra cost, and with almost 100% open and 30% click rates to top it all off!
Achieve BFCM Success with Recart's Top 5 Messenger Marketing Strategies
1. The Two-Tap Pop-up for Streamlined List Growth
The best way to encourage list growth is by simplifying the process for both you and your customers. Recart's Two-Tap Pop-up streamlines a process that would usually need a lengthy form down to two steps.
Once your customers subscribe to Messenger, you already have your own channel. Scrollers will happily pass over their email and phone number in exchange for a little incentive.
At least 30% of scrollers will join your Messenger lists, along with your email and SMS lists. They would then hand over their emails and phone numbers with two single taps—it's as simple as that. Take inspiration from 5 fast-growing brands on engaging incentive triggers and achieve up to a 30-84% visitor-to-subscriber conversion rate.
2. Boost Giveaways for Owned Channel Conversion
You can boost one of your giveaway posts or direct shoppers from a Facebook ad for your giveaway to an automated Messenger sequence. Encourage your customers to join a VIP group, unlock exclusive content, or subscribe to your email and SMS channels.
It's not just an incredibly powerful way to turn your followers into subscribers, but Recart will automatically enrich customers' profiles to make your campaigns more personalized than ever before.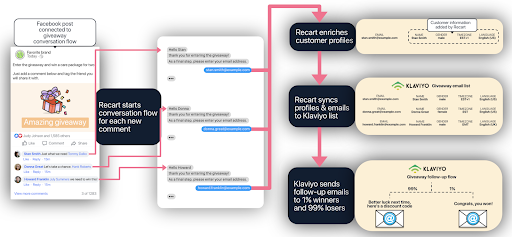 3. Connect and Engage with Customers for Meaningful Relationship Growth
Let your potential customers ask questions or connect with you at scale. This is regardless of consumers having subscribed to Messenger, email, and/or SMS marketing.
Don't settle with Messenger as just a customer information collector. Recart gives you the ability to have real-time conversations with these consumers.
4. High Engagement Retargeting
With big privacy updates down the road (such as the iOS 14.5 and 15 updates), it's going to be harder than ever to strategically target customers. However, Messenger is one of those channels that can work around that obstacle.
Once you've got people subscribed in Messenger, you can easily retarget these people in Messenger to keep the momentum high. Additionally, you can further segment people based on properties like "purchase history." This way, you can whittle down your audience with precision.
Improve your customers' post-purchase experience by giving them tips and tricks, or inviting them to your community. See how 19 brands achieved 90% open rates while cementing relationships with their best buyers.
5. Proactive Communication
Slide into customer DMs to confirm their order. Nurture the relationship further by offering a discount on their next purchase. Or when in doubt, simply inform them of their shipping without being pushy.
Remember, Messenger Marketing is more about customer engagement. This is where you can either build hype for an upcoming sale or enhance your customers' post-purchase experience.
Maximize Your Messenger Marketing Effectiveness with Recart
If you still have doubts about the power of Messenger marketing, Recart can clear it all up for you! 
Recart manages 13k+ fast-growing, innovative DTC brands. Having leveraged Messenger Marketing, you can easily build 1:1 conversations at scale. This way, you can engage customers and motivate them to spend more. Turn 3x more scrollers into buyers and grow your SMS and email lists 20X faster and cheaper. Make the shopping experience exceptional, seamless, and personalized.
"Mobile marketing is the future. With the acceleration of eCommerce, the ways consumers interact with businesses will continue to shift. The one-way, mass-produced, traditional channels won't build relationships or establish trust.

Today's consumers expect an exceptional, seamless, and personalized experience—on mobile. We not only built our product on that but are excited to see and implement what Instagram and RCS will open up in the future." —Recart
Messenger Marketing is just one of the many owned marketing strategies that can enhance your customer lifecycle. Lifecycle Marketing is all about leveraging customer-centric strategies to promote consistent and sustainable brand growth.
To truly bring out the business scaling power of Lifecycle Marketing, you'll need a dedicated team to focus on making data-driven decisions. Your team must already have their hands full, especially with BFCM fast approaching. So here's an idea: let us shoulder all your Lifecycle Marketing for you.
Just schedule a free strategy call with us so we can get started on what your eCommerce brand needs to win big this BFCM.