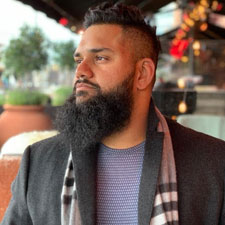 Faiysal Kothiwala is the Founder and Chief Bearded Officer of The Beard Struggle, a company that produces men's grooming and beard care products. Faiysal founded The Beard Struggle in 2014 with a mission to become the most innovative customer-focused men's grooming company. Now, with over 50 full-time employees and contractors, The Beard Struggle provides high-quality products that help men look and feel their best.
Here's a glimpse of what you'll learn:
[03:48] How Hafþór Björnsson became a brand ambassador for The Beard Struggle, and Faiysal Kothiwala's tips for ambassador marketing
[17:06] Faiysal reveals how he manages dozens of influencers
[19:00] Creating and assigning roles in the ecommerce industry
[23:05] What inspired Faiysal to launch The Beard Struggle?
[31:05] The Beard Struggle's expansion from side hustle to business
[38:47] What motivates Faiysal?
[42:23] Using email to scale your business
[49:32] What's in store for The Beard Struggle?
[53:12] Faiysal's advice for listeners
In this episode…
Are you trying to grow your brand? Do you want to connect with influencers but aren't sure how?
As an ecommerce entrepreneur, Faiysal Kothiwala is an expert in ambassador marketing and navigating relationships with influencers. From the time he conceptualized The Beard Struggle as a company to growing the brand to where it is today, Faiysal understands the value of hard work when scaling your business. Tune in to hear how you can scale up and gain recognition in the ever-changing ecommerce industry.
In today's episode of eCommerce Profits Podcast, Joshua Chin joins Faiysal Kothiwala, Chief Bearded Officer and Founder of The Beard Struggle, to discuss marketing tactics to grow your brand. Faiysal talks about his journey in launching his company, choosing influencers to work and grow with, and his advice for brand recognition.
Resources mentioned in this episode
Sponsor for this episode
This episode is brought to you by Chronos Agency.
If you are a direct-to-consumer ecommerce brand that wants to unlock the optimum customer lifetime value through email marketing, then look no further than Chronos Agency!
Our team of passionate email marketing experts has helped hundreds of brands generate over $70 million in return from email alone, and our clients receive an average of 3500% ROI from our efforts.
Chronos Agency has worked with a variety of brands, including Truly Beauty, Alya Skin, and many more. Our mission is to help real businesses achieve real results. 
If you want to take your revenue to the next level using email marketing, be sure to email our team at [email protected] or visit chronos.agency to learn more.
Episode Transcript
Intro 0:04
Welcome to the eCommerce Profits Podcast where we feature top founders and experts in the ecommerce Industry and take an in depth look at the struggles and successes in growing ecommerce brands profitably.
Joshua Chin 0:22
Hey guys, Josh Chin here I'm the host of the eCommerce Profits Podcast. We feature top experts and entrepreneurs in the ecommerce industry. And we go behind the scenes of the struggles and successes and growing a brand. Now this episode is brought to you by Chronos Agency. If you run a direct consumer ecommerce brand that is ready to scale and to double your customer lifetime value, true retention and lifecycle marketing Chronos is your company. We've helped hundreds of brands scale profits, email, SMS and mobile push will gain an average of 3500% ROI from our efforts. We've worked with brands like truly beauty that Udi Elias skin and many more. The next step is to email us at sales.chronos.agency or you can go to chronos.agency to learn more. Now today's guest is a good friend of mine, Faiysal. Faiysal, how do you pronounce your last name?
Faiysal Kothiwala 1:14
My last name, Kothiwala.
Joshua Chin 1:17
Kothiwala, I hate butchering last names. And well, Faiysal
Faiysal Kothiwala 1:22
at least you can pronounce my first name, bro, because I, most people can't even do that.
Joshua Chin 1:28
I know, I know, it's, I actually have a couple of friends that share your name with different spelling. And it's pronounced Faisal, in the back in Malaysia and Singapore. So it's a little bit different, different versions of different versions of this Faiysal, you are the Chief Bearded Officer and founder of The Beard Struggle. And we've worked together on email and your retention program. And you're one of the most passionate and committed and one of the hardest working people that I know. We've had calls at 11pm. Your time, and you're based in Canada, and you're still working. And after the calls I was, I remember asking you what were you going to do next? And you're like, I'm just going to wrap up a couple more things. And I see you still online and on slack groups. Only till like, midnight.
Faiysal Kothiwala 2:27
And I can say the same for you, Josh. I always see you online as well.
Joshua Chin 2:32
That's just part and parcel of running an agency. But Faiysal, your background is really interesting. You started The Beard Struggle back in 2015. And I want to kind of unpack your, your experience a little bit. The The Beard Struggle. Now has 50 full time employees. Is that still accurate? employees and contractors? Yep. employees and contractors today? Yeah. And you guys run things super efficiently across the different departments. And we talked a little bit about this, bringing in some systems and processes into your departments setting KPIs and all that stuff. You're entering a phase where a lot of ecommerce brands are trying to get to the professionalization phase of things. And you have an amazing ambassador program. And for those of you guys listening, one of the ambassadors of The Beard Struggle happens to be Hafþór Björnsson, The Mountain if you guys watched the Game of Thrones, crazy, I would love to start there. How do you get Thor to be an ambassador of your brand? What happened? And what led to that?
[Continue to Page 2]