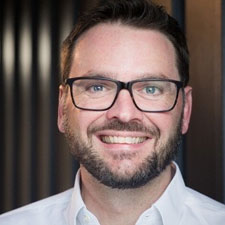 John Readman is the Founder and CEO of Modo25 and the Founder of BOSCO™. Modo25 is a digital marketing SaaS technology and in-housing marketing agency. BOSCO™ combines your internal marketing data with extensive algorithmic modeling to create personalized reporting dashboards.
With over 20 years of experience in the ecommerce industry, John has helped several global brands shape their online presence and overall ecommerce performance. He has worked with the world's leading brands, including ASOS, Pepsi, BMW, Superdry, Honda, HP, Toyota, Vistaprint, and Sigma Sports.
Here's a glimpse of what you'll learn:
[04:12] Online marketing attribution: what is it, and why should you be concerned?
[05:58] How can you determine which channels bring in the most customers?
[10:02] Understanding the role of cost of acquisition for a successful marketing strategy
[14:39] How to optimize your ad campaign conversion rate
[16:00] Identifying areas to focus on to scale and increase profits
[23:58] How to build a winning team
[22:26] Writing creative ads that engage and convert your audience
[28:21] The advantages of working with a marketing agency over hiring in-house employees
[35:57] Exploring new marketing channels to grow your business
In this episode…
Are you looking for a way to create a successful digital marketing campaign but do not know where to start? There are so many options that it can be hard to determine what strategies are right for your company.
For over two decades, John Readman has helped global ecommerce retailers maximize their media and predict future sales. He knows the significance of learning which marketing channels bring in the most customers. If you track the metrics of every customer acquisition channel, you can optimize your marketing messages over time. You also have to understand your customer acquisition costs to make the right financial decisions on where to focus your marketing message initiatives. Having the right strategies and the right people in your corner will help you improve your conversion rates and drive revenue. John is here to share his knowledge and insights into building and employing strategies that propel profits and scale your business.
In this episode of the eCommerce Profits Podcast, Joshua Chin interviews John Readman, Founder and CEO of Modo25 and Founder of BOSCO™, to learn more about digital marketing strategies brands can utilize to achieve growth. John explains how to build a sustainable customer acquisition strategy and offers insights on gauging which marketing messages engage and convert your customers. You'll discover business areas where you can maximize profits and the value of having the right marketing agency.
Resources mentioned in this episode
Sponsor for this episode
This episode is brought to you by Chronos Agency.
If you are a direct-to-consumer ecommerce brand that wants to unlock the optimum customer lifetime value through email marketing, then look no further than Chronos Agency!
Our team of passionate email marketing experts has helped hundreds of brands generate over $70 million in return from email alone, and our clients receive an average of 3500% ROI from our efforts.
Chronos Agency has worked with a variety of brands, including Truly Beauty, Alya Skin, and many more. Our mission is to help real businesses achieve real results. 
If you want to take your revenue to the next level using email marketing, be sure to email our team at [email protected] or visit chronos.agency to learn more.
Episode Transcript
Intro 0:04
Welcome to the eCommerce Profits Podcast where we feature top founders and experts in the ecommerce Industry and take an in depth look at the struggles and successes in growing ecommerce brands profitably.
Joshua Chin 0:21
Hey guys, Josh Chin here and the host of the eCommerce Profits Podcast, where we feature top experts and founders in the ecommerce Industry and we go behind the scenes of the struggles and successes of growing a brand. Now this episode is brought to you by Chronos Agency if you run a direct to consumer ecommerce brand that is ready to scale and to double your customer lifetime value true lifecycle marketing Chronos is your company. We've helped hundreds of brands scale profits with email, SMS, and mobile push marketing, while getting an average of 3500% ROI from our efforts, we've worked with brands like Truly Beauty, The Oodie, Alya Skin and many more. The next step is to email us at [email protected] or you can go to chronos.agency to learn more. Today's guest is the CEO and founder of Modo25, and Bosco based in Leeds, UK, his name is John Readman. John is a veteran in the in the ecommerce space, I'd say you've been in the in the game for quite a bit of time now. And Bosco is one that helps is a software that helps retailers make more money through digital marketing enables retailers to optimize their marketing spend. And if you're experiencing some chaos in your marketing department, between multiple channels, multiple SKUs and multiple products, and you don't exactly know how to attribute your success and how to maximize your ad spend and your marketing spend and marketing budget. Bosco is here to help. So I have tons of questions for John, especially when it comes to scaling, product based businesses. One of the biggest problems that we face is in attribution. And attribution is one of those problems, that is not exactly a problem to fix, but a problem to kind of work with as you scale. It's always going to be there. And so, John, welcome to the show. We have some really interesting insights to kind of talk about here.
John Readman 2:25
Well, thank you for having me, Joshua I'm looking forward to getting stuck into some of the questions you've got. And you're absolutely right. attribution is just an ongoing challenge for anybody selling online. And it's one of the and I think the biggest challenge as there isn't a right answer. That's the bit that people struggle with. There isn't one silver bullet, but you're absolutely right. I'm looking forward to getting stuck into the questions and, and thank you for having me, and describing me as a veteran. So I don't know if that's good. Does that mean I'm wise and experienced? Or Does that just mean I'm old, but thank you very much.
Joshua Chin 3:00
Wisdom, wisdom comes of age and wisdom is irrespective of age, I believe. But uh, I think that you have a really unique experience in terms of the type of clients and the type of brands that you've had worked with, consulted with an experienced with, between ASOS, Pepsi, BMW, Superdry, I think we've been through the whole gamut of the retail industry, in the space that we operate in, and a lot of the clients that we work with at Chronos. A lot of our brands are startups and scale ups. So a lot of fast growth, hyper growth, a lot of things breaking down, one of which being all attribution, the typical kind of lifecycle that a company would go through, goes from one product, one channel to multiple product, one channel, multiple, multiple products and multiple channel. My question for you is what at what point? Do you start thinking about multi touch attribution, and aggregating attribution across the different channels that you're advertising on?
[Continue to Page 2]