Email marketing has the power to generate 30% of your eCommerce store's total revenue. However, there are still a couple of things you'll need to look out for when diving into high-revenue email strategy crafting. We're talking about the key factors that affect your email marketing strategies, why they're important, and how you can check if you got all these factors covered.
1. Customer Consent
In other words, audience permission. The only way for your emails to do their job is when your recipients actually gave you permission to send them emails.
Think about it, what's the first thing you would do if you were to receive an email from a company you weren't even the least bit interested in? You would throw that bad boy into the spam folder and maybe even blacklist the sender if they get persistent.
When customers give you explicit permission to send them emails, it's a great sign that tells you they're interested in your brand. In other words, they're willing to open your emails, read through them, and follow through with your CTAs.
Why else is audience permission an important key factor in email marketing? You can get up to 40x more ROI from customers you have consent from than from those without.
So, how can you get your customers' explicit permission? Use double opt-in emails. These are emails that add another step to your customers' sign-up process to verify their emails. Here's a double opt-in email sample from one of our clients, Forchics.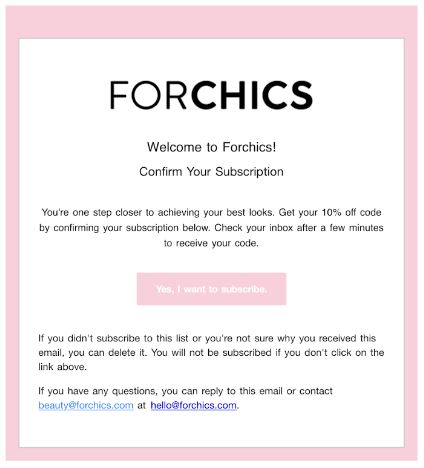 Design-wise, it doesn't have to be too complicated. The main elements your double opt-in email would need are the following:
Start with your brand logo to let your customers know who the email's from
Next, a CTA button they'll click to confirm their email
And to top it all off, a short message telling your customers what they need to know and why they'll need to confirm their email address
Aside from being able to verify the legitimacy of your customers' email accounts, double opt-ins will also allow your customers to reconfirm that they are genuinely giving you permission to send them your marketing emails. That's a quality list right there!
Plus, opt-in emails or emails with permissions can expect higher email open rates and conversions. We're talking about an average open rate of 30-40% and a 20% average click-through rate.
2. Content Relevance
It's all about knowing which content is preferred by which customers. You have to make sure that the content of your emails resonates with your recipients. In fact, sending relevant content to your customers makes them 2x more likely to convert into paid subscribers.
To help give you a more solid footing on this, here's a checklist on how you should be approaching your emails:
Center your content around your customers first, content focusing on your brand should take the sidelines most of the time
Emphasize the value your brand and products can give to your customers
Engage your customers by sharing valuable and relevant information through educational content
Gain better insight into your customer base by encouraging feedback and asking for customer reviews
Shake up your content by alternating between product launches, social proof, and sales for a more dynamic customer experience
3. Segmentation
We've said it before and we'll say it again, the "spray-and-pray" approach to email marketing is not just ineffective but is also harmful to your brand. Zeroing in on your customers and targeting the right people can help you send them the right messages at the right time. This is why email segmentation is not just a standard—it's a must-have.
Here's an example. Let's say your brand sells ladies' beauty products. Which type of customer would your women's beauty product emails perform better with, men or women?
While there are guys out there that enjoy using female beauty techniques, you'll definitely get better metrics when you segment your contact lists appropriately. Those women's beauty emails will now only reach your female subscribers—leading to higher engagement.
4. Campaign Timing
This is all about knowing your customer base on a deeper level. How's their online activity? What time of day are they most likely to open and respond to your emails? What lifestyle does your target audience have that can help you determine their online times?
Knowing this crucial piece of information can help you optimize your campaigns and flows to work more accurately and effectively. This data can also work as a foundation for your AB tests, like how we conduct our tests for clients.
Don't worry if you're feeling a little pressed for time to learn about send times. Klaviyo's Smart Send Time feature automates the process of analyzing the behavior of your email list. It'll then give you a recommendation so you can maximize your open rates.
5. Deliverability
Speaking of foundations, deliverability is one of the most crucial key factors when it comes to your email marketing strategies. Deliverability determines if your emails are reaching your customers' inboxes or not. Many factors can affect your deliverability. For now, here's a brief checklist on what to look out for:
Overusing exclamation points
Too many font colors
Oversized text
Writing in a mix of letters and numbers
Using different font styles (in a single sentence)
Any of these can doom your emails to your customers' spam folder. Worse, your recipient can go as far as to blacklist you.
6. AB Testing
Two letters plus one word that we love? AB Testing.
If your store's been AB testing since the dawn of mankind then it still wouldn't be enough AB testing. It's a continuous process, and rightfully so. It's only through AB testing can your emails evolve into their best versions. Later, they'll only get better and better.
It can help you test even the slightest differences in your emails against each other. While small, the tiniest details can make the biggest difference in email revenue generation.
Here's another checklist you can refer to as a guide for some of the important email elements you should AB test:
Email subject lines
Preview texts
Animated CTA button or text-based button
Arrangement of product blocks
Layout and color scheme
The bottom line is that there's always room for improvement when it comes to your marketing emails. Remember—this is all designed to maximize the potential profit in every email you send.
Unlock 20-30% More Profits from Your Email by Applying 8-Figure Email Systems
All these email marketing key factors are just part of the much bigger email marketing iceberg that lurks beneath the surface. Learn how to apply data-driven insights to craft highly converting, highly engaging, and high ROI-generating email strategies. Take the lead this 2021 and beyond with our Ultimate Guide to 8-Figure Email Systems!
Are you looking for a more detailed discussion into what email strategies best fit your brand? Feel free to reach out to our email experts by scheduling a free strategy call with us. Let us help your customers see the true value your brand offers.