Q4 is finally here! BFCM is knocking on our doors, and online consumers will be flooding in at biblical proportions! With this year's BFCM projected to be the biggest one yet, you can't afford to lag behind the competition. To help you get your bearings straight and take the lead, here are some holiday marketing ideas for effective campaigns to guide your marketing efforts this Q4.
1. Create Your Theme and Messaging Style
Holiday eCommerce marketing is more than just an email with a "Happy Holidays!" sticker slapped on. It's important to incorporate your target holiday's theme into your email design while still sticking to your branding guidelines. Here's an email example from Sommer Ray.

Red is a prominent color for Christmas-themed marketing. Additionally, red is as eye-catching as it is effective at a psychological level. This color also encourages feelings of excitement and encourages your subscribers to complete their purchase.
Check out the adorable little Santa hat on Sommer Ray's company logo. It's a nice touch, driving home the point that they're still the same familiar brand just celebrating the holiday season with their customers. 
2. Stay in Sync with What's Trending
What's hot on the internet right now? We're all aware of the still at-large COVID-19 pandemic, so what does this mean for online consumer behavior?
COVID-19 is largely responsible for the shift in consumer buying behavior due to the pandemic. Consumers aren't going out for any big purchases and travel vacations this coming holiday season.
Here's how you can use this to your advantage. Promote products and services that help enhance the stay-at-home lifestyle. One idea (especially for beauty brands) is promoting DIY content for your customers who can't go downtown to have their nails done, hair styled, or makeup done. You can also re-angle this as you encourage your subscribers to do their holiday shopping in your store.
So in tandem with your sales emails, you can include User-Generated Content (UGC) like tutorials on how your customers can use your products.
3. Maximize the Use of Landing Pages
Here's a simple hack—make sure your holiday marketing campaigns lead your customers to your eCommerce store's website. This way, people who show interest in your brand will be nudged to sign up for your email list.
You can also explore linking your sales emails to landing pages made for a specific holiday. If your customers want to apply for a discount, premium membership, newsletters, and the like, landing pages are great funnels.
Takeaway tip: For this BFCM, design your landing pages and write their copies to match the event. Remind your customers they landed on your landing page because it's BFCM, not because you asked them to. In other words, sell yourself without selling yourself for higher-order values.
4. Drive Traffic with Social Media Ads
Maximize your market reach by going beyond just your email marketing. Social Media ads are especially useful now since most people are doing their socializing online. So don't underestimate the power of combing social media and email marketing.
Your emails can only reach as far as the end of your email list. So, expand your list by also attracting people who just so happen to be scrolling down their Facebook newsfeeds. You'll never know, a potential loyal customer might just be waiting for the right engagement.
This practice is actually part of multichannel marketing, an advanced marketing strategy 8-9 figure stores use that plays a role in their ongoing success during big sales events like these. One major thing to keep in mind: tweak your New Customer Acquisition or Welcome flow to be coherent with BFCM. When you capture new leads, the first email sequence they will receive should remind them of this.
5. Craft Your Holiday Email Sequences
Catching your customers' attention is one thing, but getting them through your marketing funnel is a whole different story. Since there is more potential for higher revenue during the BFCM and holiday season, your holiday marketing email sequences should also level up to ensure that you don't leave money on the table. It's important to make the most of this season by crafting a tried and tested email sequence guaranteed to bring in sales.
But if you're looking for a streamlined and ready-to-use sequence for last-minute preparations, feel free to use our proven 6-Step Holiday Email Sequence! This sequence helped us hit a whopping $831 total email revenue for our clients during BFCM 2019.
So combine these six steps with proper segmentation and sending practices, and you'll be one step closer to making those record-breaking numbers this BFCM 2020!

6. Optimize Your Email Send Times
Your emails only work when your subscribers actually see them. Timing your send times can mean the difference between a sale or a buried and forgotten email.
Especially for this BFCM season, you can only imagine the sheer bulk of holiday marketing emails your target customers might be receiving from other eCommerce stores. You're going to need to step up your email sending game so you can break through the noise!
How we found the best send time for one of our clients involved a series of AB tests. In these tests, everything about the emails was the same except for their send times. In those three tests, the variations of send times were 10 AM and 4:15 PM.
Results were unanimous, with all three showing the highest open rates and revenue happening during the 4 PM mark.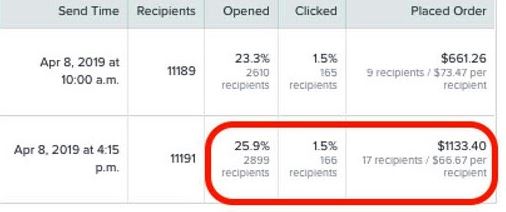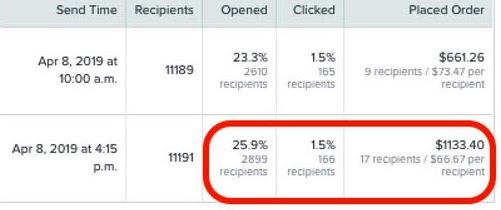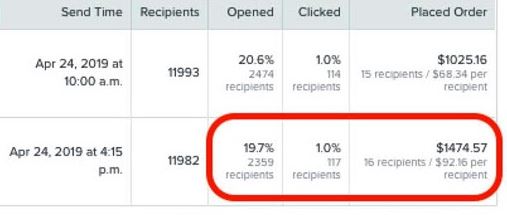 Again, all it takes is a well-timed email. Do keep in mind that customer behavior is different during the holidays. Why not check the times that your customers opened their emails last year? 
7. Streamline Your Email Automation Framework
Saying BFCM 2020 will be hectic is an understatement. For most (if not all) of your email marketing efforts to really generate maximum conversions, you'll need a proper automation setup.
Email automation is the perfect tool for tracking, responding, and nurturing your many customers, especially during big sales events. Set up the right trigger points, create an extensive email calendar, and set up the right email sequences for the right actions your customers will take.
Automating your holiday marketing campaigns right will help drive more conversions and properly nurture your customers into becoming repeat customers—or even loyal customers.
But if your hands are already tied up with all the Q4 madness already, then why not get someone else to do your holiday email marketing campaigns for you? We at Chronos Agency strive for our clients' success by bringing out the best of their email marketing.
You won't believe how much money you might already be leaving on the table. But with the right email practices, your emails can finally generate 30-40% of your store's overall revenue!
All it takes is a quick call with us and our email teams will handle your store's back-end issues.