UPDATED,  08 OCT. 2020 — The major holiday sale season is upon us. Some retailers think it's enough to run a few limited time offers with a coupon code. But will that help you win against Amazon or a much bigger and more established brand? No, you have to get a bit more creative than that. But you don't have to start from scratch. There's no better way to learn than looking at live examples of great email marketing campaigns for Black Friday and Cyber Monday.
Take heed! For Business Insider predicts that this year's BFCM will be the biggest one yet! Due to the ongoing COVID-19 threat, the shift in customer buying behavior has forced consumers to take their shopping online. So you can only imagine the tsunami of online traffic once BFCM 2020 begins!
So to help gear you up for the coming storm, we've curated 5 of the best email marketing campaigns to run during the Black Friday Cyber Monday weekend. (You can also use what you learn to do promotions for the rest of the year.)
1. The Spotlight Email: Recommend Relevant Products to Expand Product Interest
80% of consumers are more likely to purchase when the offers are personalized.
Along with the highlighted product, include recommendations that may either complement the primary product or just catch your customer's attention based on their purchase behavior so far.
Offer sales on relevant product categories, based on past purchases, carts, and more. All you have to do is create a new segment based on product categories or brands.
Here's an example. If you have a lot of customers that buy beauty products in your store, you can create a specific audience. After that, you can target this audience with new makeup or makeup-related promos.
From here, you can send an email promoting your Black Friday sale on makeup. Take a look at this example from beauty brand Forchics.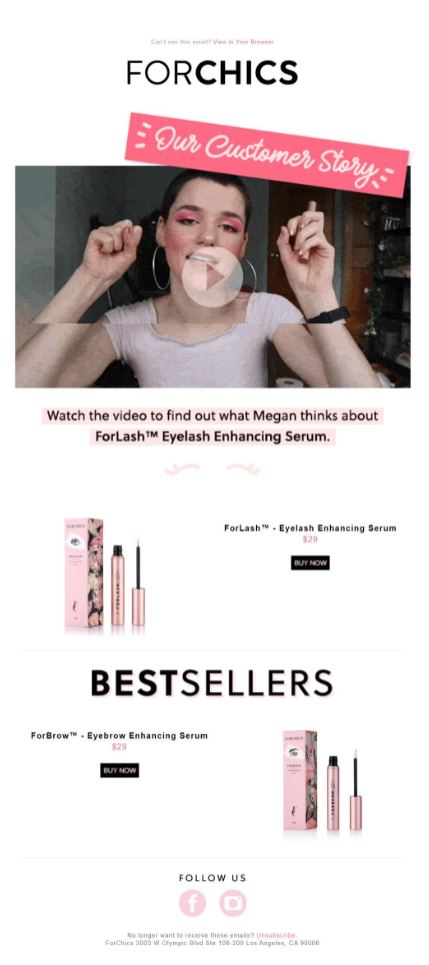 You don't have to worry about spending thousands of dollars on animations or designed emails.
When you promote relevant products, keep it simple. Showcase product pictures, highlight the sale, and let the products sell themselves. For best design practices, you can check out this article.
Pro tip: Use a live countdown timer to demonstrate that it is a limited-time offer. Just the presence of a countdown clock can increase conversion rate by up to 400%. Sendtric is a service that lets you do this if your auto-responder doesn't offer the functionality.
2. The Discount Billboard: Spotlight on Discounted Products or High-value bundles
Much like the recommendations section above, this time you send follow-up emails highlighting the related products to your customer's initial one that is discounted. This is where you can slightly diverge from the type of product that your customer first bought, provided you have the incentive to entice them.
This is also how you stand apart from the rest, by the value you can offer your customers. They'll love you for it!
For example, Sommer Ray sent this email to customers who just bought a stylish set of pants. Under the context of "shopping for new styles," customers were enticed to buy something slightly different from what they initially bought due to the big slash in prices.
Savvy email marketers make sure customers don't stop at a one-time-purchase.
3. You left something!— Emails:  Follow Up on Abandoned Cart Emails with Your Black Friday Cyber Monday Sale
Sometimes, the primary reason a prospective customer doesn't buy is they find the price too high. It's that simple. With eCommerce, it might be that they didn't expect the total price, including shipping, taxes, fees, etc.
According to a study by Baymard Institute, the top reasons for cart abandonment during checkout are the high extra costs, being asked to create an account, and a long, arduous checkout process. If you really want to encourage your customers to purchase, make it easier for them!
The point of Black Friday and Cyber Monday is to overcome this objection. You lower the price, and your potential customers no longer tell themselves, "It's too expensive."
So you can win-back a lot of new potential business by contacting customers who abandoned their cart. If you have a site-wide sale, it probably negates the additional costs and makes it a viable option.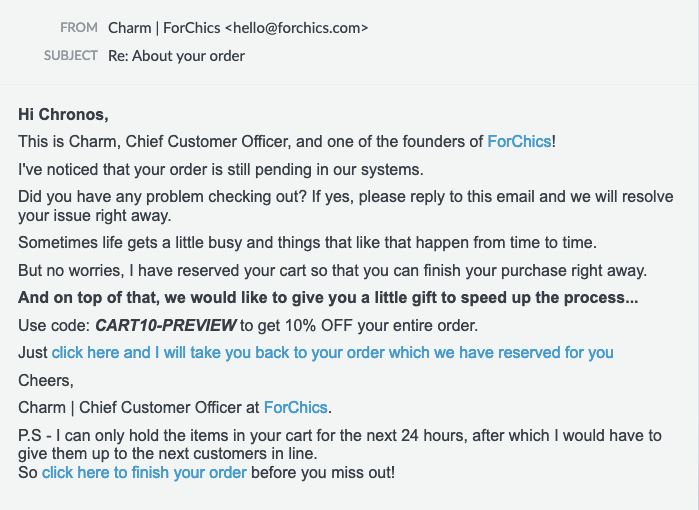 As you can see in this example from Forchics, cart abandonment emails don't have to be complicated. But you should customize the copy for Black Friday or Cyber Monday sales. A simple text-based reminder email is usually enough to get your customers back and finish their purchase—more so if you include an incentive like a discount on their unfinished order.
If you use words like "Limited time only!" or "For the next 24 hours," you can drive home a sense of urgency.
If the subscriber doesn't buy now, they will regret it later. That's the message an abandoned cart email should send. By combining it with a limited-time site-wide sale, you can get even better results.
If you don't use marketing automation tools, you might not have access to this data. But don't despair, in the next campaign, you won't need data on website usage or online shopping carts.
4. Emails that keep on giving: Increase AOV With Cart Threshold Gift Campaigns
After seeing the first three options, you might think that Black Friday Cyber Monday email marketing is complicated. But this campaign doesn't require audience segmentation like the first options. It is a straightforward tactic to increase the AOV (Average Order Value) of every customer.
This email we made for a client is a great example: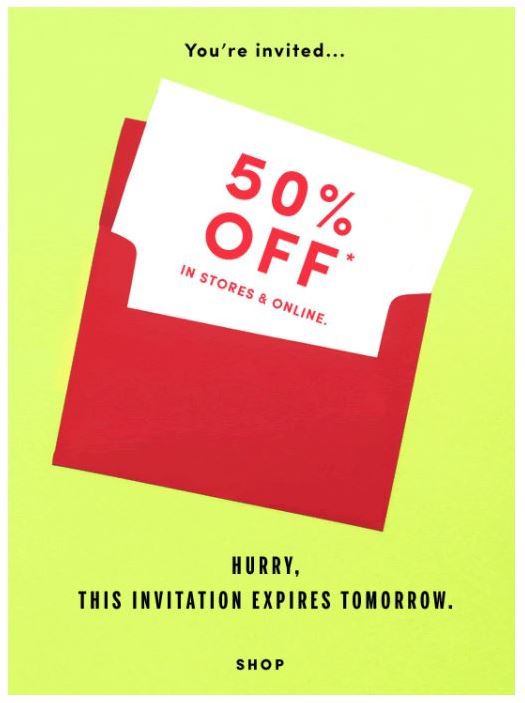 If your customers made a huge purchase in one go, why not reward them? This email can be triggered when your customers' total cart value has reached a specified threshold. In this example, customers who reached the threshold received this exclusive invitation to shop for 50% off their next purchase.
If you don't want to go quite as hard in the paint, you can offer a gift that makes sense with the items that are on sale. Are you selling fall/winter clothes, offer gloves, a beanie, or a winter-appropriate accessory. If you're selling gym gear, throw in a gym bag on large orders.
The possibilities are endless, and there are no highly technical requirements to get a promotion like this up and running.
Take your time and produce creative email marketing campaigns that matter to your target audience.
Pro Tips:
Try to assemble together a discounted gift set catered to the preferences of your customers.
Include an exclusive discount code your customers can use for their next purchase.
Create urgency by emphasizing the time-limited nature of your gifts.
5. Last Chance Emails: Remind Your Customer That the Black Friday Cyber Monday Sale is Almost Over
Once your Black Friday and Cyber Monday sales are nearing their end, you should give your subscribers one last chance to shop 'til they drop. Consider it your gift to them—they will thank you for it. Marketers typically call this a reminder email. It is the last email you should send, and an integral part of a promotional email campaign.
Sommer Ray used email to remind its customers of the discount and generate last-minute sales. Remember the KISS rule when designing these types of emails.
If it's a site-wide sale, the reminder doesn't have to be a long product catalog or sales email. It is a quick reminder for people who are already interested in your products.
Here are our 4 Profitable Best Practices to Maximize Conversions and reap Holiday Profits in Q4!
1. Balance Your Use of Sales and Content Emails
Which email types should be focusing on this BFCM—sales or content? The answer is both! It is by knowing how to use them in a way that complements and supports each other can you fully utilize your email lists.
The benchmark for a well-balanced sales-to-content ratio in your eCommerce store's email marketing strategy would be 70% sales and 30% content.
Why both and not just focus on one type of email? Sure, sales emails do all the selling, but it's your content emails that present the value of what you're selling to your customers. By value, we mean it does the heavy lifting to build that relationship with your tribe.
While your sales emails highlight your products and special offers, your content emails answer the "Why should I buy from this store and not others?" question of your customers.
To really maximize your conversion rates in the long term, you need to center around what value your brand and its products can offer to your customers. And we have a few awesome ideas below.
2. Leverage the Different Content Emails to Maximize customer Engagement
There are many ways to convince your customers to buy your products and let them know they made the right choice. Here are a couple of ideas you can use:
Trust Builders – These are great for adding more value to the products you're trying to sell. Trust Builder content emails usually contain blog articles that talk about your products or more backstories on your brand and product manufacturing for building rapport with your customers. These are best used to engage with your customers before asking for a sale.
Social Proof – Highlight User-Generated Content (UGC) such as customer reviews on your products, testimonials, feedback, and even demo videos. This helps convince your customers that what they're about to buy or have bought is proven to satisfy their needs and helps removes buyer's remorse. You're telling them, "hey, you made a great choice with us!".
Educational Content – This is where you can share a more in-depth look into your products such as their usage and benefits. These are best for highlighting your bestselling products.
Offer-based Emails – These are where you give your direct discount sales, introduce new products through cross-selling, and starting your discount ladder.
3. Know the Anatomy of a Winning Email
A highly converting email is one that's dressed to kill. Make sure your emails have all the right elements to perform their best during BFCM. Here's a great guide to get you started:
The most important parts to take note of in this example is the Headline and Discount Offer. On the get-go, your customers will immediately know what value they're getting when they click on your CTA.
4. Always AB Test to Know and Address Your Pain Points
You've heard this a thousand times before, but AB testing really is crucial if you want to generate better conversions, higher revenue, and encourage happier customers. It is from AB testing can you zone in on what's causing you costly traffic acquisition and high site and cart abandonment—all of which are ways that leave money on the table.
After all, it is only through AB testing that can you optimize your emails right. By breaking down emails into these two major components, you'll be able to make more data-driven decisions when optimizing your emails—especially for BFCM.
Open Rate – To improve your email open rates, test your subject lines, and preview texts. You can start with their lengths, how much they incite curiosity, and the use of emojis.
Click Rate – As for click rate, you'll need to test your email content. This is where you can go back to the anatomy of a winning email. test your headline, hero images. Your Call-to-Actions (CTAs), featured products, colors, and more.
However, we understand if you're a little tight on time, what with Q4 right at our doorstep. So to help you get a solid footing by the time Q4 and BFCM roll in, we want you to get your hands on our Ultimate Guide to Crush Record-Breaking Sales this BFCM 2020!
From in-depth case studies to tested and proven plug-and-play strategies—all of which you can integrate into your BFCM email game plan without a hitch.
It's Not Too Late to Optimize Your Black Friday Cyber Monday Emails
Most eCommerce brands spend at least 5 months preparing for the holiday season—as a rule of thumb. Here are some incredibly strategic eCommerce email marketing campaigns to stand out on Black Friday and Cyber Monday for more reinforcements to your BFCM email framework. As they say, the best time to start is now.