Have you ever wondered what 8-9 figure eCommerce stores do differently? Or how come there are stores that have generated 8 figures in email revenue consistently? Over the last two to three years, of working with hundreds of eCommerce stores, the formula for 8-figure email systems is finally here.
With Q1 almost coming to an end, it's time to take a step back and look at your eCommerce revenue progress. Are you close to meeting your target revenue for Q1? The truth is, 2021 could be a record-breaking year for your store. It is predicted that eCommerce sales will continue increasing—surpassing $740 billion by 2023! 
Ecommerce email marketing plays a huge role in this, so don't let this opportunity pass you by. Start moving closer to your revenue goals with these field-tested and proven 8-figure email marketing strategies.
The Outlook for eCommerce in 2021
Despite the COVID-19 pandemic that shook the whole world in 2020, eCommerce as an industry was able to bounce back with more than just flying colors. Just take a look at some of the noteworthy numbers that the industry generated last year:
When the pandemic started, the eCommerce industry seemed to slow down due to logistical concerns. However, resilience prevailed. While it cannot be denied that the shift towards eCommerce has long been happening, the pandemic has caused an even more radical shift. 
Important Email Trends for 2021
Today, eCommerce shows no sign of slowing down—the industry is expected to keep growing this 2021. With competition rising, business owners are doubling down to make sure they remain on top. However, eCommerce remains to be dynamic, and there will surely be new strategies that will pop up later in the year. However, these three trends will continue to power through, so make sure you don't miss out:
Your 2021 Checklist to Achieving 8-Figure Email Systems
Ever wondered what an 8-figure eCommerce store looks like? Check these out and see for yourself the results that an effective email marketing strategy can bring.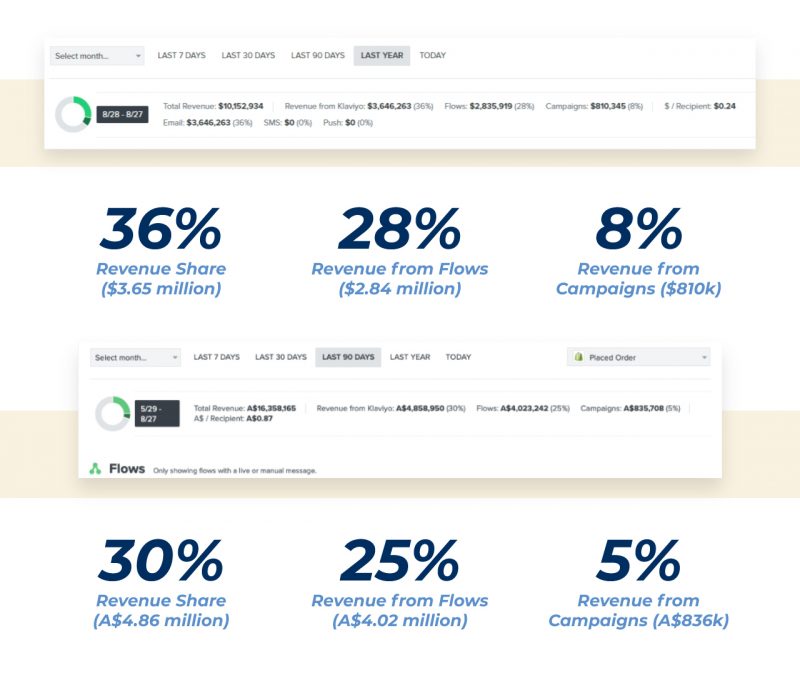 Your aim is to get to that sweet spot of 20-30% of revenue attributed to email. How? Here's a breakdown of the success formula of 8-9 figure eCommerce stores that are maximizing their email marketing channel.

Leverage Email in Omnichannel Strategies
Omnichannel marketing will allow you to create tailored experiences for your customers regardless of which channels they are in. A report by Braze showed that customers who interacted with two or more channels had a 166% higher engagement rate than single-channel customers. 
What makes email marketing really versatile is its ability to be present at all touchpoints from acquisition, conversion, and retention. Use your email marketing channel as your marketing backbone and supplement the customer journey with your other channels. You'll be looking at 8-figure email systems soon.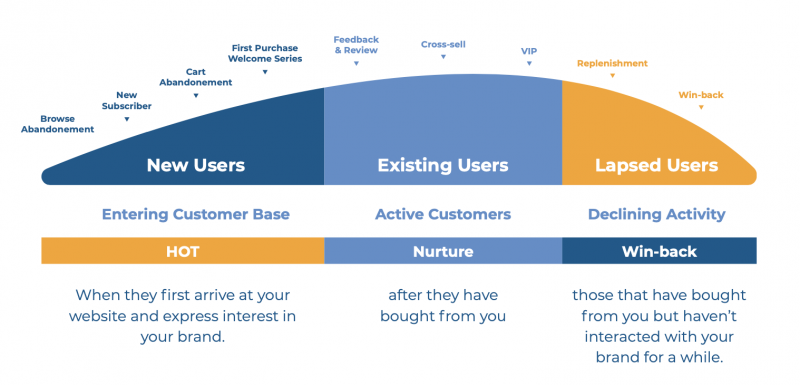 Prioritize Email Marketing Basics: Deliverability is Your Foundation
When it comes to email marketing, deliverability can be your best friend or your worst enemy. If your emails land in the spam folder, all your effort will be for nothing. You won't get to 8-figure email systems with bad deliverability. Most eCommerce business owners get so excited about formulating email marketing strategies to maximize conversions but forget to focus on deliverability.

It's important to take a step back and prime your deliverability metrics before going all out on your strategies. How? This can be summed up in two big steps: please your customers and please the email service providers.
Implement the Three Heavy-Lifting Email Flows
While there are different types of email flows you can set up for your store, you have to know the ones you need to prioritize. These three flows are called heavy-lifting flows because their revenue-generating power is unparalleled. Make sure you have these three flows set up and ready to go so you can reach your 8-figure email system goals.
New Customer Acquisition Flow

Cart Recovery Flow

New Customer Nurture
Use the Anatomy of a Winning Email Campaign as a Guide
While you can get creative and create attractive emails, keep in mind that they must also be effective. Remember that you want your emails to sell, and that means placing certain elements where they will most likely work. Here's a rough anatomical analysis of an automated email that you can use as a skeleton. Don't let this hinder your creativity. Instead, use it as a guide.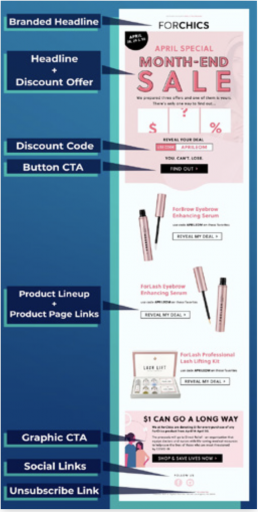 Use More User-Generated Content (UGC) 
Did you know that 63% of customers are more likely to buy from a store if it has reviews and ratings? Squeeze in UGC in your flows even if they're not sales emails. These types of emails actually help in communicating your brand story and products' benefits. When this information comes from other people, it helps add to your credibility.

So leverage the UGC you already have, and why not ask for more in exchange for discount coupons or freebies? 
Dive into Next-Level Personalization with Segmentation and Dynamic Content
Advanced segmentation practices will always yield results (as much as a 760% increase in revenue) because they allow for targeted messaging. The basic segments include demographics, location, gender, and lifestyle. Advanced segments, on the other hand, can target according to price sensitivity, historical or predicted customer lifetime value, and even preferences.

You can even go to a higher level by leveraging dynamic content so you can be sure that your customers see something tailored to them. Learn more about dynamic content here. 
Do More AB Testing
And finally, the only way for your email marketing game to always improve is by doing AB testing consistently. Email marketing is not a "set it and forget it" channel. Basically, AB testing brings the science in email marketing. It's a data-driven strategy that will allow you to continuously optimize your strategy based on what works best for your customers. 
For example, for a DTC beauty brand, we found out that text-based emails raked in more conversions than HTML-based emails in the cart recovery flow. For another brand, we discovered through AB testing that the email send time had an impact.

Of course, the thing with AB testing is that the findings will differ from store to store because you have different customers with different preferences. So don't be afraid to go all out when it comes to testing. The closer you zero in on what works for your customers, the faster you'll get to 8-figure email systems.
The Tools You Need to Have in Your 2021 Digital Marketing Backpack
These are the overarching strategies behind a successful email marketing strategy. These are all included in The Online Retailer's Blueprint to Succeed With eCommerce Email Marketing. Check out this whitepaper to see actual case studies that fall under the framework outlined here.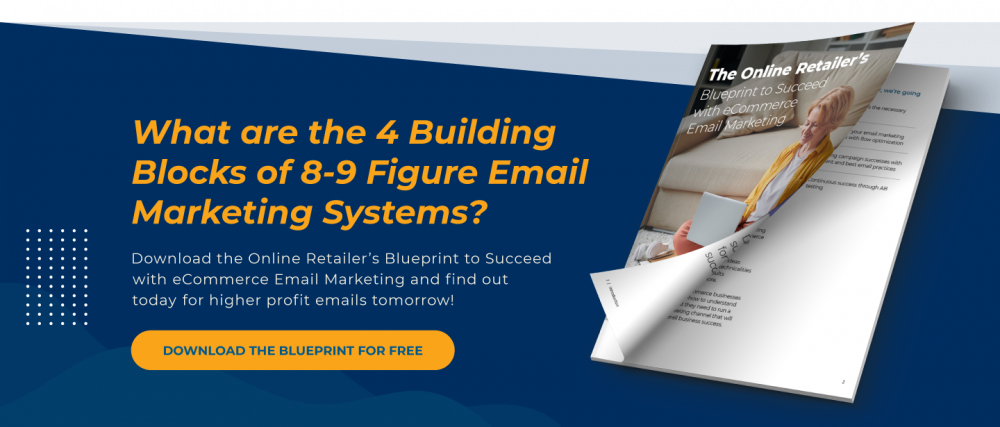 If you want to dive deeper into the exact implementation steps, the Introduction to Advanced 8-figure Email Systems Masterclass is still up and running. Inside, you'll be able to see the exact strategies we launched plus actual demonstrations that are easy to follow.
Alternatively, you can apply for a free strategy session with an email marketing expert where you can discuss more on how email marketing can transform your eCommerce business.