The eCommerce industry is one of the most affected by COVID-19. Yes, there's an increase in the number of customers moving towards online shopping. But, other factors like logistics and inventory force stores to slow down. So what should you do? You can actually revisit your eCommerce email marketing strategy and turn the situation around. There are many eCommerce stores that have found their mojo. They are able to continue operating, with COVID-19 email marketing campaigns playing a big role.
Truth be told, this pandemic called for flexibility and creativity. Ecommerce stores usually plan their email campaigns at least a month in advance. These are then scheduled at the earliest possible time for efficiency. Of course, no one foresaw the effect that the pandemic would have on businesses all over the world.
So how come some eCommerce stores are still raking in revenue from email marketing? It's time to take a look at these success stories so you can strategize on how you can beat the COVID-19 slump.
Our 2 COVID-19 Email Marketing Campaigns That Converted Amidst the Crisis
We compiled two highly-converting types of COVID-19 email marketing campaigns that we launched for our clients. Let's break each one of them down.
The letter that fostered a sense of solidarity
This eCommerce store didn't sell essential goods. There were also NO mentions of any products at all, or product recommendations.
Despite this, the email was able to generate a whopping revenue of more than A$18,000.

The secret to this email's success is the content itself. It stood out among other promotional emails. Why? Because this COVID-19 email marketing campaign is a letter from the brand to their customers showing that they care.
Here's what we loved about this campaign, and what it did well:
The subject line "We're all in this together" is very inclusive. It emphasizes that the brand knows what the customers are going through. It's no wonder this campaign hit an impressive

52% in open rates

. It's a winner in our books.

The email content itself started off on the right foot. If you break down the copy, you'll notice that it starts off with "We understand that these are trying times." This shows that the brand can relate to the customers. They aren't just empathic but encouraging.

How to convey, "We're a community": This is then followed by sharing what the brand is doing on their end to ensure the safety of their employees and customers who still wish to purchase. The email ends with 5 straightforward tips on how to keep safe.
What's interesting about this campaign is the non-intrusive CTA at the bottom of this campaign. As compared to sales-orientated campaigns, we placed a plain-text CTA after the signature. This non-sales campaign didn't just turn out to be the highest revenue-generating email in the last month, but the most impressive in open rates as well.
The sincere response or statement on the issue
Another strategy you can try is to be straightforward and share your sincere statement on the issue. This is way better than ignoring the virus and conducting business as usual.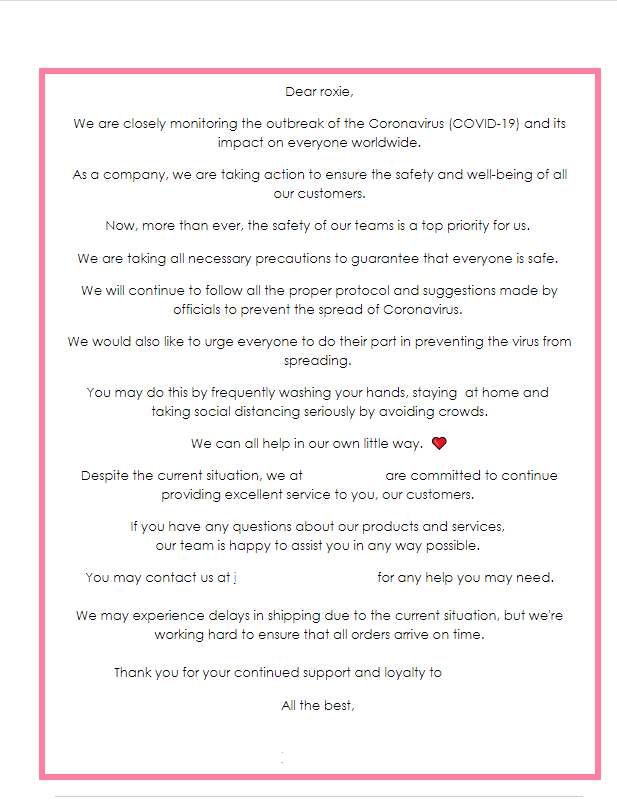 This email is a great example of a campaign that stores can send out because it announces that they are still in business despite the pandemic. It's a great way to stay connected with your email list when consumer confidence is at a low.
It shows that the brand is not privy to any major global happenings. If you want to let your customers know you're still operating but don't want to sound insensitive, this is a template you can tweak.
Unlike the first two examples, this email didn't have a CTA at all! Yet it managed to incur $998 in revenue. So what gives? If you look at the segments this email was sent to, it makes a clear point here that we included:
Those who were active in the last 30 days

Those who viewed products and started to checkout during the last 14 days.
Basically, these were segments who were not strangers to the brand. The target audience for this campaign were users who knew the brand, were interested in their products, and hence, interested in hearing from them. Now that's the beauty of segmentation.
Aside from being relevant to current events, this email plays the assurance card by subtly letting the already interested customers know they can still order. And yes, this is an example of how to reignite your customers' interest in your brand and push them to make a purchase even without a CTA.
Learning From Examples: Ideas for COVID-19 Email Content
What's the key takeaway from these examples? It's that you can continue generating revenue despite the pandemic. You just have to review and realign your current to fit your customers' needs and wants during these times.
Here's a quick checklist on how you can continue to deliver value to your customers. However, these are very general guidelines that are applicable to most eCommerce stores. Depending on your industry and products, there are other sure-fire strategies that will definitely help you convert. If you want a more specific direction, our email marketing experts will help you navigate this crisis. You can always schedule a free strategy session with them at your earliest convenience.
So let's do a quick recap of what impactful lessons we gleaned from these 3 highly converting "crisis campaigns" we sent out during COVID-19:
There's a thin line between generating revenue and taking advantage of your customers. Don't raise the prices of your essential products. This will affect your brand image negatively.

Do not ignore the outbreak. This is a major global crisis, and your brand should not distance itself from it.

Showing your customers you care will also help strengthen your relationship with them.

Update your automation flows accordingly. For example, add information about possible shipping delays in your cart recovery flows. Remember, email marketing automation isn't "set it and forget it" and this is one of those times that you have to update them.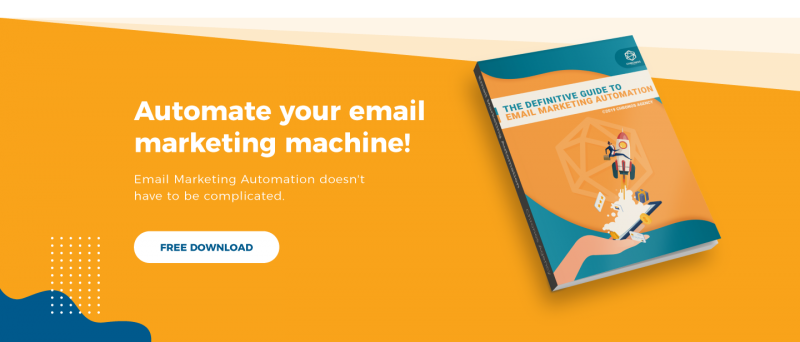 Tweak your scheduled campaigns to remove inappropriate content. You're trying to help your customers, not offend them or do them any harm.
Continue delivering value during the pandemic
Yes, these are trying times, but that doesn't mean you have to ignore your business. With the right strategy, you can continue delivering value to your customers. Aside from fulfilling their orders, you can also use this time to get to know your customers on a whole different level.
Email marketing is the perfect tool to keep revenue coming in, you just have to know how to use it effectively. If you're still trying to find your way around this coronavirus outbreak, schedule a free strategy call with us and we'll guide you through.