UPDATED, 03 SEPT 2020 — Along with the holiday season comes the excitement of both customers and eCommerce entrepreneurs alike. With US eCommerce projected to soar up to 18% in light of the global pandemic in 2020, this year's season is set to be even more crucial to plan and strategize email marketing strategies that make those holiday sales explode!
And what better way to maximize your potential holiday sales than by using email marketing? Its high-level engagement brings more than just decorations. Email marketing has the versatility and flexible personalization you need to capture the attention of your holiday buyers. But of course, only if done right.
So to help you with calibrating your email marketing strategies for the upcoming holiday season, here are the best of the best email marketing strategies you can get inspiration from.
Rebrand Your Emails to Fit the Holiday Theme
Email marketing is all about engaging your audience. Simply sending a sales email with the words "Halloween Sale" just isn't going to cut it.
Even something as simple as adding a little bit of Christmas cheer to your brand logo is enough to show that you're brand in a festive mood.
Like in the example email below from Sommer Ray, they added the traditional Christmas red to their email design and topped off their brand logo with an adorable Santa Hat.
Subject Line: Help Us Clear Our Shelves in One Night—10% Off in the Next 12 Hours
There's plenty of Christmas infused in the subject line, which definitely helps in open rates and setting the stage for the email itself. The design is on point, It's a fun and creative way to give your emails a fresh look while still staying recognizable to your customers.
They focus on the festive nature of Christmas all while catering to their target audience.
Build Hype for Holiday Sales by Email
During the most significant sales weekend of the year, it's easy to get lost in the river of marketing emails that flood most people's inboxes.
If you get in a week or two early, you can stand out and show potential customers deals they care about. Build anticipation for your Black Friday & Cyber Monday sales. 
Subject Line: How about a VIP Black Friday preview?
This example from Sommer Ray is excellent because it also doubled as a SURPRISE VIP sale that arrived in their inboxes before the actual sales event.
Send Gift Catalog Emails
Many holidays focus on togetherness, sharing, and even gift-giving. When it is the season of giving gifts, make sure you showcase awesome and relevant products to your subscribers.
A simple gift catalog is the easiest way you can do this. It's window shopping in email form, making it more convenient for your customers to do their holiday shopping.
Pro tip: Create multiple gift catalogs by category and send them to different segments of your customer list.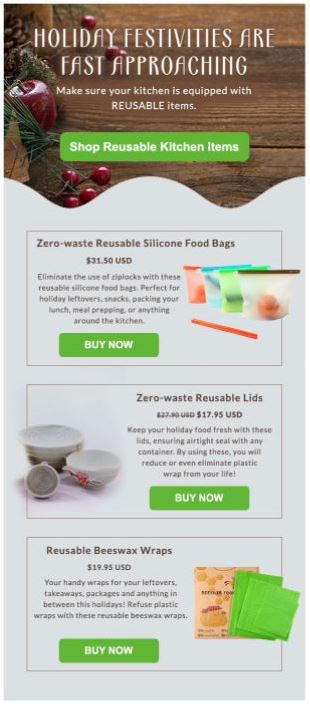 Subject Line: Zero-Waste for Better Taste!
It's not a holiday email marketing campaign without your gift catalog emails! This is a great way to highlight your products in a sort of "Holiday Shopping List," and for this case kitchen sets go well with the holiday dinner festivities. Notice how the focus is on creatively highlighting product images, and not too much on the copy. 
If you sell products in a similar category, like clothes, you should also focus on the visual aspect. Pull in your customers' eyes! Just make sure you create a kick-ass, relevant subject line to go along with your email.
Incentivize Giving and Sharing During Thanksgiving/Christmas
Blame the holiday spirit, but probably, your customers aren't just thinking about buying stuff for themselves. They are also thinking about their friends, families, and loved ones. 
Take advantage of this and promote a product or service that caters to these kinds of seasonal get-togethers.
However, do note that not everyone has the economic stability to be able to take care of everyone around them, and also themselves. Make it easy to give gifts by giving your email subscribers an incentive.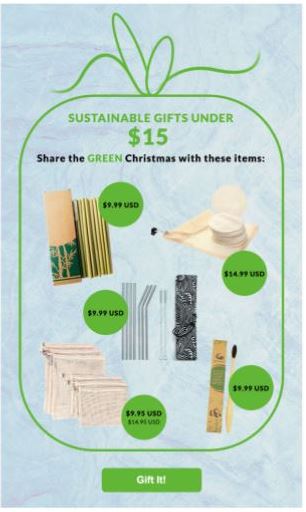 Here's another great example that can be used in tandem with the strategy earlier. Design a fun little gift bundle of affordable gifts your customers can get for their friends and family. Have your holiday email marketing strategies really bring home the idea of "gifts for yourself and your friends."
Send Reminder Emails Before the End of Sale
As an eCommerce business, you have to remind your subscribers that the deadlines don't line up with typical retail holiday sales. Sending emails is the easiest way to do this.
Make sure you let your subscribers know when the last day is. It's the perfect email to convince someone to buy a last-minute gift. If they miss it, they will probably end up going to a competitor. You can make this strategy even more effective by implementing it in last-day discount promos.
Pro tip: Send segmented reminders based on customers' browsing history during the sale. Did they visit a popular product page without purchasing? You can follow up on that, and let them know today's the last chance to pick it up at that price.
Subject Line: End Your Year with a Fireworks Display of Discounted Items
Here's another email from Sommer Ray is a great example of a simple, yet powerful reminder email. The subject line grabs your attention and communicates the message. The email suits the Q4 holiday season theme without forgetting the branding.
Remember, it doesn't have to be complicated. Since this email is a final reminder, there is no need to go overboard.
There are a lot of different "best" email marketing holiday strategies and tactics you can use to create a successful holiday marketing campaign. And you don't have to settle for just one. Especially for this year's BFCM, you're definitely going to have to pull out all the stops to ensure maximum sales and tribe growth!
A gift catalog is more powerful when combined with something else, like a FOMO-inducing shopping deadline email. Don't be afraid to get creative and experiment when designing your holiday emails, either. After all, sounding too corporate on Christmas isn't going to do your brand any favors. 
If you want to make the most out of your existing email subscribers this holiday season, you can schedule a free 30-minute call with our email marketing experts.