Along with the holiday season comes the excitement of both customers and eCommerce entrepreneurs alike. For while your average customer awaits the special holiday sales, it is you who must come up with the email marketing strategies that make those holiday sales sell!
And what better way to maximize your potential holiday sales than by using email marketing? Its high-level engagement is more than just for decoration.
Email marketing has the versatility and flexible personalization you need to capture the attention of your holiday buyers. But of course, only if done right.
So to help you with calibrating your email marketing strategies for the upcoming holiday season, here the best of the best email marketing strategies you can get inspiration from.
Market Holiday-themed Products by Email
Email marketing is all about sending messages that matter to your target audience. Seasonal products are by definition, relevant during their respective seasons.
Consumers like a change of pace every now and then. Instead of eating the same food, or wearing the same socks, it's always nice to get something completely different every once in a while.
If you'd rather hear the numbers, the market for seasonal chocolates alone is projected to reach $21.5 billion by 2021. But you don't have to be a company that exclusively sells seasonal products to take advantage of this trend.
Just think about how successful Starbucks' Pumpkin Spice lattes have become.
Instead of developing actual new products, you can put together a catalog of items that make sense for a holiday and send it to your mailing list.
Here's an example from See's Candies: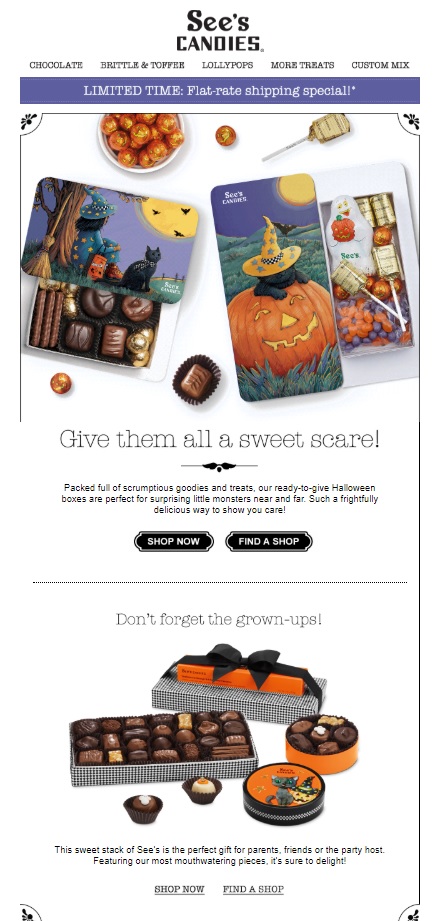 Subject Line: Spooky-good Halloween gifts for your little monsters!
There's plenty of Halloween infused in the subject line, which definitely helps in open rates and setting the stage for the email itself. The product design is on point, and so is the copywriting. 
They focus on the playful nature of Halloween and create an email that is guaranteed to move a whole lot of candy.
Notice how See's Candies is not really going for a limited-time offer or discount in either mail? That's the power of marketing relevant seasonal products. 
Build Hype for Black Friday and Cyber Monday Sales by Email
During the most significant sales weekend of the year, it's easy to get lost in the river of marketing emails that flood most people's inboxes.
If you get in a week or two early, you can stand out and show potential customers deals they care about. Build anticipation for your Black Friday & Cyber Monday sales. 
These pre-event announcement emails act as sneak peeks and help greatly with generating excitement.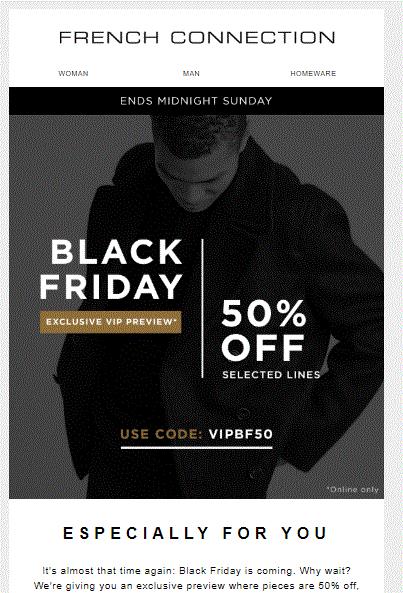 Subject Line: How about a VIP Black Friday preview?
French Connection did a great job building the hype for their 2018 Black Friday sale. They sent a "VIP preview" email a week before the event. Plus, it's very straight to the point such that customers can see right away which products will be reduced by 50%.
Send Gift Catalog Emails
Many holidays focus on togetherness, sharing, and even gift-giving. When it is the season of giving gifts, make sure you showcase awesome and relevant products to your subscribers.
A simple gift catalog is the easiest way you can do this. It's window shopping in email form, making it more convenient for your customers to do their holiday shopping.
Pro tip: Create multiple gift catalogs by category and send them to different segments of your customer list.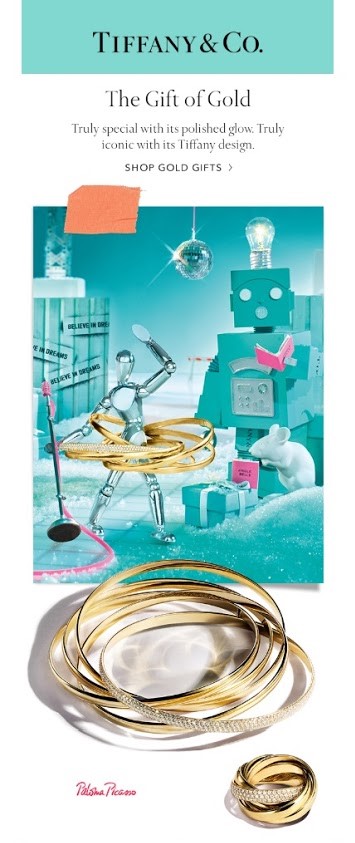 Subject Line: The Gold Standard for Gifts
Tiffany & Co. sends an excellent, upscale looking gift catalog during the holiday season every year. Notice how the focus is on creatively highlighting product images, and not on the copy. 
If you sell products in a similar category, like clothes, you should also focus on the visual aspect. Pull in your customers' eyes! Just make sure you create a kick-ass, relevant subject line to go along with your email.
Incentivize Giving and Sharing During Thanksgiving/Christmas
Blame the holiday spirit, but probably, your customers aren't just thinking about buying stuff for themselves. They are also thinking about their friends, families, and loved ones. 
Take advantage of this and promote a product or service that caters to these kinds of seasonal get-togethers.
However, do note that not everyone has the economic stability to be able to take care of everyone around them, and also themselves. Make it easy to give gifts by giving your email subscribers an incentive.

Postmates understands that a lot of people won't be able to make it home for Thanksgiving dinner. It promotes the alternative—Friendsgiving.
They also understand how overwhelming Thanksgiving dinner can be. So they invite you to rely on Postmates to get the meal done while spending quality time with your friends.
Send Reminder Emails Before Last Shipping Dates
As an eCommerce business, you have to remind your subscribers that the deadlines don't line up with typical retail holiday sales. Sending emails is the easiest way to do this.
Make sure you let your subscribers know when the last day is. It's the perfect email to convince someone to buy a last-minute gift. If they miss it, they will probably end up going to a competitor. 
Pro tip: Send segmented reminders based on customers' browsing history during the sale. Did they visit a popular product page without purchasing? You can follow up on that, and let them know today's the last chance to pick it up at that price.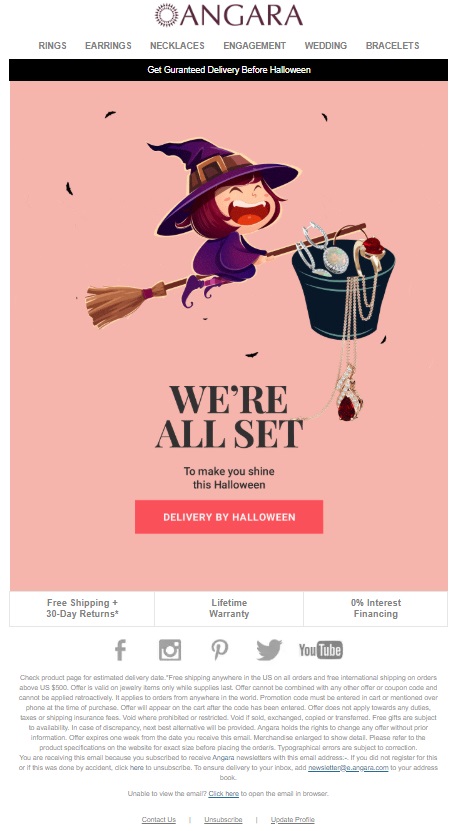 Subject Line: Guaranteed Delivery by Halloween ?
This email from Angara is a great example of a simple, yet powerful reminder email. The subject line grabs your attention and communicates the message. The email suits Halloween without forgetting the branding.
Remember, it doesn't have to be complicated. Since this email is a final reminder, there is no need to go overboard.
There are a lot of different strategies and tactics you can use to create a successful holiday email marketing campaign. And you don't have to settle for just one. 
A gift catalog is more powerful when combined with something else, like a FOMO-inducing shopping deadline email. Don't be afraid to get creative and experiment when designing your holiday emails, either. 
Sounding too corporate on Halloween isn't going to do your brand any favors.
If you want to make the most out of your existing email subscribers this holiday season, you can schedule a free 30-minute call with our email marketing experts.