January is coming to a close and you know what that means—Valentine's Day is upon us! It's the first major holiday of 2021 right after BFCM and Boxing Day. So just when shoppers begin clamoring for the next big sales, Valentine's comes at just the right time to satisfy the consumers' sales shopping itch. 
Consumer spend on Valentine's Day has grown year-over-year since 2017—and 2021 will be no exception. This is especially true due to the huge increase in online shopping activity as consumers stay at home. So, whether you're hoping to win some hearts with Valentine's Day SMS Marketing, why not try out a two-punch strategy this year using both email and SMS.
So what's the projected spending on Valentine's Day for 2021? Based on the upward trend of consumer spending on all major holidays (such as Prime Day and Boxing Day last 2020)—it's set to be BIG. However, the bigger picture when it comes to Valentine's Day is that it's more than just about sales—it's about building your customer relationships.
Email and SMS Offer a Complementary Solution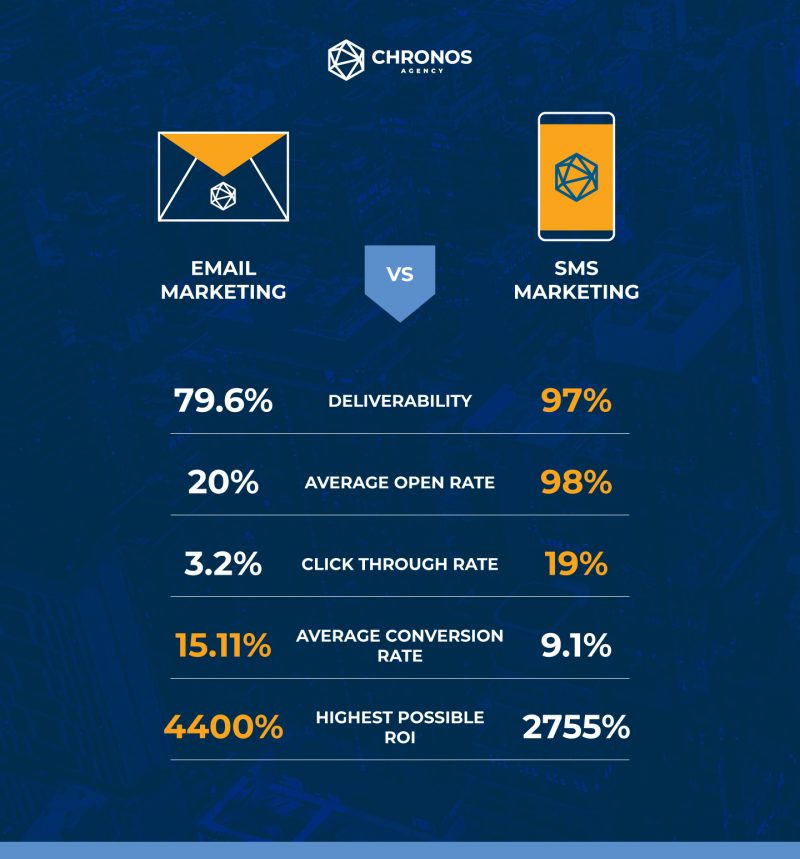 Deliverability
As of February 28, 2020, the average email deliverability was 79.6% across various email marketing platforms. On the other hand, SMS deliverability is close to 100%—with only an average of 3% of SMS messages are marked as spam.
Average Open Rate
Email marketing has an average open rate high-point of 20%, while SMS can reach as high as 98%
Click-Through Rate (CTR)
The average Click-Through Rate (CTR) benchmark for emails is 3.2%, while links in SMS messages have an average CTR of 19%
Average Conversion Rate
SMS has an average conversion rate of 9.1% across all industries. Email marketing conversion rate, however, peaked at 15.11% last 2020.
Highest ROI reach
SMS marketing can reach ROI as high as 2755%, while email marketing can generate up to a whopping 4400% ROI.
SMS Marketing leads when it comes to deliverability, average open rates, and click-through rates. Email, however, still reigns supreme when we look at average conversion rates and the highest possible ROI you can achieve. 
The two channels are made to fit together perfectly to make up for each other's shortcomings. What's born from this pairing of powerful marketing tools? A highly effective two-punch combo of almost guaranteed customer reach and mind-blowing returns.
Top 3 Email x SMS Hype Campaigns for V-Day
Campaign #1: Build the Hype with a Teaser Campaign — Send Your First Campaign 1 Month Before Valentine's Day
It's always important to warm up your audience to an upcoming sales event. Notifying your customers early gives them time to prepare, both mentally and financially, for your big sale. What's the best way to prepare your customers for Valentine's Day? Send a Valentine's Day-themed email and SMS—here's a great email example from one of our beauty brand clients: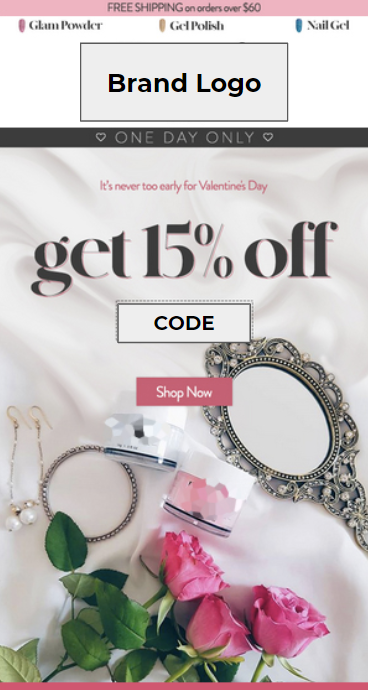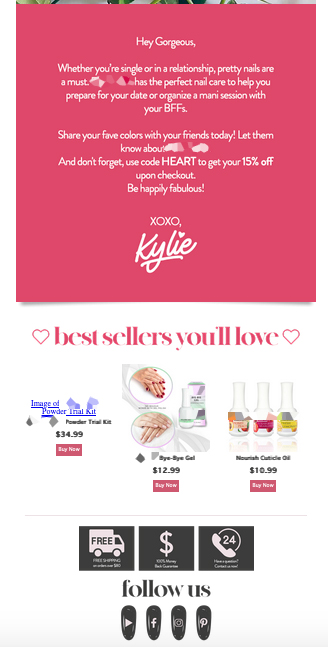 Notifying your customers a month before Valentine's gives them ample time to snap up attractive discounts and gifts. This campaign we did for one of our beauty brand clients drove a sense of urgency with the "One Day Only" notice.
The big highlight for this email, however, is the personal message at the end. Speak to your audience at a deeper level and remind them that Valentine's is for both couples and loved ones. Finally, the clear CTA reminds recipients to utilize the discount. You can then follow-up your email with an SMS like this:
This SMS from Slumberkins is a great example of a Valentine's-themed message that still conforms to the brand's style and design. An adorable image of their plushie products along with the signature "love" theme and pink hearts signals the arrival of Valentine's Day. Going into detail with its design, they made clever use of blank space and emojis, as well as having a clear CTA without sounding too promotional.
Pro Tips:
Consider sending your Valentine's Day promotions earlier than usual (at least a month) to adjust to the lingering shipping delays from the holidays. Also, you can tweak the visuals of your email's recommendations section. Give it a "For Her / For Him" theme and include the usual pink hearts motif for the full Valentine's Day vibe.
Campaign #2: Continue Building the Hype with a "Gift Guide" Style Email — Send Your 2nd Campaign 4 Days Before Valentine's Day
Bump up your Valentine's sale announcement by sending another teaser email. Your first teaser should already have warmed up your customers for your upcoming sale. So, now's a good time to start introducing your gift guides. Here's a creative example from one of our beauty brand clients, Forchics: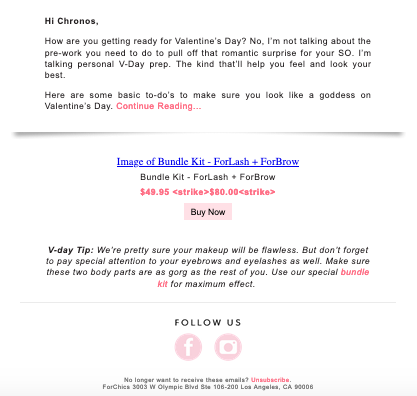 The cool part about this email is how it isn't actually selling anything upfront. It's more for catching customers' attention and getting them to visit the store website. That's the beauty of design, communicating the start of a holiday without actually spelling it out. 
The hero image on this campaign features no actual products but an attractive face who could be anyone looking to go out and paint the town red, roses, and pink elements. That's one way to do a holiday theme right— and perfect for this brand's audience
For the more technical side of this email—it's actually a product recommendation gift guide worked into a content email. The message at the end can upsell a higher-value bundle that can lead to increasing your average order value. This email was sent a month before the actual sales date made about $1,200 and primed the list to stay tuned and anticipate the upcoming sales
You can follow-up your gift guide with a product collection announcement through SMS. Here's a great example from Whiskey Darling. It's a short and sweet product announcement SMS that leads recipients straight to their shop to start browsing for Valentine's Day.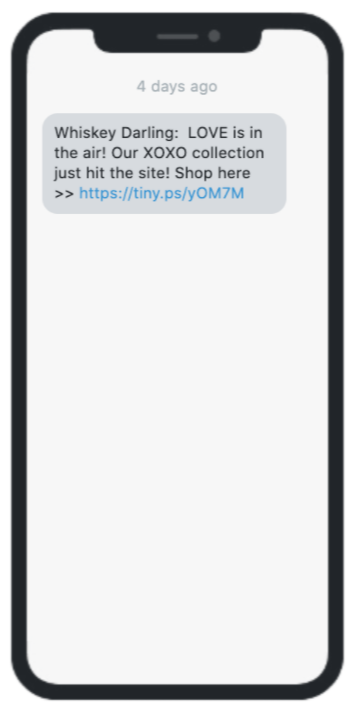 Pro Tip:
It's not just about showing your customers what you want to sell, but it's more about showing them what they would want to buy. Show them the products you have available that are perfect as Valentine's gifts for their partners.
Campaign #3: Top Off Your Hype Email Series by Driving Urgency — Send Your 3rd Campaign 3 Days Before Valentine's Day
Use your audience's pent up hype by adding in a sense of urgency for your upcoming Valentine's sale. That's what we helped one of our beauty brands execute—with jaw-dropping results. This email we crafted and sent out racked up a whopping $5,200 for our client. This only proves that we shouldn't underestimate the profit power of hype emails.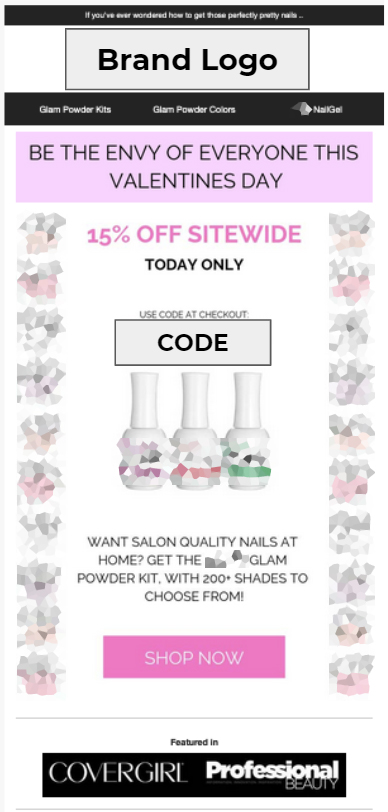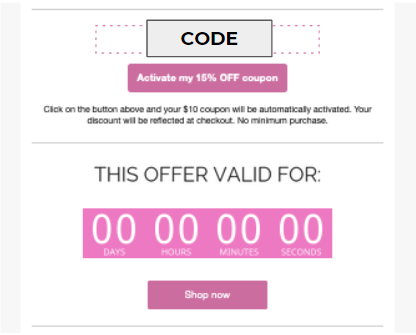 Let's go into detail about why this email worked so well:
It communicates user benefit with the messages "Be the Envy of everyone this holiday" "Get salon-quality nails at home"—encouraging customers that they deserve to look their best whether it's for a special someone or themselves

A "Featured In" section for social proof. This is important for showing that other big brands recognize your products. When that's the case, it makes your products all the more enticing to your customers

The Countdown to Sale Timer is a nice touch to drive home the excitement of eager customers
This is also a great opportunity to reward your VIPs by giving them exclusive early access to your sale. Send them a follow-up SMS, giving them the go signal that they can start shopping at sale prices before anyone else.
This strategy sustains the loyalty of your VIPs to your brand. Since they've helped support your brand through and through, rewarding them this way ensures you're making high-value sales from the customers who
want
to buy from your brand.
Pro Tip:
Early VIP access to your sale should be a regular part of your marketing strategy. Customer loyalty programs like this can increase your average cart value and customer lifetime value (CLTV) in the long run. In other words, more sales with the same number of loyal customers. 
SMS and Email Marketing is a Match Made in Heaven
Much like two perfect love birds, email and SMS complete each other by making up for the other's shortcomings and enhancing each other's strengths. SMS is great for starting a conversation while emails continue it—ultimately leading customers to make their purchase.
We've got a little success story from our own SMS and email marketing tandem. Last year, we helped our client generate 25% of their store's revenue from Klaviyo marketing campaigns—which is huge! 
Question—what do you get when you combine Postscript's masterful SMS marketing and Chronos Agency's high-converting email strategies? The answer—almost half a million in revenue for our client from SMS and email marketing alone. Still not convinced on the conversion power of SMS? In the first week of rolling out SMS services for this client, we hit a staggering $13,000 in SMS revenue. 
Did you like the highly-engaging SMS marketing campaigns highlighted in our Valentine's Day strategies? Postscript is all about getting the most out of what could be the most important marketing channel to date—SMS marketing. Reach out to your customers and get them into your marketing funnel with well-designed and smartly segmented SMS marketing strategies. 
The almost guaranteed deliverability of SMS ensures you'll reach the right customers with the right messages. Follow this up with the engaging power of emails to nurture your customers through their customer journey and you can rest assured that they'll complete their purchases—and maybe even come back for more.
 Email marketing has the power to generate 30% of your store's overall revenue—and we're the agency that wants to make sure you get every cent of that. High converting email strategies and effective CLTV practices—all derived from our experience with over 200 brands. Just fill out our form and schedule a strategy call with us so your 2021 email marketing is as good as done.
References:
Campaign Monitor – ROI Showdown: SMS Marketing vs. Email Marketing
Campaign Monitor – How Do You Calculate Email Marketing ROI?