UPDATED, 25 NOV 2021—There's a reason why business owners look forward to the holidays—it's the season of shopping! That means more sales and more revenue. So it's only normal to go all out on your holiday promotional emails. Plus, you can seize this opportunity to connect with your customers on a deeper level and level up your brand's presence.
While it's important to make sure your emails are optimized to make the most sales, don't forget to add in a healthy level of creativity to really make them stand out from the rest.  So, here are a couple of tips to level up your holiday promotional emails to get your customers excited and in the buying mood for the holiday sales.
1. Weigh in on Holiday-themed Emails
If you want to strike a chord with your customers as human beings, stick to the themes of the holiday season.
For Halloween, humorously playing with darker concepts is the way to go. For Christmas, generosity, humanity, family, and giving back are some overlying themes that come to mind.
Basically, each holiday has its own themes and connotations. So think of emails not just as ads for selling products, but as your gateway to showing who you are as a company. When done right, these are great tools to build brand loyalty.
Here's a great example from the brand ForChics. They put just enough holiday spirit into their email while still remaining on-brand. The confetti in the background along with a reference to a classic jolly saying to their headline makes this a fun and engaging email that's sure to catch your subscribers' attention.
2. Use Humor and Wit to Win
The holidays are a time to be playful! Sneak some pop culture references and clever wordplay into your emails to engage with your customers and get them hyped for the holiday sales.
Here's a fun example from Wyvern's Hoard, a fantasy-themed jewelry brand. Can you guess what they're referencing in their email header?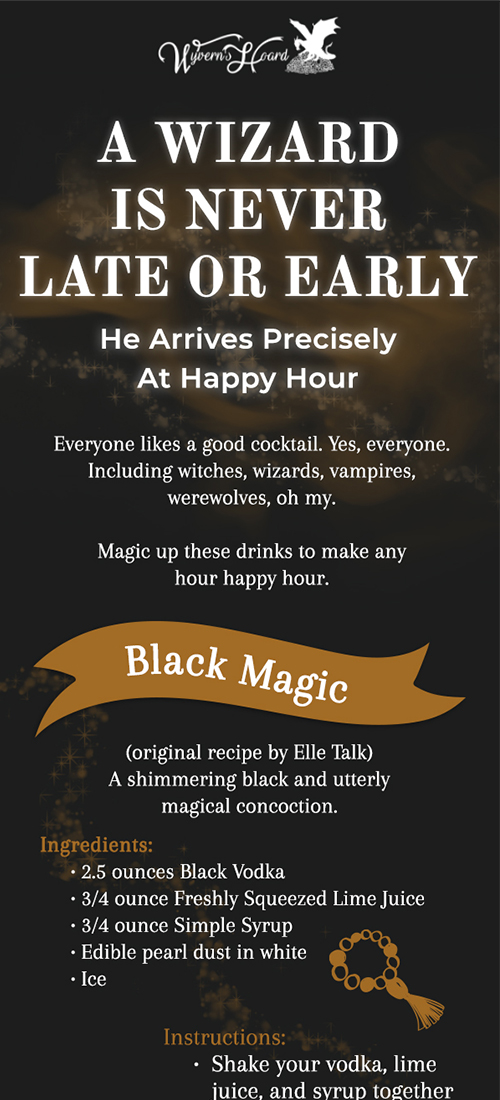 The best part about this email is they're not really selling anything here. This is a good example of a content email that's meant to engage with your customer at a deeper level—growing your relationship with them as a result.
After all, the holiday celebrations call for mugs of some fine alcohol, don't you think?
3. Show How You Are Giving Back to the Community this Thanksgiving
It can be a really great move to show give your emails a much-needed human touch, albeit virtually. Show your customers that you and your staff care about your community. Demonstrate what you're doing to give back, just like Whistlefish.

In addition to highlighting their charity efforts, they also preview their upcoming Christmas products. Marketing campaigns can be multi-dimensional, and both sell and deepen the customer relationship at the same time.
Giving Tuesday, the Tuesday after Cyber Monday, is also a great time to showcase efforts like this. You can even run a special charity-focused promotion. Again, Peet's Coffee nailed it.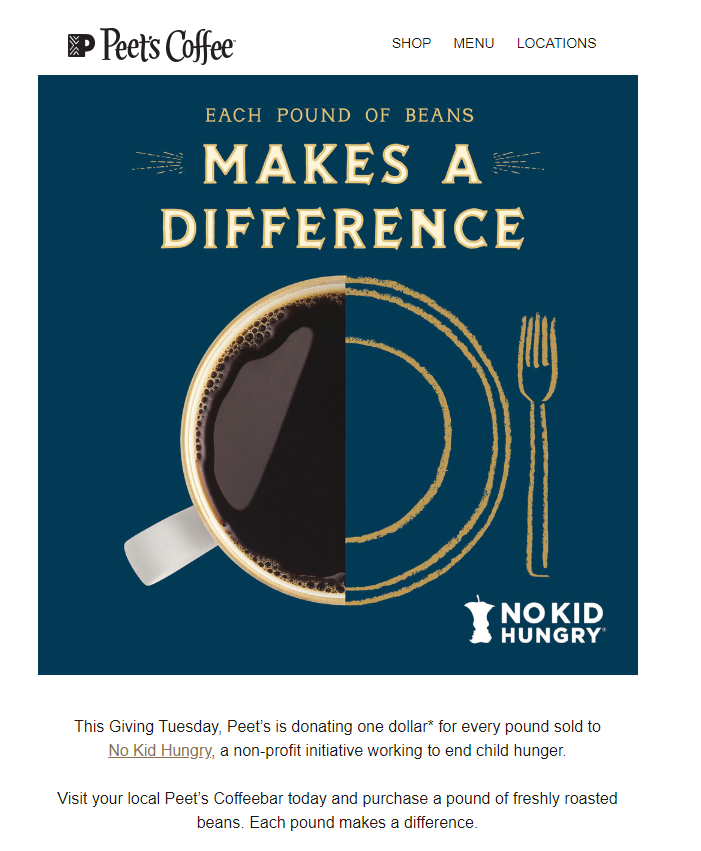 They collaborated with No Kid Hungry and donated a dollar for each pound of coffee beans sold. What a way to touch your customers emotionally!
4. Share a Gift Guide That Looks Great and Makes Sense
If you are releasing a gift guide, pick your products with care. You can even refer to Google Trends, or look at Amazon bestseller lists to get trendy gift ideas. Then, make sure to design it in a way that's organized. If it's hard to navigate, that defeats the purpose.
Finally, shell out for a professional design. A great gift guide helps you build brand awareness and engagement. People will share it by email or in person with their close circle of friends.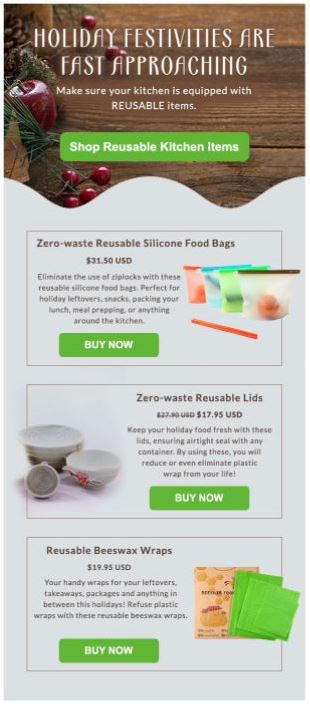 Pro tip: With email segmentation, you can create and deliver personalized gift guides that are relevant to each reader.
5. Incentivize giving in your holiday promotional emails
'Tis the season to be jolly, good, and generous, so make sure your marketing efforts reflect that. It's a great idea to help people choose your product as their gift option, by giving the shopper a little gift of their own.
If the gift itself is excellent, the email doesn't have to be fancy or over the top. Choose a gift that aligns with your brand personality, and let your customers know by email.
Here's an example of a gift email from Dog's Landing where they gave a mystery gift to their customers for Easter.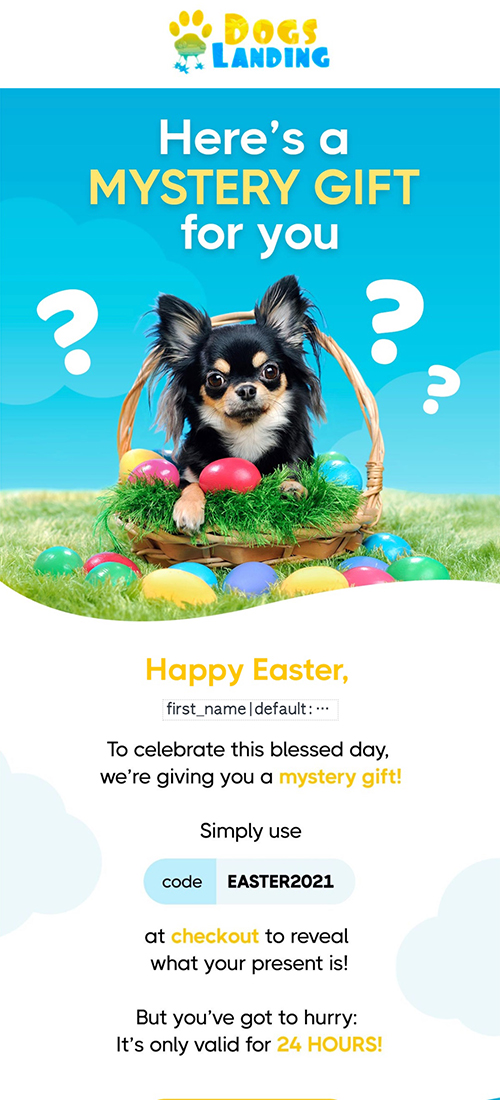 6. Go big on holiday email subject lines
If you're wondering what subject lines you can use around the holidays to boost open rates, we've got you covered. 
Black Friday / Cyber Monday
Leapfrog: Black Friday Savings without the Big Crowds! 

MadeWell: Your Boss Is Shopping Today Too

Dell: It's Cyber Monday All Week! 

Herschel: Don't miss out, it's almost over
Christmas
Peet's Coffee:

Last-minute gifting? We've got you covered.

JC Penney: Ho, ho, HURRY! Final hours for EXTRA 25% OFF

Target: Still need the kids' holiday looks? We've got you.

Postmates: The Only Gift That Delivers!

Pottery Barn Kids: The BEST gift: 20% OFF anything (TODAY ONLY!)

UberEATS: Brr — warm up with some free hot chocolate.
If you want to win the holiday season, it's not enough to spam promotional emails over and over. You'll end up doing more harm to your business instead of leveraging on the holidays. Don't forget to apply the best practices for your newsletters!
Add a personal touch, get the theme right, and blast off a social media campaign, and your holiday seasons will be very jolly indeed. Engaging with your customers at a deeper level requires an in-depth look into their preferences, needs, and pain points.
For that, you'll need a dedicated team that can effectively and efficiently analyze your customer data and come up with data-driven strategies. With the end of the year sales just around the corner, we understand that you'll be focusing your manpower making more sales to get that Christmas revenue.
So, why not hire an email marketing agency? Better yet, Chronos Agency is a customer lifecycle marketing agency that specializes in using email, SMS, and mobile push notifications to amplify your digital marketing efforts.
Get a boost in your holiday revenue and customer base growth by implementing our proven lifecycle strategies. Schedule a free strategy call with us and let's see what marketing tactics will best fit your brand!
References: