No matter how old you are, you know you'll always be your mother's precious little one. Mother's Day is the best day to celebrate the love of our mothers, but also it's the best opportunity to help engage with your customers as well. Connect with your customers and solidify your relationship with them by helping them with their Mother's Day plans using these 3 highly effective email and retention marketing strategies.
Don't pass up Mother's Day as just another holiday sale event. It's actually the third-largest retail holiday event in the United States, making it a prime opportunity for your brand. This particular holiday event is where 29% of Americans rely on online stores when shopping for their mother's gifts.
In fact, global use of eCommerce shopping for almost anything increased as well due to the current pandemic. So, rev up your email and retention marketing to really maximize your sales this Mother's Day.
Mother's Day Marketing Strategies to Win Hearts and Maximize Returns
1. Create Cross-Selling Opportunities with Gift Guides and Bundles
Gift Guides and Bundles are great for accomplishing two things. (1) Giving your customers convenience by highlighting all relevant items in one go. And (2) opening up cross-selling opportunities so your customers can buy more than just one item from you.
Sometimes, customers end up not buying anything because they're overwhelmed with all the choices. Narrowing down their choices to the most relevant items with gift guides can help eliminate their choice paralysis.

Also, why let your customers stop at one-item purchases? Bundles help you cross-sell other relevant items. Help out your customers by recommending all the relevant items in your emails that can add to their Mother's Day gift. This helps increase your average order value (AOV) while making your customers feel comfortable with paying slightly more than they originally planned. Think of it like an ala carte meal vs. a combo meal.
Let's say you want to order a burger, priced at $5. You also want an order of fries, priced at $4. Ordering both separately would make your meal cost $9 total. However, what happens when you order the burger and fries combo that's priced at $7.99? Most likely, you'd go for that order. Paying less than having both separate orders (but you'll be paying more than the price of either order!).
Focus on showing your customers the value they're getting from what they spend. Centering the value around your customers rather than just your literal products can help win their hearts—increasing overall customer retention.
2. Connect with Your Customers with Heartwarming Storytelling
What can you do to stand out from the countless other brands that are also running Mother's Day campaigns? One way to stand out from the ocean of competitors' emails is by leveraging your brand story through email marketing.
Mother's Day is a great time to engage with your customers on a deeper level. Show your customers that you're genuinely celebrating the holiday with them. This will help associate positive emotions towards your store and products. Here are some ideas you can explore:
Feature the mothers on your team and celebrate them
Share real stories and user-generated content from your customers with their mothers, grandmothers, or aunts
Showcase heartfelt messages addressed to all mothers—whether they're your customers or your customers' moms
Check out this cozy-looking email that emphasizes warm hugs and messages of love. This specific email actually generated 28.3% open rates—even with its $25 OFF discount.
3. Personalize Your Messaging with Different Angles
Mother's Day isn't just for literal "mothers." Include mothers of all kinds—grandmothers, new mothers, mothers-in-law, etc. Make your messages more personal so they can effectively reach out to your target customers. Personalized emails would deliver 6x more transaction rates, so this strategy has a lot to give you as it does to your customers.
Try to diverge from the generic "Happy Mother's Day" themed emails. Here's a great idea for you: highlight different women or people in your customers' lives who are also worth celebrating as mothers. This adds more to humanizing your brand—closing the gap even further between you and your customers.
Also, include product recommendations for new mothers, aunts, and grandmothers. Highlight products that can apply to the wider spectrum of motherhood.
These are some general strategies to get you started, but how can you maximize the effectiveness of your Mother's Day emails?
Apply These Tips for a More Refined and Engaging Mother's Day Campaign Experience
Center Around Your Customers' Convenience
Make every last customer happy, and your customers will last. This is especially true when it comes to your last-minute customers. It is for these last-minute customers that on-time delivery is important. In fact, 53% of online shoppers shared that delivery speed is an important factor they look into before making the final decision.
Product delivery time isn't the only factor that can make or break your conversion rates. Do you engage with your customers even after they've bought from you? The post-purchase journey is just as important as the main customer journey itself.
This is especially true when you're aiming to convert first-time buyers into repeat customers. With that said, make sure you have a well-integrated fulfillment system to maximize your eCommerce store's customer retention.
Let Unsubscribing be Easy for Your Customers
Sensitivity is always key. You have to remember that not all of your customers look at Mothers' Day as a time of celebration. Some of your customers may be struggling with strained relationships or recent losses.
As a first step, you have to acknowledge this fact and translate it into how you craft your messaging on this holiday. By providing your customers a way out of receiving Mothers' Day-specific content, you are establishing the importance of your relationship.
An easy opt-out process is often more beneficial to your brand. A difficult opt-out process will only leave a bad taste in people's mouths—damaging your brand's reputation.
Here is a sample from Bloom & Wild as used by Klaviyo as an example of how you can execute Mothers' Day opt-out campaigns: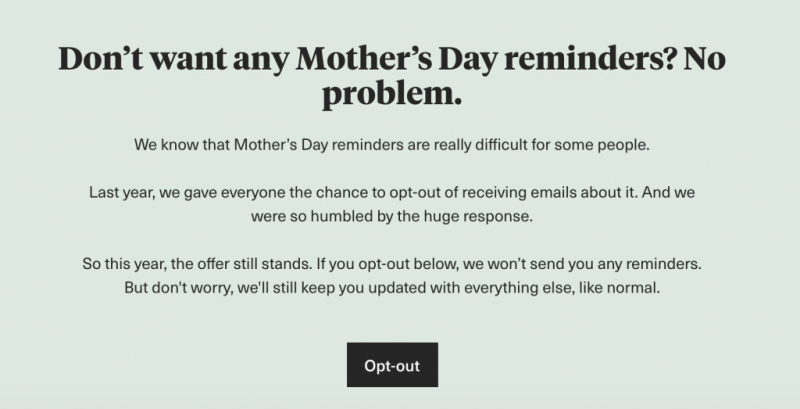 Use a Solid Holiday Email Sequence
If you're looking for a tested-and-proven formula, you're welcome to steal our holiday email sequence! While this sequence worked phenomenally during BFCM, we've observed its consistent effectiveness during any other holiday sale.
With Mother's Day just around the corner, here's the more condensed but still as effective version of our sequence:
1. Hype Builder Email
Build excitement early on by announcing any discounts or special perks your customers can look forward to. Quick Tip: You can add transactional CTA buttons even in your hype builder email to generate sales even before the actual sales dates.
2. Early Bird Email
Do an early access sale for your VIPs or a special Mothers' Day Sale opt-in list. You'll be raking in those sales even before the main launch.
3. Closing Email
Make sure to play with the sense of urgency by using countdown timers and indicating product scarcity.
4. Surprise Extension email
Like we mentioned earlier, there will be no shortage of last-minute shoppers. A surprise sales extension is always a pleasant surprise, and will definitely be remembered by your customers as something positive.
Optimize Your Email and Retention Strategies by Implementing 8-Figure Email Systems
We want nothing more than for you to succeed. So to help in your journey to 8 figure-level growth, we've crafted this ultimate guide to 8-figure email systems. Only with carefully crafted and well-curated emails can you win over more customers, retain them, and ultimately earn their genuine loyalty.
However, we do understand that highly effective and engaging email and retention marketing would require you to dedicate a chunk of your manpower to those fields. Instead of spreading your forces out too thin, why not leave all the back-end heavy lifting to us? Our team of customer retention experts uses emails and other marketing strategies to further the growth of your eCommerce business.
We believe that having a healthy and dedicated customer base is key to exponential eCommerce growth. Schedule a free strategy meeting with us and let's see how we can help your brand grow and thrive!