We've finally finished processing the data! 2021 proved to be the year when eCommerce businesses rose up from the ashes and made their comebacks. What sort of email and SMS strategies stood out and contributed to our clients' successes? Let's look back at some of their holiday and BFCM highlights from 2021 and find out.
Our lifecycle marketing team analyzed all the strategies they helped our clients implement into their digital marketing frameworks. From this data, we compiled the top results highlights our clients achieved along with the eCommerce email and SMS strategies that generated them.
Also, are you looking for ways to future-proof your online store? We've also compiled the top future-proofing strategies you need to ensure many more years of sustainable success for your eCommerce brand—all in one easy-to-digest industry report.
5 Standout eCommerce Holiday Strategies
Let's zero in on the holiday eCommerce strategies we helped our clients implement. It's during the holidays when consumers are in the buying mindset, making this a great profit opportunity for online stores.
Here are the strategies our team observed that consistently generated big returns across our many clients:
1. Earlier Email and SMS Marketing Campaign Start
This is based on our observations on our clients' BFCM marketing performance. Starting your marketing campaigns earlier can help you build hype among your customers.
If this sounds familiar, it's because building hype is part of our winning 6-Step Holiday Email Sequence strategy. Getting your customers hyped prepares them for the sale. This means they'll start doing product research and saving up shopping funds.
Here's a rundown of our top four clients with the highest campaign attributed profits and their campaign start dates.
2. Create New Holiday Specific Flows
Create flows that promote your specific holiday campaigns. This falls under the rule of thumb of sending relevant and high-value content to your customers.
Setting up holiday-specific flows can make what could be a hectic marketing campaign into an automated, efficient, and high-profit one.
We observed that the two clients who created new flows for BFCM also had the highest owned revenue.

3. Have Your Existing Flows Reflect Your Current Holiday Discounts
Leverage your already existing flows to help maximize your holiday profits. This is more efficient compared to doing extra work setting up new flows and squeezing them into your content calendar.
Tweaking your already established flows will allow your holiday promotions to easily reach deep into your customer base. Therefore, already getting a huge chunk of your customers availing your holiday promos.
Here are the top five clients with the highest flow revenue percentages who edited their existing flows: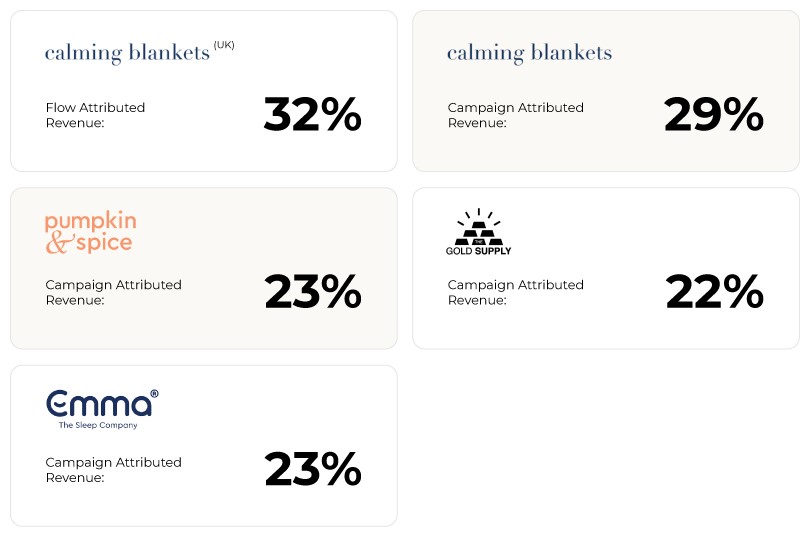 4. Omnichannel Marketing is Key to Sustainable Success
Sticking to only email or SMS marketing means your missing out on the pool of prospects of the other. Using a combination of multiple marketing channels is key to achieving 7 to 8-figure success.
Long story short, omnichannel marketing is all about creating a seamless customer experience across multiple marketing channels. This helps you reach out to large portions of your target audience who mostly or exclusively use a specific channel.
Worth noting: 60% of our clients had SMS marketing in place, here are their omnichannel marketing highlights: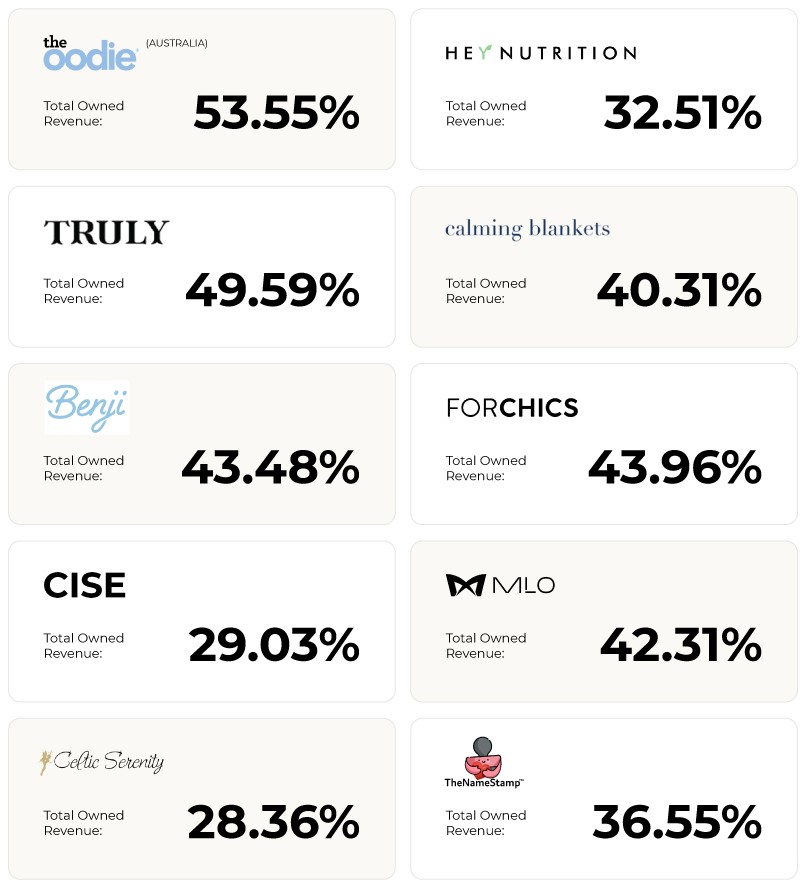 5. Best Discounting Scheme Practices
How you present your discounts will also play a role in your digital marketing performance. We've compiled a list of the best discounting practices we've observed from our clients in 2021.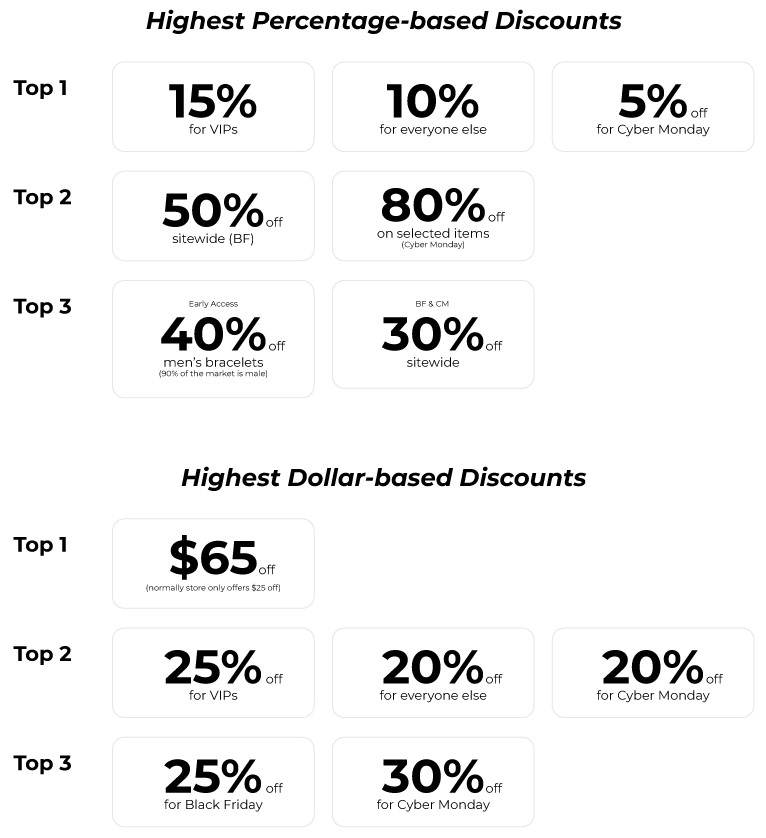 Additional Actionables You Can Take Away
1. Teasers Generate More Revenue
Some brands prefer not to have teasers because of the fear of lowering their sales when consumers wait for a big holiday sale.
However, brands with the highest owned revenue have shown that by having a teaser, they bring in a lot more revenue. This falls within the aforementioned hype-building strategy.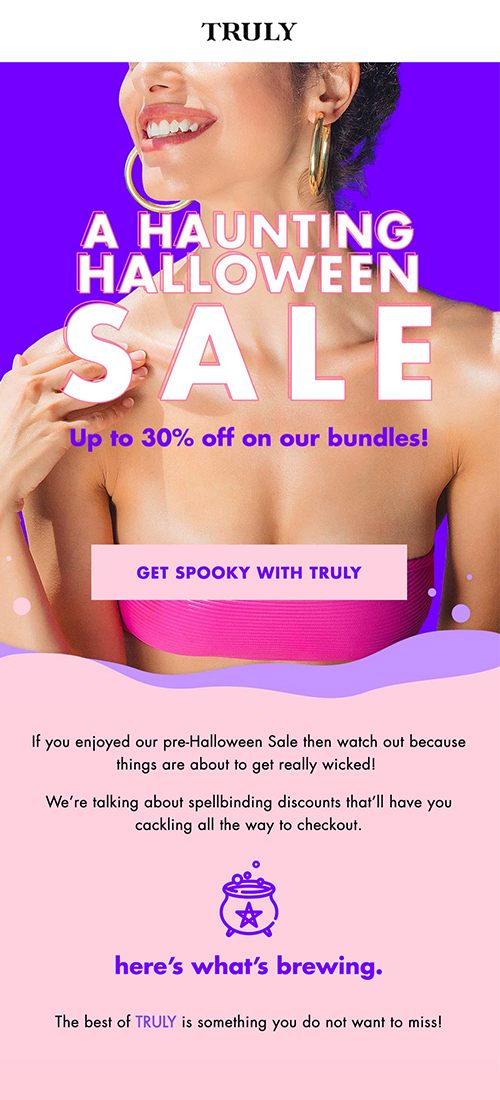 2. Having an App for Your Store can Go a Long Way
Our client online stores that have their own apps managed to generate an average of 7% their store's overall revenue. Apps serve as a quick-to-access platform for your customers to your online store.
Additionally, apps can help you leverage push notifications—providing you an extra means of promoting and sharing relevant content with your customers.
3. Use a Combination of HTML and Text-based Emails
There is no one size fits all, the same is true with emails. We observed that a healthy balance of both HTML and text-based emails was effective with engaging subscribers.
How we set it up for our clients was we made initial announcement email in HTML format and reminder emails in text-based form.
Our reasoning behind this is that initial announcement emails should be eye-catching and engaging. As for reminder emails, they don't need to be over-designed—keep them simple and straightforward.
As the saying loosely goes: The best way to prepare for the future is to review the past, else you're doomed to repeat the same mistakes.
At Chronos Agency, data-driven strategizing is the top priority. We make sure to analyze collected data and apply our findings to tweak existing strategies or develop entirely new ones.
Are you looking to maximize your email and SMS marketing profits with less hassle? Book a free strategy call with us and let's talk.