With the ever-changing algorithms plaguing social media this year, email newsletters will regain the spotlight in 2020. Amidst the clamor of aesthetic graphics, viral memes, 2-minute videos, and witty quips, email is still the one marketing tool that remains effective regardless of the seasonal trends. 
It isn't just about any old generic email newsletter, email marketing has evolved into an elegant solution for eCommerce businesses to have these days. 
The role of email marketing to eCommerce brands can't be denied, it establishes a revenue channel that is both reliable and sustainable. With email automation life cycle and customer segmentation thrown into the mix, brands can now optimize their customers' preferences to build long lasting relationships with their brand with ease.  
Whether it's your first time to venture into creating your eCommerce email newsletter, or you want to rehash your current strategy, these tips will surely get you to where you want to be. 
The question is, how do you stand out from a crowded inbox? The competition for attention these days is greater than ever. Better yet, how do you create a newsletter that people would actually want to open? 
Without further delay, here are 8 tips for creating your email newsletters:
1. Keep it short and simple
The Miniskirt Rule applies to email newsletters too! They should be 'long enough to cover what's necessary, but short enough to keep things interesting.' Remember, your content should be able to convey enough details and info but short enough to avoid being boring. 
SXSW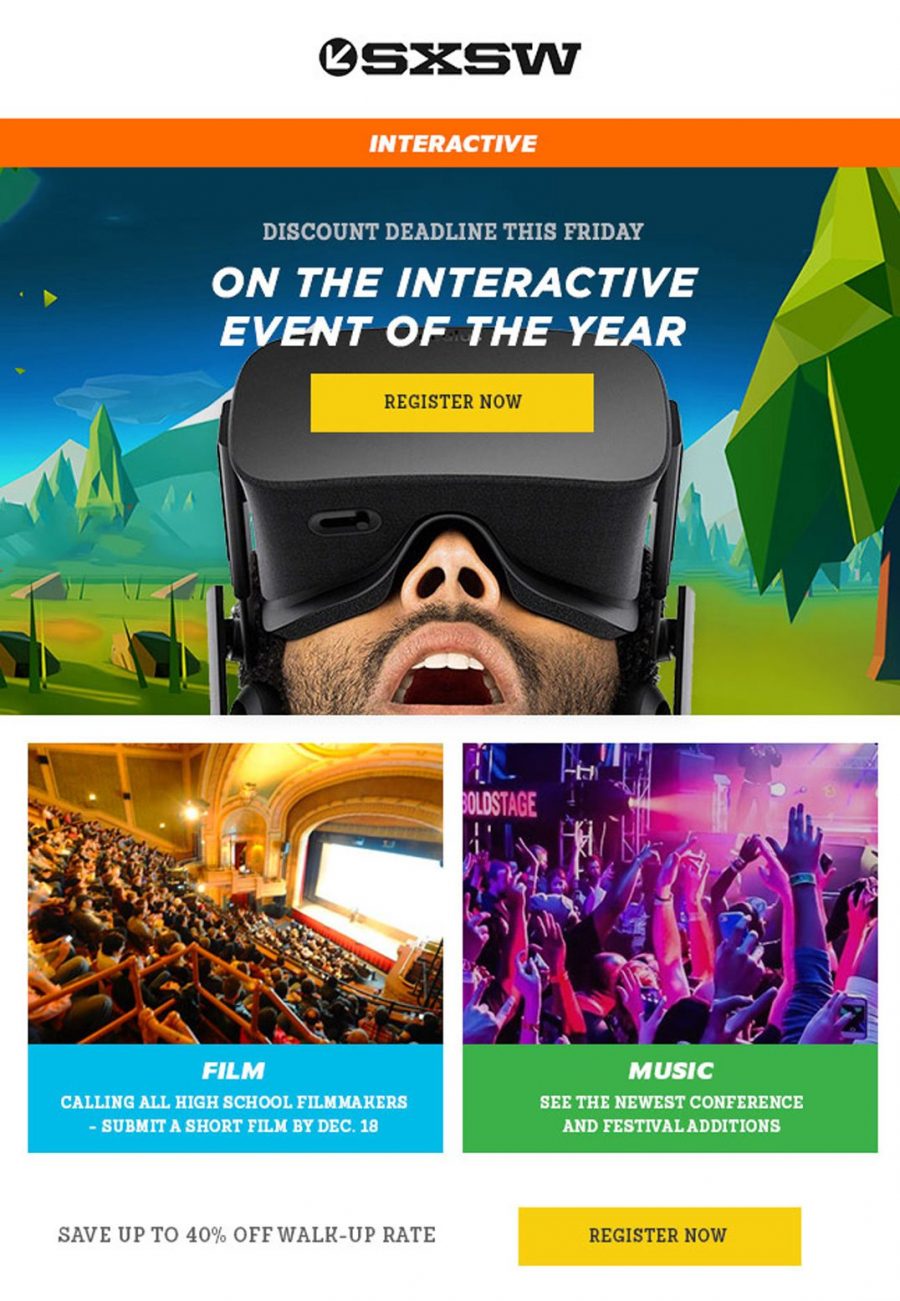 About this design:
More on the visual eye candy rather than text details

Easy-to-see CTA button with an eye-catching color

The use of a deadline to give a sense of urgency for customers to register
2. Don't overload it with graphics! 
Sure, graphic elements make your email newsletters attractive and fun to read, but do everything in moderation! Remember—the main goal of a newsletter is to inform your customers. 
Moz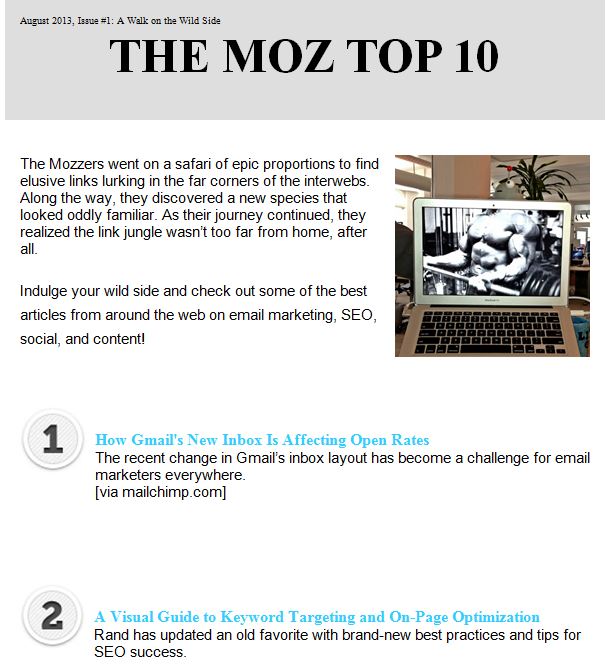 About this design:
Uses content from other organizations to promote customer value by promoting more than the company's own content for the sake of helping customers

List format helps make the newsletter scannable
3. Stay consistent to your brand
Your customers should be able to recognize your brand at a glance. 
Don't stray away from your colors, your design elements, and your visual guidelines. Always align your email newsletters to your brand—this will help in making your business more recognizable and build your brand presence with your customer base and tell your brand's story.
Ben and Jerry's
About this design:
Fun and engaging content rather than dry and generic delivery

Social-conscious content helps build the company's brand image

Includes links to the company's social media profiles
4. Don't forget the preview pane
Only the top 200-300 pixels of your message are shown first, so you have to make those count big time. Make sure you have the important parts of your email newsletter fall into this preview range.
Medium
About this design:
Simple yet effective design

Section dividers for clearer and more organized content

Each article gives a taste of what they're about, helping readers decide if they want to read more

Also, the average time of how long it would take to complete each article to help them decide to read the full versions
5. Make it easy to read and scan
Not everyone has the time to sit down and read through everything in your newsletter. Often, emails are opened via mobile phones, and online users just browse through their emails. Why not make their newsletter experience more convenient?
InVision

About this design:
Simple, but with relevant and engaging visual content like images and videos

Well-organized layout for easier scannability

Fun CTA phrases to encourage readers to click on them
6. Include a table of contents
Even if your newsletter can be read quickly, there are still some people who just don't have the time to even scan through your newsletter for that piece of information they're looking for. So including a table of contents and using anchors to link each item to their corresponding sections would be super convenient for your customers.
Cook Smarts


About this design:
Simple and well-organized sections of content

Images are simple and attractive, showing what each of the menu items looks like to readers

Forward to a friend

CTA at the bottom opens more opportunities to expand the brand's email list
7. Optimize for mCommerce
Yes, it's here and it's not a myth. The growth in purchases made from a mobile device rose from 3.4% to 36.7% in just the past four years alone. Just looking at the peak shopping holiday season of Black Friday and Cyber Monday (BFCM) in 2018, mobile shoppers have grown a whopping 48.1% from 2017, contributing to about $2.1 billion in revenue. 
The future of mobile commerce, or mCommerce, remains one of the brightest channels for eCommerce brands to tap into, so it is imperative that brands should scramble to capture this opportunity. If these numbers aren't the tipping point yet, mCommerce is predicted to dominate 54% of sales by 2021. 
So, if you're not optimizing your emails for mCommerce this holiday roll-out, be prepared to risk missing out on a huge chunk of the revenue your brand could enjoy. 
Litmus


About this design:
Single-pane design allows it to retain it's design integrity when viewed on a smaller screen.

Each of the sections is clearly defined

Smart use of different background colors to break up the newsletter into easier-to-read portions
The graphics are simple but they deliver each article's essence
8. A/B Testing is life! 
Whether you've read this time and time again in our articles or if this is your first time, we cannot stress enough how important it is for you to test your emails. 
Your first or second or even your third newsletter design might not get you the metrics you want on the get-go, which is why testing different email newsletter designs can help you find and create the design that performs the best and is well-received by your customers.
General Assembly

About this design:
Simple layout with clear lines separating sections for easier readability

Relevant and engaging graphics

Clear and attention-grabbing CTA
Create Action by using words alone 
Lastly, an extra tip from us is how you optimize your call-to-actions. Merely putting links is not enough. How do you get your customers to click on your links? Rather than going for the generic click here links, go for actionable language like read more, donate, or unsubscribe. 
If you're having a problem with getting your creative juices flowing, here's 3 eCommerce newsletter ideas that really stood out in 2019 to inspire you and get your marketing team's creative juices a-flowing.
Speaking about marketing teams, why not just hire an email marketing agency and let them do your email newsletters—and many more email marketing-related services—for you? 
Chronos Agency's ebook "Everything You Need to Know About Email Marketing Agencies" is your ultimate guide to finding the email marketing agency your eCommerce brand needs!
One of Many Steps Towards Fully Engaging Your Customers 
Email newsletters work so well in establishing a direct line of communication with your customers.
Your newsletters act as the gateway for your customers to convert into buyers and maybe even loyal customers by helping them get to know more about your brand, products, and services on regularly.
As you continue sending newsletters with relevant and quality content to your customers, you are sure to build a solid following, which in turn solidifies your foothold as an eCommerce business on the internet.
Do you want to maximize the effectiveness of all the other steps of your email marketing strategy? 
Please don't hesitate to contact us and schedule a free 30-minute strategy meeting with us!
We would be happy to do your email marketing for you.
References: