It's not enough to know that retention email marketing can reduce your churn rate. It's important to know how to implement it correctly so that you get the results you want. Here are 7 examples of how to use retention emails to reduce the churn rate of your eCommerce store:
1. Maximize the use of your "Thank You" emails
Most likely, your eCommerce store sends out an automatic order confirmation to your customers. Typically this email contains the order number, the breakdown of the order and their respective and total costs. It acts as a digital receipt.
Honestly, that's not something that will make you stand out and improve customer relationships. It's basically part of your responsibilities to your customers. So try this out. Take the time to design a thank you email that will deliver some value, or help brand your company. 
Warby Parker's thank you email starts hyping you up for the home try-on you ordered.
"Get excited!" is the central message of this email, which is right on point with their brand positioning.


They aren't marketing their products as "just" glasses. Their glasses are unique because they help you reach the identity that you want to have.
You can also use thank you emails to tell the unique story of your brand and team just like what Ryan Popoff, the founder of Popov Leather, does. He sends personalized thank you videos to every new customer. What a way to use retention email marketing to connect with his customers, right?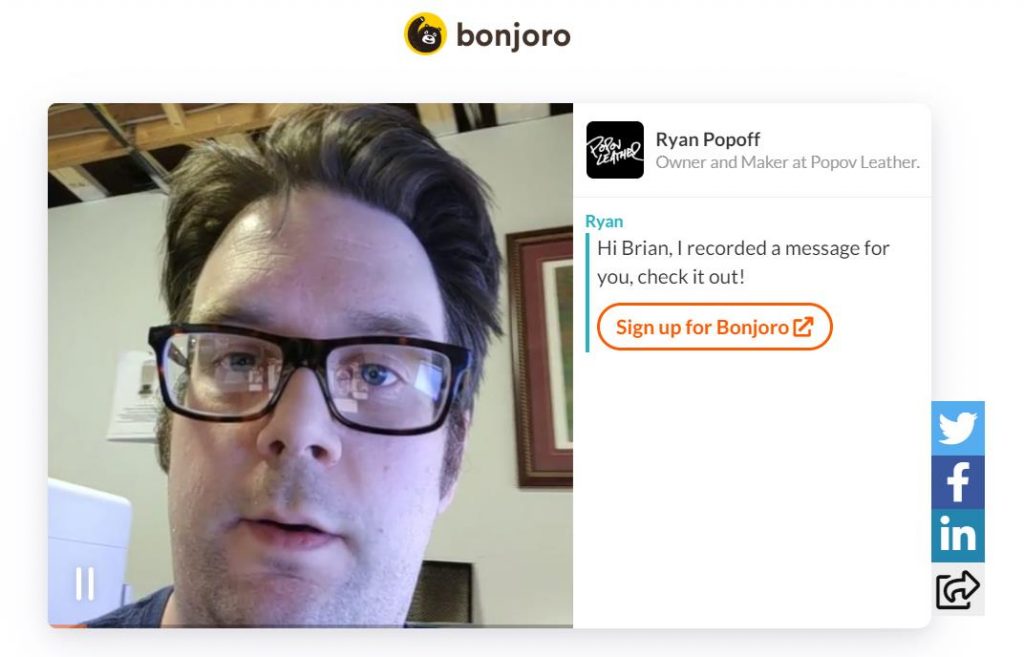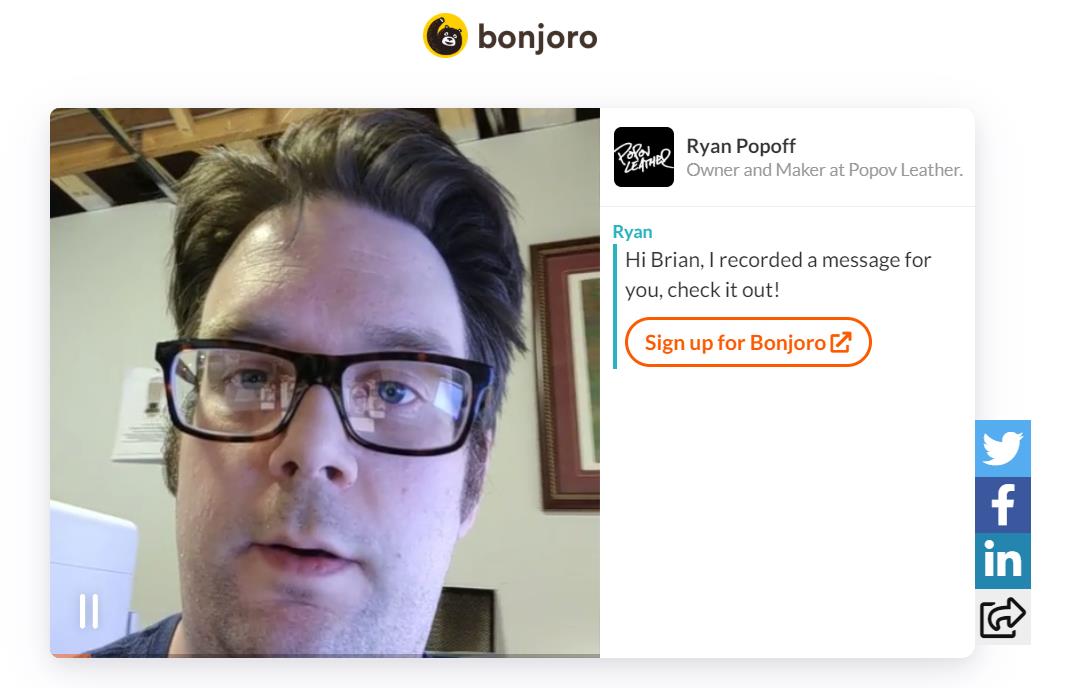 This strategy has been part of the driving force that helped Popov Leather grow past a one-person shop. It is also a key driver of over 3,000 positive customer reviews.
You don't have to go as far as personalized video, but it drives a point. Your customers like being treated as human beings. They don't think of themselves as dollar signs or numbers in a database. So when a company treats them as people, they are more likely to become loyal customers.
2. Recommend not just the next product, but the right product
For some products, there's no direct replacement. If someone buys free weights, they are likely to last throughout their lifetime. If someone buys a book, they probably aren't going to buy the exact same book ever again.
So what should you do?
Recommend the next product that makes sense. But wait, don't recommend just any product. Recommend the right product that your customers will likely buy. You can do this through segmentation—where the customers will receive recommendations based on their preferences and order history.
If they bought a book, recommend a related book, like the sequel or the new release by the same author. If someone bought free weights, exercise bands, or workout shoes make sense.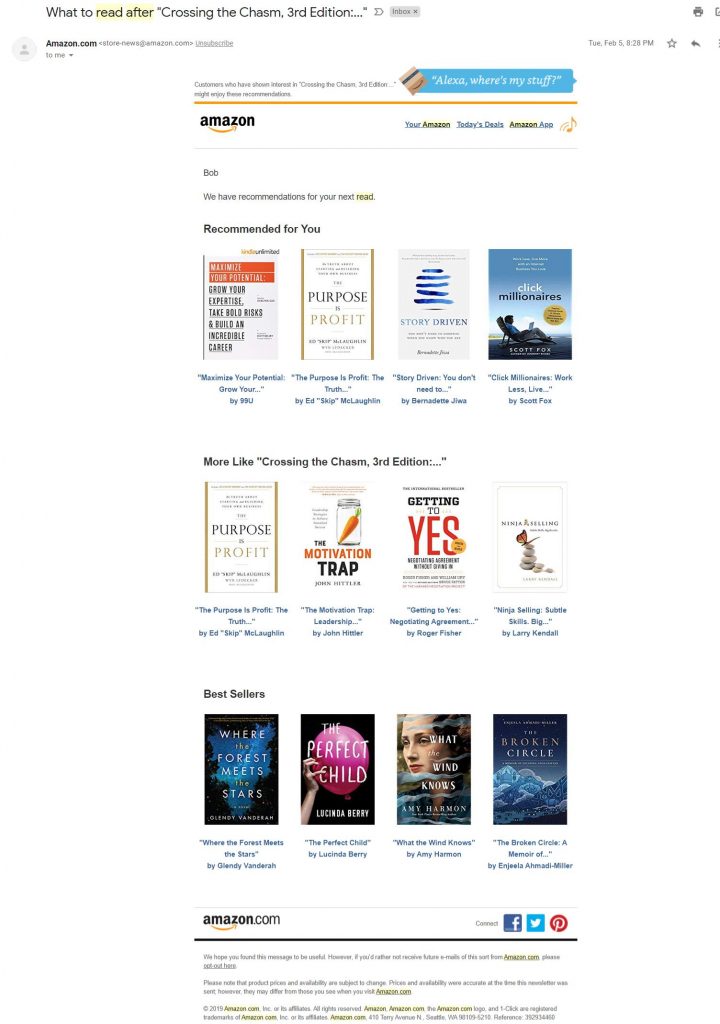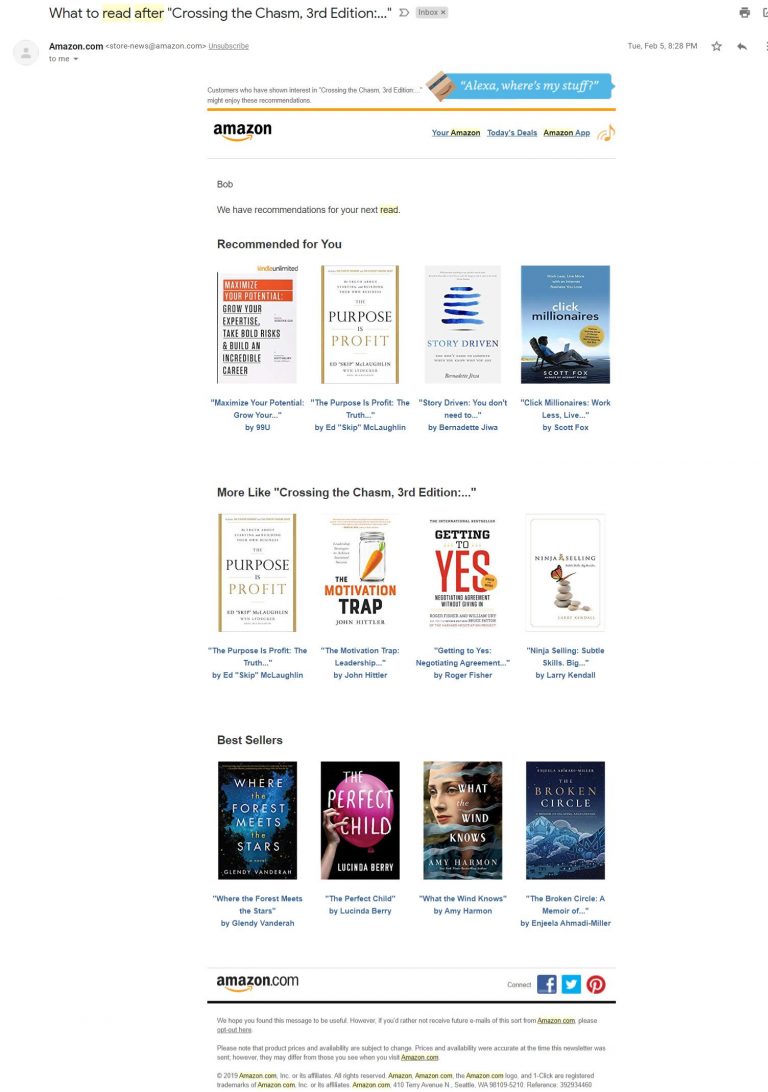 Amazon is a master of these emails. If you own a Kindle, they keep tabs on exactly when you finish a book and recommend another one for you to read. There's no better time to sell a book than when someone has just finished reading one.
Recommending personally relevant products is a great way to drive more sales. 80% of shoppers are more likely to buy from brands that offer personalized experiences. So make the most of this! 
3. Send Holiday Emails and Seasonal Greetings
It can be hard to figure out when to contact your customers. Since you're not friends, you can't exactly just drop a "Hey…" in their inbox whenever. That's where holidays come in handy. Holidays are the perfect excuse to refresh customer relationships.
Depending on your industry, it might also be your best chance of selling more to existing customers. Postmates had a smart email campaign for this year's Halloween.

They promoted "reverse trick-or-treating" in their promotional email. With a special, limited-time coupon, you can treat yourself instead of the neighbor's kids. What an ingenious idea, don't you think?
But you don't need a coupon or special offer. You can use a holiday pun as an excuse to remind your customers of your best qualities. That's precisely what Warby Parker did this year.
Basically, holidays allow you to send emails without annoying subscribers and customers. As long as you do it right. In case you missed it, here are some examples of how you can use holiday promotional emails to build your brand's presence and then reduce churn rate as another win.
4. Ask for user feedback 
Send an email to your customers and ask them what they think about your products/store. It doesn't get much easier than this. Why does this work? It shows them that you value what they think. And that already says a lot.
Fabkids, an online retailer focused on children, recently sent this email to their customers to ask for feedback. It opened with "Penny For Your Thoughts" to keep things casual. It is likely an essential part of their branding strategy.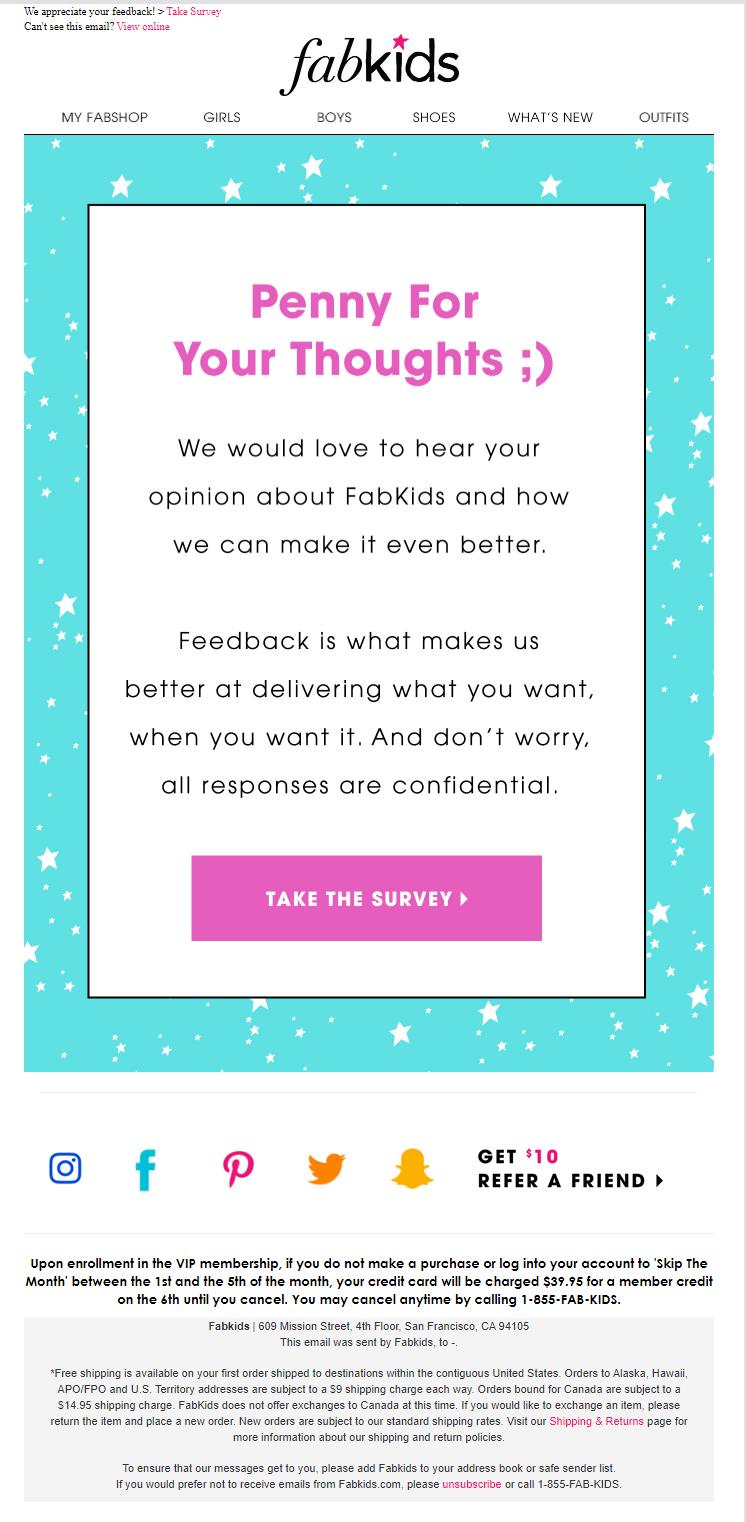 Most companies that are serious about customer experience rely on surveys and real customer feedback. Asking via email is one of the easiest ways to access this essential source of information. Plus, emails are more personal because they land in a person's inbox. There's an air of privacy, unlike public surveys or polls on social media.
These emails don't have to be complicated, so don't dilly-dally. Design, create, and send it. You can also send an NPS (Net Promoter Score) one-question survey.
5. Send Reminder Emails Based on Browsing History
If someone has visited a product page several times or starred it, that's a reliable indicator of purchase intent.
If they don't add it to their cart or purchase, it doesn't mean they will never buy it. Maybe they forgot about the product completely, or maybe they got distracted by something else. That's where reminders come in handy.
A few days later,  you can remind your customers of the product they were checking out.
Set up your cart recovery flow! It is a perfect example of a reminder email. Check out this one from Target.

Target also understands that the customer might have changed their mind about that product.
Maybe the online reviews were terrible, or they felt it was just too expensive. So they recommend similar products in the email as well.
Featuring multiple products in a single email is almost like placing shopping ads for free. You know they will reach interested buyers, but you don't have to pay for clicks and sales.
6. Send personalized discounts that double as retention email marketing campaigns
91% of U.S. consumers are more likely to shop when offered relevant offers and discounts. Instead of just sending someone a coupon, or promoting a sitewide sale, hit your customers where it matters.
Let them know that the products they showed interest in are now cheaper than the last time they saw them. Again, Target and other large online retailers do a great job of this.

7. Win back lost customers 
Once a customer has added products to their cart, it's easy to think that your marketing job is over.
But that's not exactly true. There's still a chance that prospects opt-out of the sale, and didn't finish the transaction.
Again, the cart recovery flow comes to the rescue! These are the emails that you send automatically to users that add products to their cart, but leave your site without purchasing the items. They are very effective. In fact, 28.3% of total eCommerce revenue comes from successful abandoned cart emails
This email from Home Depot illustrates the basics quite well.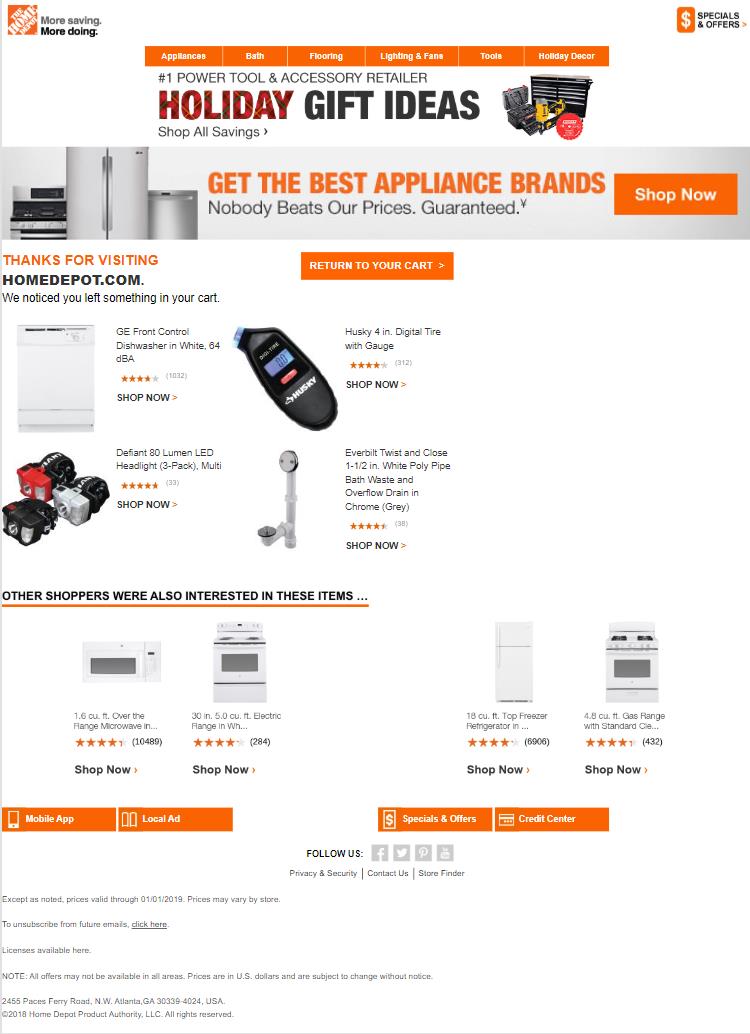 All you need to do is remind the customer of what was in their cart. Once someone has decided to buy, it's best to capitalize on that before they change their minds. That is the magic of an abandoned cart email.
So there you have it! Seven ways to reduce churn and improve your customer relationships with email. But that doesn't mean you can just copy, paste, and send identical emails. That approach doesn't guarantee results.
What works for other companies might not work for your store or brand. Other brands may have a different retention email marketing campaign that will work for them. 
That's where data comes in. Analytics is an essential part of any marketing strategy, and retention marketing is no different. Without it, you're spending time, money, and effort without a compass. You have no way of knowing if what you're doing is working.
Make sure you deep-dive into the reports of your eCommerce service provider as well. This way, you can split-test onboarding and other emails to find out what works best for your business.
Using data and retention email marketing will guarantee a lucrative business. The emails help educate your customers on how to use your product. The data gives you the edge and the information you need to keep users engaged with milestones and progress updates. Email can also help you gain valuable user feedback that will guide the future of your product.
If you love the idea, but you're not quite sure how to implement it in the real world, schedule a 30-minute free call with our email marketing experts.
Resources: