Black Friday and Cyber Monday used to be ruled by retail stores. People showed up as early as 7 AM to line up and secure great deals. But ever since the digital transformation, something has changed. Black Friday foot traffic to retail stores dropped by 9% in 2018 alone.
eCommerce is most definitely picking up the slack. According to the U.S. Department of Commerce, consumers spent an estimated $513.61 billion online last year in 2018— 14.2% increased as compared to its yesteryear.
Just look at Shopify's sales data on the two dates: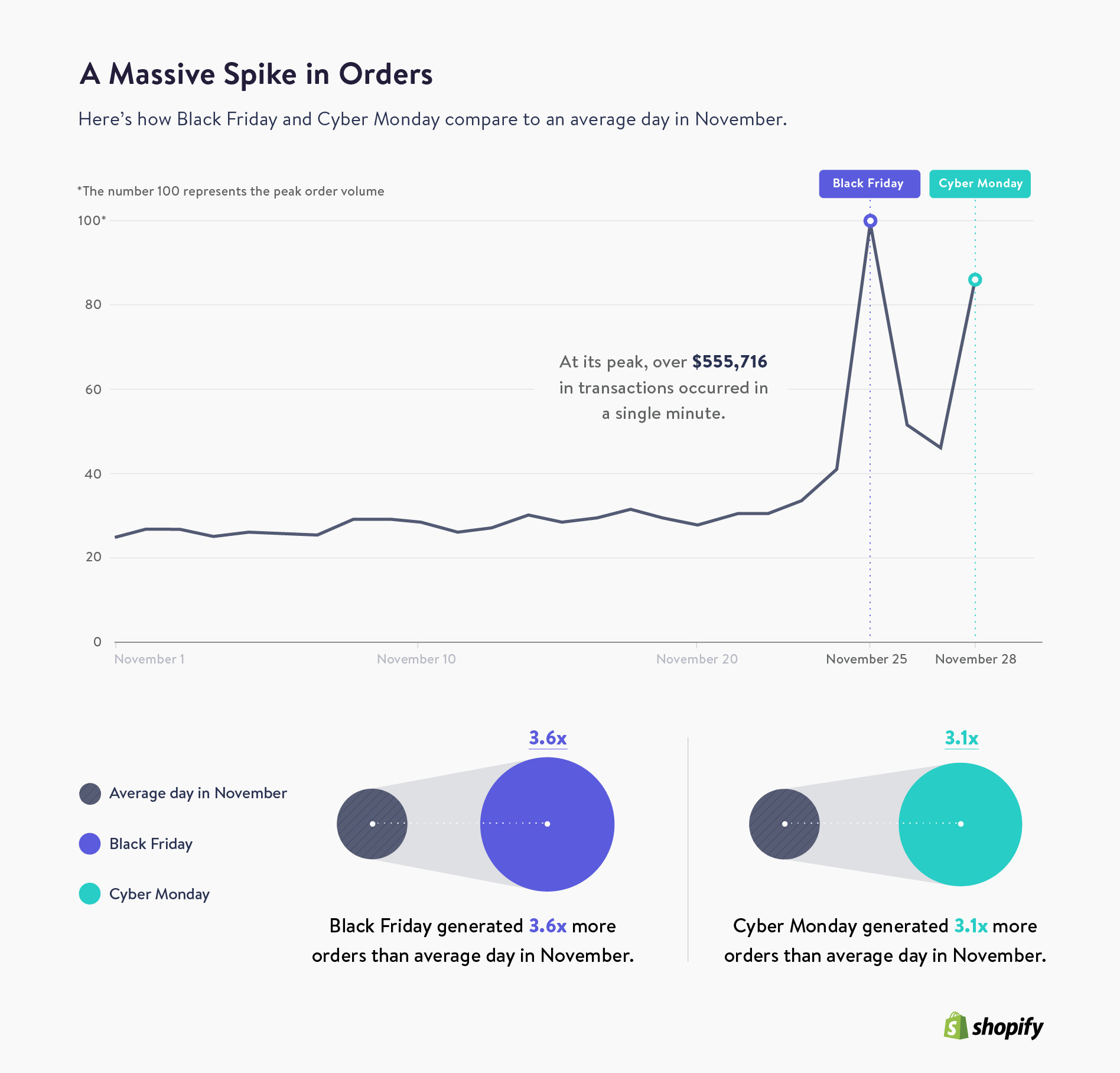 Looking at the graph above, each holiday did more than three times the orders of an average day in November. Remember that these are statistics from all Shopify stores, which undoubtedly includes some that didn't even run a sale.
Want your fair share of the pie? Use these Black Friday and Cyber Monday email marketing campaigns to stand out.
Black Friday Email Strategy: Segmentation
Black Friday is coming up, and you want your eCommerce store traffic data to look like this: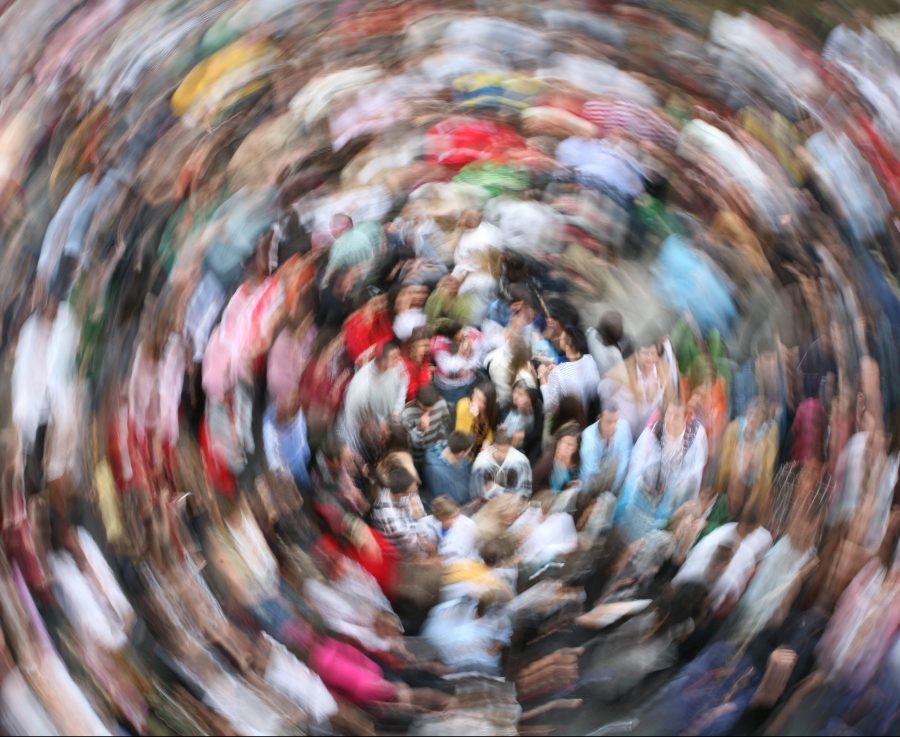 So how do you make that happen? It's not by just doing a run of the mill cyber week promotion, and extending the sales forever. The best way to generate sales is to tap into your audience of interested or existing buyers.
For eCommerce stores, this typically means your list of email subscribers and customers. However, just sending out a bland: "We're having a sale!" email doesn't guarantee success.
Most vendors don't even put a lot of effort into their email campaigns. So subscribers get a lot of content they either don't want or can't relate to.
When they get emails they're not interested in, they don't even open them. Or worse, they report these emails as spam.
The foundation of every successful email campaign is segmentation. Segmentation helps you deliver personally relevant emails and offers to each and every customer on your list. And personalized emails drive six times the revenue of their send-to-all brethren.
The how-two of segmenting your email depends on your auto-responder or email marketing tool. But it tends to be a straightforward process.
If you're using Klaviyo, head over to the Lists & Segments tab in your account. From there, you can click on Create List/Segment in the upper right corner, then move forward to 'Create a Segment.' Klaviyo actually provides very comprehensive instructions on how to do this—you won't get lost!
The great thing about using Klaviyo for your email marketing needs is this—you can create segments that automatically update. So go all out and be creative. Segment according to behaviors, events, and other conditions to get the best results.
When Should Black Friday Emails Be Sent?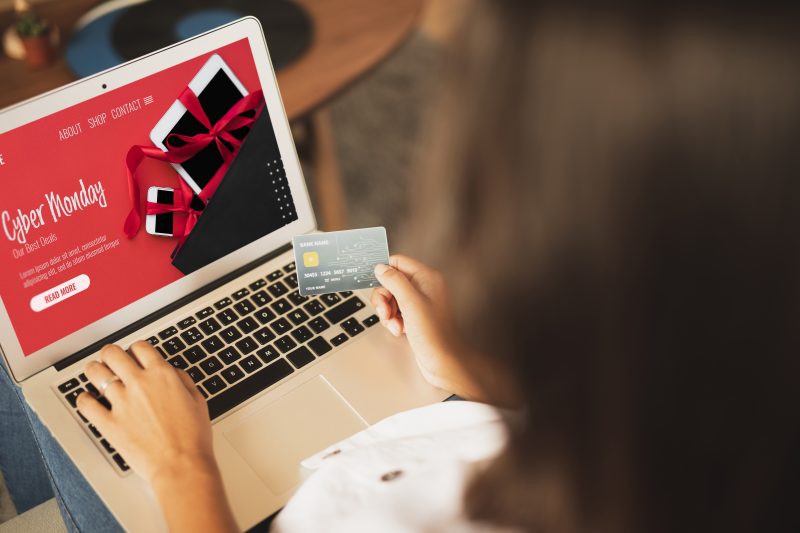 There are 'best times to post' when it comes to social media marketing. How about email marketing? Here's the answer: it depends on your customers. By this time, you should already know what the best times for them are. Collate your data from your most successful campaigns and AB Tests.
Still not sure? Klaviyo has a new smart send time optimization feature, and this can help you find the right time.
Next, don't be afraid to send BFCM emails earlier than the actual events! Build hype by letting them know what categories are going on sale and how big the sales will be.
Withings sent out an "Exclusive VIP Access Pass" email last year a day earlier.

This email helped users prepare themselves (and their wallets) for the upcoming sale.
There's also another factor to consider. Seasoned eCommerce marketers know how effective email promotions are. It's their secret weapon for holidays and exclusive sales. That means every email inbox gets bombarded over the Black Friday Cyber Monday week.
A flash sale on Black Friday surprises no one. If you don't want your promotion to go unnoticed, start a week early and build some anticipation for your deals.
How Do You Prepare For Cyber Monday?
The last thing you want is for your server to crash and your eCommerce store to go offline while you're having a big sale.
That's what happened to Lowe's website on Black Friday in 2017. Talk about a club you don't want to join.
To make sure the same doesn't happen to your website, here's a checklist for you. Go through each item before you run a big promotion.
Giant Sale eCommerce Preparation Checklist for Black Friday and Cyber Monday
Stress-test your servers in advance. (Up to 300% normal traffic.)
If you use WordPress & WooCommerce, make sure to use a caching plugin and optimize your website for page speed.
Temporarily add extra nodes/droplets to your cloud server.
Use a proven tool for payment processing.
Make sure your staff/fulfillment center can handle the increase in orders.
Make sure your customer service staff can handle an influx of orders and requests.
Key Takeaway? Stay dashing.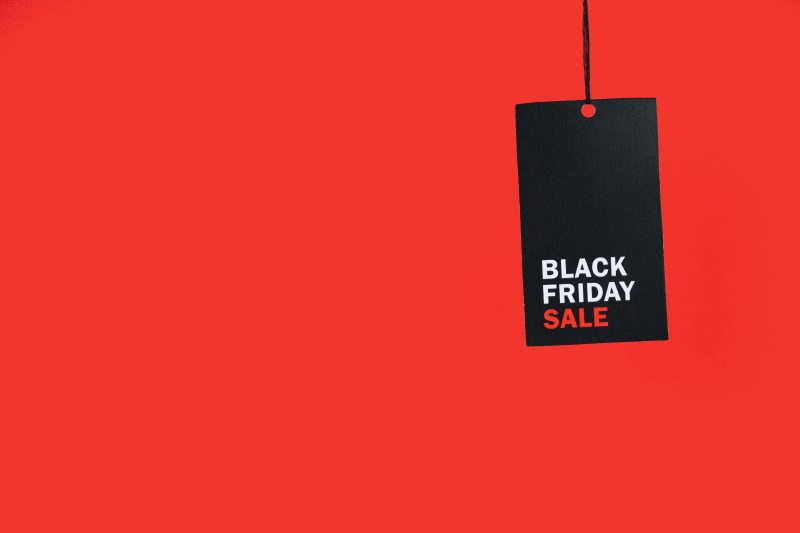 Black Friday Cyber Monday weekend is a time when most businesses focus on dashing prices as much as possible. The way to win customers without sacrificing all your profits is to focus on segmentation and advanced email marketing.
Is your company equipped to maximize email marketing during this crucial time? Learn how to use email marketing to power your Black Friday sales by scheduling a free 30-minute call with us!
References:
Baymard Institute
CNN Business
Digital Commerce 360
Experian
Klaviyo
Shopify