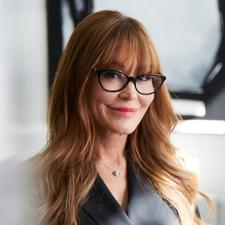 Stormy Simon is the Co-founder and CEO of Mother Ruggers, a new line of washable, affordable, and quality rugs. She also serves as Executive Director of the Board for Mission Green, a nonprofit organization that works to free non-violent cannabis offenders from federal prison. Before starting Mother Ruggers, Stormy surpassed business school and college to destroy the glass ceiling in the corporate world. As a temp at Overstock.com, she charged through leadership roles until she became a Board Member and President.
A sought-after speaker and panelist, Stormy delivered the keynote address at the Aspen YPO Conference in 2019 and debuted an inspirational TedTalk in 2018. She has been featured in outlets such as Inc., The Washington Post, Forbes, San Francisco Chronicle, MSN, Cheddar, Yahoo!, Entrepreneur, PopSugar, CNBC, and Fox Business. Known to march to the beat of her own drum, one of Stormy's guiding mantras is "Sometimes you don't know what the next step is but you still have to take it."
Here's a glimpse of what you'll learn:
[03:38] Stormy Simon talks about her rise to Presidency and Board Member with Overstock and notes the importance of timing
[07:33] Breaking through the glass ceiling as a woman in the field of business, ecommerce, and the #MeToo movement
[12:05] Stormy describes bringing female executive leadership up from 7% to 33% at a tech company in Utah
[17:55] Stormy discusses leaving Overstock for the cannabis industry and becoming part of something that would change the world
[23:49] The difficulties of recognizing and harnessing the potential of cannabis
[26:35] Stormy's experience running for office as a Democrat in a red state
[30:58] The power of raising your hand and risking it all
[35:11] What have the current generations taught Stormy?
[39:02] Stormy's greatest mentors and influences
[44:17] Opportunities ecommerce entrepreneurs can embark on
In this episode…
Are you a burgeoning entrepreneur? Are you a female in tech searching for inspiration? If so, this episode is for you!
Top-notch female leader in business and tech, Stormy Simon, is here to share her experience as an unconventional leader. Through hard work, showing up every day, and raising her hand, Stormy was able to build a career in areas where all odds were stacked against her. Now, she continues to destroy glass ceilings and uplift other entrepreneurs.
In this episode of the eCommerce Profits Podcast, Joshua Chin speaks with the Co-founder and CEO of Mother Ruggers, Stormy Simon. They discuss Stormy's career beginning as a temp at Overstock.com and rising through the ranks as a woman. She divulges her deep knowledge of the cannabis industry and her passion for advocacy. Stay tuned as Stormy gives her best advice to budding entrepreneurs in the ecommerce industry. Packed with insight, activism, and advice, you don't want to miss it.
Resources mentioned in this episode
Sponsor for this episode
This episode is brought to you by Chronos Agency.
If you are a direct-to-consumer ecommerce brand that wants to unlock the optimum customer lifetime value through email marketing, then look no further than Chronos Agency!
Our team of passionate email marketing experts has helped hundreds of brands generate over $70 million in return from email alone, and our clients receive an average of 3500% ROI from our efforts.
Chronos Agency has worked with a variety of brands, including Truly Beauty, Alya Skin, and many more. Our mission is to help real businesses achieve real results. 
If you want to take your revenue to the next level using email marketing, be sure to email our team at [email protected] or visit chronos.agency to learn more.
Episode Transcript
Intro  00:04
Welcome to the eCommerce Profits Podcast where we feature top founders and experts in the ecommerce industry and take an in depth look at their struggles and successes and growing e commerce brands profitably.
Joshua Chin  00:18
All right, Josh Chin here. I'm the host of the eCommerce Profits Podcast, where we feature top experts, entrepreneurs and shakers in the ecommerce industry. And we go behind the scenes, struggles and successes in growing a brand. Now this episode is brought to you by Chronos Agency if you run a direct to consumer ecommerce brand that is ready to scale and to double your customer lifetime value, true lifecycle marketing Chronos is your company. We have helped hundreds of brands scale profits with email, SMS and mobile push marketing, while getting an average of 30 500% ROI from our efforts, we've worked with brands like truly beauty, the UI, Dr. Livengood and many more. Now the next step is to email us at sales at Chronos.agency or you can go to Chronos.agency to learn more. Today's guest is Stormy Simon. Stormy has a really interesting background. She is the former president of overstock.com. She joined Overstock in 2001. During the formative years of ecommerce as attempt, and at the time, revenue was less than 20 million staff was under 100 people in her career she has gone from being an executive assistant to the branding arm, Customer Care VP of Customer Care to CMO and eventually becoming President and Board member. Over her 15 year career overstock became a top 25 e tailer in America by traffic and grew to nearly $2 billion in revenue, and had approximately 1600 employees. Stormy is an unconventional leader who charged straight into the workforce, bypassing college and Business School. And one of her proudest achievements was growing the ranks of female executives at overstock from 7% to 33%. We'll talk a little bit about that, during the show as well, in 2016 Stormy stepped down from the presidency at Overstock and entered the budding world of cannabis. A mother of two grown sons and three grandchildren. Simon is a longtime resident of Tula County. I hope I pronounced that right. She also, she also had the honor, interestingly, of presiding over the first gay marriage to the county and 2011. Stormy, welcome to the show.
Stormy Simon  03:02
Thank you so much.
Joshua Chin  03:03
You have one of the most interesting stories and backgrounds of any guests have had on the show. Tell us tell us. Tell us about how, how you ended up in Overstock? And how do you stay in one company for 15 years and rise? Basically, from literally the lowest of ranks to literally the highest ranks?
Stormy Simon  03:38
Yeah, well. A lot of moving a lot of a lot of hustling. I mean, you got to, in order to do that, you know, you've got to have your eyes open, especially when you think about where ecommerce was at that time. The word ecommerce didn't even exist, we were calling it e tail or online shopping and in our advertisements, that's what it would say. So it was a very different world. I think timing of walking in there when I did and feeling like, you know, seeing that people didn't know, you know, we were developing a business as it went. And then being able to share ideas because nobody really knew the right answer. We were just figuring it out. Honestly, just raising my hand throughout that time and, you know, paying attention to all of the details as things were happening. I mean, it was such a fast moving time that it's like how do you how did you do it? I just didn't stop running. I just kept kept going, kept raising my hand kept doing the stuff you know, it was going so fast. And you know, fortunately timing plays a piece of every story, the timing of walking through the door and then just Just being able to being able to raise my hands and take a project and be able to see it through and, and lucky for me, I had a really good batting average.
Joshua Chin  05:10
Very good batting average. Did you always know you're going to be you were going to be successful in the business world? Was it a, an intention?
[Continue to Page 2]