It's time to look over your shoulder and tread lightly around the corner because April Fool's Day is creeping closer and closer! So before the day comes and gets the better of us, here are the top 5 of the best April Fool's email examples that will serve up some serious inspiration.
Simply making an April Fool's-themed email and slapping just any discount or coupon code on it is just too generic. And since you won't be the only one making April Fool's emails, you're going to have to get creative with your content and designs to steal the spotlight during the April Fool's sale season!
Let's dive straight into it: 
1. Overstock
Furniture brand Overstock went meta with their April Fool's email. Rather than going with a classic prank, they went with the sympathetic approach by addressing the possible victims of pranks.
Topping it off with a discount coupon to "heal the wounds," they made themselves the shoulder to cry on rather than another prankster to their customers.
Our takeaway—be the savior. Be the brand that offers comfort to any would-be or have-been victims of April Fool's pranks. It'll be a nice change of pace for anyone going through April Fool's Day.
2. Bonobos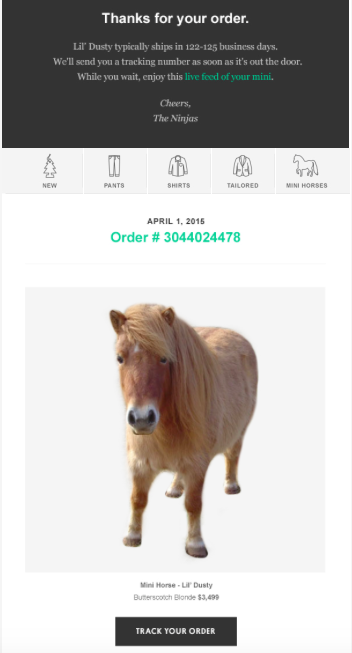 Either go big or go home! While no ponies were actually shipped, men's apparel brand Bonobos sent this email to their customers telling them they have ordered a mini-pony and is already on its way to their doorstep.
Not only that, but they included a link that led to a live feed of an actual mini-pony. It was also in this live feed where customers were already told they got pranked.
While nothing was being sold in the email, the customers were sold with the idea of having to take care of their very own mini-pony. The email saw high engagement, to the point where some customers complained about possible animal abuse (there was none).
Our takeaway—be convincing. Make your April Fool's email convincing enough to get half your audience going "oh my god hahaha" and the other half going "oh my god what the heck?"
3. ThirdLove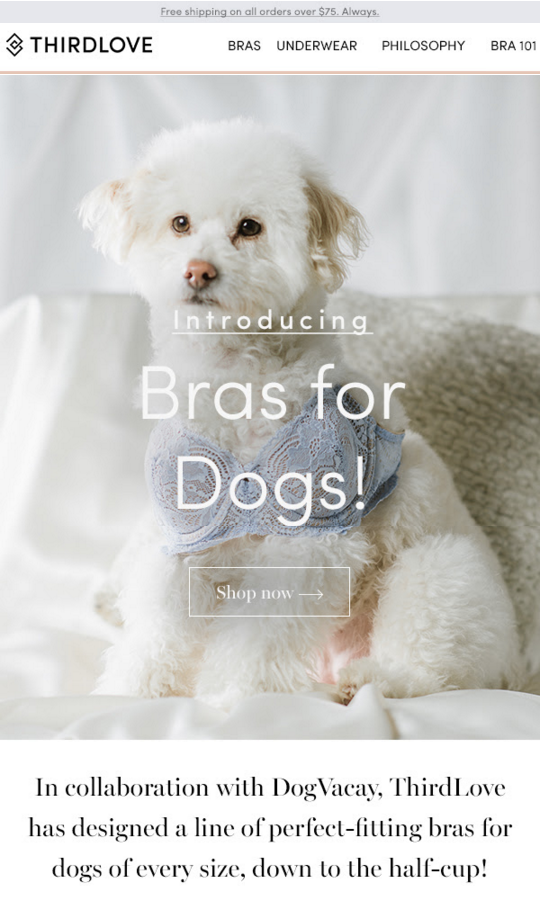 With one of their slogans being "Bras and underwear for everybody," the underwear brand ThirdLove took that slogan to a whole new level. Introducing bras for dogs is a combination of "Awww" and "Wait, what!?" that would wake anybody up as they read through the email.
The photo of a dog wearing a human bra only helped ThirdLove's customers confirm what they read with their own eyes. This is also a fun way to introduce a collaboration sale or event you have with another brand.
Our takeaway—be silly. Don't be afraid to show your fun side. It's always the more creative and sometimes crazy ideas that get high customer engagement.
4. Karmaloop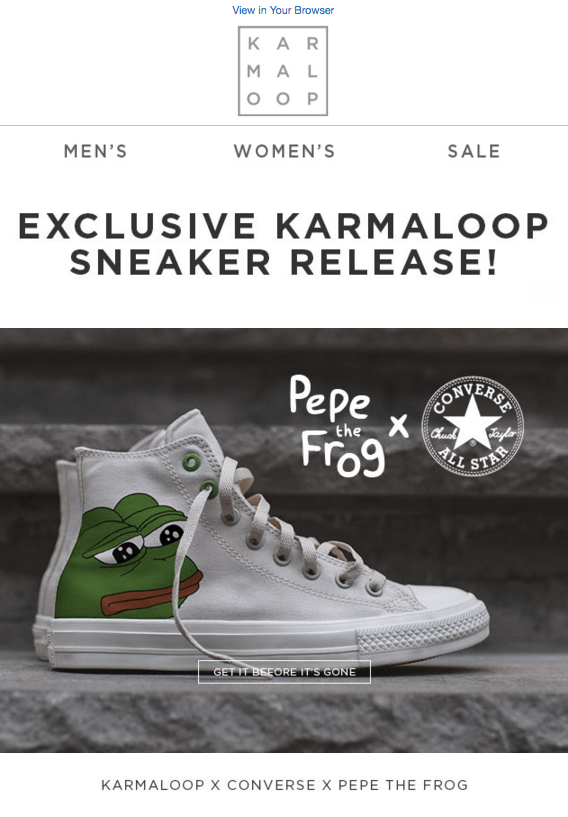 Making pop culture references your customers wouldn't expect from your brand also makes for another great April Fool's email. Apparel brand Karmaloop introduced an exclusive shoe design featuring Pepe the Frog (a popular internet meme).

So for April Fool's email designs like these, incorporate the general interests of your audience into your email. This is a great way to show your audience you know them and you aren't afraid to have fun, deepening your customer relationship. 
Our takeaway—be relevant. Relating to your customer's interests builds your brand image more. It also shows the more human side of your band. The side that also enjoys the same things your customers enjoy.
5. Boden
British style apparel brand Boden went for a bold approach that veers on scandalous. Their April Fool's email announced that one of their products has something inappropriate hidden within the clothing print. And that they would have to recall the product in question.
Adding to that, they also said they're willing to offer refunds to anyone who bought the item and included a "Get the full story" CTA in the email. Not only were customers curious about this fake controversy, but possible owners were being offered refunds so that button's got the clicks.
The landing page the CTA led to, at first glance, still carried on with the same tone. But it was also there where customers found out they were pranked. And in return, Boden offered them a 25% discount for the trouble.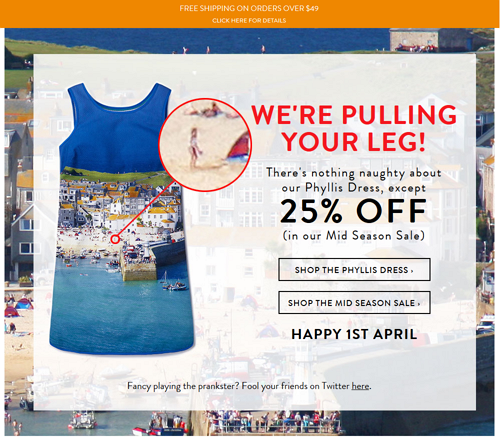 Our takeaway—be controversial (within reason). Again, go big or go home! Nothing catches people's attention more than a little intrigue. Creating some scandalous intrigue around your brand is sure to turn heads when done right. 
Also, don't be afraid to activate the prankster in you. Carry the prank further all the way to one of landing pages if you can to add to the tension. Just make sure you make it clear it was all a prank in the end.
Based on these April Fool's email examples, the main takeaway here is that It never hurts to have a little bit of harmless fun. Showing your fun side to your customers only strengthens your customer relationships. That's not all, your customer engagement will also benefit from fun email marketing ideas like these. 
Are you looking for more April Fool's email examples? We made a fun infographic on what you should or shouldn't do for your April Fool campaigns you can check out!
But if you're struggling with getting your April Fool's email ideas to work with your email marketing strategies, don't hesitate to schedule a free 30-minute strategy call with us!