SINGAPORE (October 31, Thursday)— It may be Halloween but email marketing is most certainly not dead.
This was the point driven in with a stake by Chronos Agency's CEO and co-founder Joshua Chin in Bossed 2 Boss' morning live podcast.
The podcast is hosted by Miro Wcislo alongside producer Steve Wiley. Each episode focuses on specific aspects that surround the world of entrepreneurship. Listeners tuning in will be privy to inspirational interviews and stories, or helpful tips for success.
For this session, Josh details the successes and failures he encountered, what he'd bring to a desert island and how he chose email marketing in the eCommerce industry to pursue— while still finishing his studies!
He ended the session with a few key takeaways for listeners tuning in.
Email is Still Very Much Alive
Email marketing has evolved into an elegant solution for eCommerce businesses to invest in these days.
It isn't just about any old generic email newsletter, but email automation lifecycle and customer segmentation— especially when they are optimized to your customers' preferences and their relationship to a particular brand.
Josh cites that he's inspired by Ezra Firestone, Josh's mentor, and friend. Firestone generated one-third of his entire business' revenue from email marketing.
Interestingly, Ezra was also on Bossed 2 Boss a couple of months ago!
The outlook of eCommerce in Asia is an exciting one where the sheer volume of sales in APAC is set to overtake the rest of the world by 2022.
Watching how the efforts of email marketing generate a measurable impact on business was what sparked Josh off along the email marketing agency route.
Email marketing, particularly within the eCommerce space, is a whole different ballgame. It yields fast-paced and exciting results.
With eCommerce email marketing, the response is almost direct to a very short time frame to retrieve feedback from your campaigns.
Compared to traditional methods in the marketing industry, the results can only be gleaned 2-6 months later with some tedious market research.
"Doing it alone is not the end-all-be-all" 
Miro is quick to observe how quickly the team at Chronos is growing rapidly.
Having started just 2-years ago in 2017 from Josh's dorm room, the team now has over 50 full-time employees from the Philippines, Malaysia and all over the world.
Josh details the very culture-centric approach he takes to hiring, building partnerships and carving out the company's roadmap into the future—which is about 3 years to be exact. 
"In my experience, the best way to grow and scale really quickly— as an individual and as an organization, is to get people much better than you (sic), convince them to join the company (..) then learn from them by working with them".

— Joshua Chin, CEO, and co-founder of Chronos Agency. 
Although the Chronos team has had the privilege of being a very revenue-driven company, being able to just afford talent isn't enough.
Inspired by Cameron Herold, the Chronos Agency's 2022 Vivid Vision represents a 9-page document of the Chronos culture, core values, and, products and services.
The winning point lies in communicating the Chronos team's values to experienced talent— as a creative hiring process.
The 2022 Vivid Vision acts as destination mapping for the company encapsulated in a 9-page document—  akin to a destination point you'd key into your GPS.
Email Marketing Tips for the Listeners Out There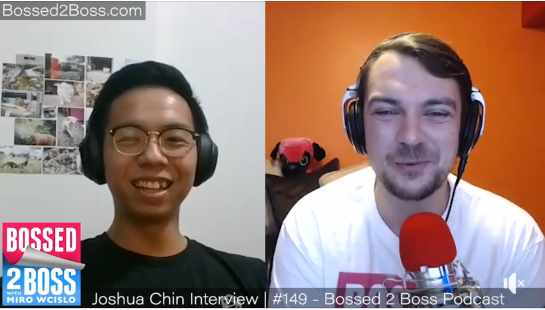 Email marketing when done right, is the right person, the right message at the right time
Set yourself apart from your competitors by optimizing and further automating your emails to basic events and behaviors of your customers— which brings us to the next point.
Always listen in on how to add value to your customers
Brands need to figure out how to collect customer information to build individualized customer portfolios— customer segmentation.
It's a balancing act of growing your list versus finding customers who expressly want your products. Without the sheer volume of customer data, there would be no way to derive significant data sets from split tests and list segmentation.
You should be identifying the most effective way to gather emails through your traffic source. These are your pop-ups, slide-ins, inline opt-in forms as well as landing pages. BUT what really matters is how you present and position yourself— the quality of your brand.
In the last segment, Josh divulges how he takes his coffee— black, and that entrepreneurship is not a fad but a mindset. Also, to what he would bring to a desert island, a generator.
To everyone listening and interested in building their own business, he imparts:
"Give it a shot, just try it out, (…) it will always take you one step further no matter where your end goal may be. Usually, the hardest part is that first step, then once you build momentum it gets really fun"
Keeping it Busy in Q4
From the windy streets of Boston at Klaviyo's Klaviyo: Bos 2019 to sunny Bangkok, Josh will next be featured on the main stage at this year's Affiliate World Conferences happening on the 4th to 5th December in Bangkok, Thailand.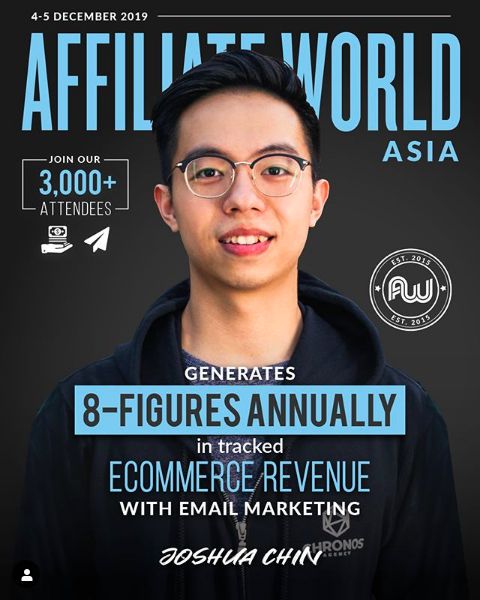 It'll be an exciting event of hyper-focused speeches curated from the thought leaders and highest performers within the eCommerce industry.
Josh is set to hash it out on the main stage on day 2 with "How to take control of the holidays with my six-step email marketing sales sequence".
Did you miss this podcast? Don't worry about it! Watch the play-by-play below: